Need Help Identifying Rims
07-06-2011, 01:41 PM
Need Help Identifying Rims
---
These Rims are on my dad's 79 K5. 6x5.5 pattern

Not sure on the diameter, but I'm just worried about the make and model as it were.

The front Center Cap just says 4x4. If that helps. Just found out the diameter is 15. And I'm guessing they are 15x10, since the tire is 10.5 and there isn't a lot sticking out over.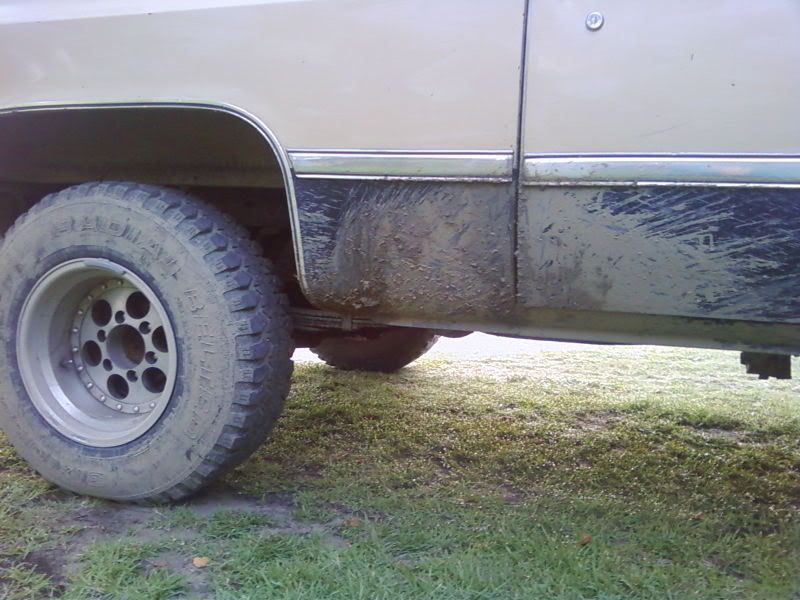 ---
Last edited by ChevyBlazerChick; 07-06-2011 at

01:58 PM

.
07-06-2011, 02:20 PM
---
I'm not sure, but they look like some old school Centerline wheels to me.
07-06-2011, 03:38 PM
---
They are definitely old school somethings. One of them is deeper because the guy cracked one and had to order a new one but couldn't order the exact same size. I can't find a 6 Bullet Hole Pattern anywhere, everything is 8 or 10.
07-06-2011, 05:42 PM
---
Alright, here's what I found.
1987 Enkei Showtime wheels.
07-06-2011, 06:12 PM
---
I'm almost certain that they are American Racing AR-52's. The tell tale is the recessed rim diameter & width in the front face. Too bad not too many of them were sold...
You could probably sell the good ones to someone looking for replacements and fund a new set of similarly styled rims.
07-06-2011, 10:10 PM
---
Gah!!!! Of course Kyle would be the one who could figure it out. I'm going to have to be wishing that I can find a set. Those Rims are my dad's and I can't sell those, lol.

Hey... you wanna point me in the direction of the look-a-likes. I'm thinking of just trading with his, lol

---
Last edited by ChevyBlazerChick; 07-06-2011 at

10:38 PM

.
07-07-2011, 08:15 AM
---
I said the same thing
here
and somewhere I read there were only 400 made... which seems like an EXTREMELY low number... only 100 trucks or less?! hmm..
as far as look a likes i'm not sure.. haven't really seen anything with the gambler style.. other than those lol
07-07-2011, 10:02 AM
---
Yeah, I'm having trouble too, I've found that the Centerline Pro Comp 500 Wheels are identical... which makes Dysfunctional correct as well (didn't want to hit the shift button every other letter, lol)
Thread
Thread Starter
Forum
Replies
Last Post
2nd Gen S-series (1995-2005) Tech
2nd Gen S-series (1995-2005) Tech