Should i paint 20" wheels black?? (4d blazer extreme) NEW PICS
06-23-2009, 12:47 AM
Join Date: Nov 2008
Location:
Posts: 35
Should i paint 20" wheels black?? (4d blazer extreme) NEW PICS
---
Should I get them painted FLAT BLACK w a red stripe around the lip?? I think itll look better thn all chrome and thn maybe paint the chrome bumper burgandy. Wat you guys think let me know?
I also had some OEM 18/19 06 C6 wheels on it for a week but tires were too small and the chassis was too low to the ground. I could have changed to the right tire size but the rears are 19x10 and WAY too expesive so I just sold em. Rode very nice tho light wieght wheels.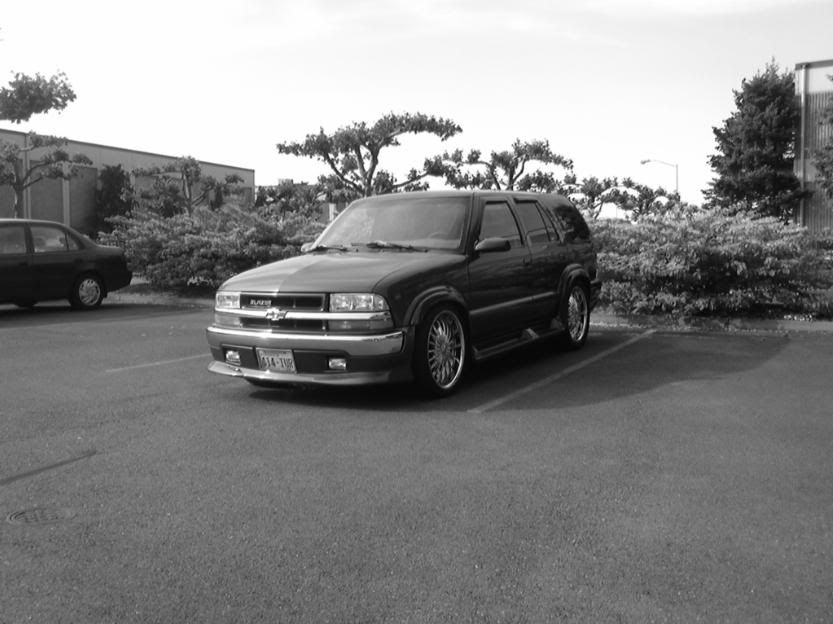 06-23-2009, 02:40 AM
Join Date: Nov 2008
Location:
Posts: 35
---
So you guys can get an idea (used paint)
06-23-2009, 06:04 AM
---
I usually always prefer black rims to chrome. I don't like how flashy those rims are chrome..they're not my taste. I'd say go with the black, I think it will look awesome with your truck!
06-23-2009, 11:29 AM
---
I would black out the chrome up front too, red bowtie
06-24-2009, 10:26 PM
---
Powder coat would be better and way more durable than paint
06-24-2009, 10:47 PM
---
I like the chrome wheels btw. Black is a huge pain in the butt to keep clean because they show everybody from dirt to scratches. At least with chrome its very easy to clean and they compliment the all chrome bumper as well. But that's my opinion. It is your truck and you can do whatever you want to it. But if you do decide to paint those wheels black, def get them powder coated.
11-09-2010, 10:22 PM
Join Date: Oct 2010
Posts: 5
---
i know this thread is old, but what size rear tire did you have on the c6 wheels and what drop do you have, any rubbing issues?
11-22-2010, 10:05 PM
Join Date: Nov 2008
Location:
Posts: 35
---
Stock C6 size, they fit just not the rear 19x10 wheels, (too wide) they will fit with spacers but the 20s in the pics the tire size is 275/40/20, front 245/45/20

the lowering kit is Belltech, still have it in my garage, currently on sale on seatte craigslist.

And as far as rubbing, it all depends on the offset of the wheel, my 20s had a +35mm offset which look great in the rear but stuck out in the front a lil and YES rubbed, hence why I put Vette/camaro/trans am wheels, they have a 50+mm offset (stock 4wd blazer wheels have 50+mm offset)
11-23-2010, 10:35 PM
Join Date: Oct 2010
Posts: 5
---
so you are saying you would run the c6 wheels over the 20's? so the spacers removed the 19 x10 rubbing issue?? what size were ur tires?
11-27-2010, 02:53 AM
Join Date: Nov 2008
Location:
Posts: 35
---
I woud just because they are aluminum instead of heavy chrome steel. Yes you will need spacers to fit the 19x10s or else they hit the chasis.. rear tires were 275/45/20 and 275/50/r19 (I liked the staggered tire look)
Thread
Thread Starter
Forum
Replies
Last Post