Stock wheel specs
10-18-2007, 09:11 AM
Join Date: Aug 2006
Location: Central New York
Posts: 45
Stock wheel specs
---
Hey all..

Can someone please give me the stock wheel specs for a 2000 4dr 4wd LS blazer? I find information on the forum for the wheel size(15x7), and the bolt pattern (5x4.75)...but that'sabout it. I did find some info on backspacing, but the numbers I found weren't consistent (5.5, 6, ?).

Can someone please give (or verify) stock:

wheel size
bolt pattern
backspacing
offest (+/-)

thanks!

Icarus
10-18-2007, 11:05 AM
RE: Stock wheel specs
---
15 x 7, 5 x 4.75 bolt pattern, 6" back spacing.
10-19-2007, 07:49 AM
Join Date: Aug 2006
Location: Central New York
Posts: 45
RE: Stock wheel specs
---
Thanks Dave.

What is the stock offset? (0?)

Icarus
10-19-2007, 08:44 AM
RE: Stock wheel specs
---
No not 0... Well the 20's I have on my truck are a +35 offset, so I wanna say that stock has be to around +40mm or higher... Remember 4x4 blazers have the same offset as a front wheel drive car. So we can fit wheels are that are +35 mm to +50mm. Most aftermarket wheels you will find that fit our trucks are +35 to +45mm offset. Anything lower than +35 will stick out past the fenders from 1" or more.
10-19-2007, 10:18 AM
RE: Stock wheel specs
---
Offset is a function of backspacing. This illustration should help: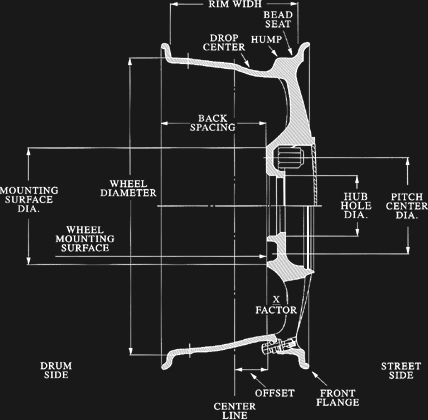 10-20-2007, 01:18 AM
Join Date: May 2005
Location: Central Illinois
Posts: 3,891
RE: Stock wheel specs
---
Offset is how much from center of the wheel to the mounting face is.
Backspacing is how far from mounting face to edge of rim.
Stock is 6" backspacing.
To really make things interesting you should figure out your Akerman angle and Scrub Radius. That should explain to you why GM has off-set and such a deep backspacing.
10-20-2007, 10:34 AM
Join Date: Aug 2006
Location: Central New York
Posts: 45
RE: Stock wheel specs
---
Nice. The picture is worth a thousand words.

If the wheel is 7", then the center line is at 3.5" from the rear of the wheel. 6" of backspacing puts the mount at 2.5" from the wheel centerline. 2.5"gives an offset of 63.5mm. Right? That seems like alot. I assume that this is considered to be the positive direction.

Ackerman steering geometry and scrub angle are intersting concepts, as they relate to vehicle handling. But, they are unknown (at least to me)for this vehicle, and seem (to me) to be difficult to measure with any accuracy. That being said, I'll make the guess that the reason, as it relates to wheel design,is possibly twofold.

First, my eyeball and gut tell me that it's all to keep the damn thing from flipping over. In a near flip alot of force would be placed near the out side of the wheel. So, with that mental image, it makes sense to me that the vertical support (mounting surface) for the wheelbe placed toward the outside.

There are some parts of that idea that I struggle with. By using such a large backspacing, the stance is effectively shortened...which also effects the likelyhood that the vehicle would flip under certain conditions. My inexperienced mind also suggests to me that the strongest wheel design would be one with a 0" offset, because it would best account for varying force levels originatingfrom varifying directions. But, part of the suspension's job is to absorb and translate those forces to a manageable subset. It's all a balancing act that I obviously don't have a good handle on.

The geometry also seems to directly relate to the specific components used, and their configuration, for 4wd drive systems (ie: spindle, CV joints, etc.). So, knowing a little bit about how GM operates...I'd say that they chose a geometry that not only gave engineers a warm fuzzy about not flipping over...but also allowed them to use a less expensive arrangement than some other.

That combination of ideas necessitated the wheel design..me thinks.

Part of why I am interested in all of this is because the stock wheel seems to be an oddball size...which seems to make finding any relatively inexpensive set of spare wheels (say for winter tires) a research project. At least...if you're like me.

I don't understand enough about the geometry to say that "this wheel will handle like stock" but "this wheel won't". So, my initial inclination was to find a wheel (preferablt steel) with stock specs.

Icarus






10-20-2007, 10:51 AM
RE: Stock wheel specs
---
I hear ya on the specs...
Trying to get a hold of this seller to find out what the backspacing is for these rims:
Voxx Ancona
,
Voxx MG
, and
MB Motoring Drifter
. No word yet though. I wouldn't mind if they stuck out past the fender an inch or so. The Voxx MG and MB Motoring wheels have 40mm offset, but as has been pointed out in this thread, offset is relative to backspacing.
I'm ready to give up and just get 18" ASA 5 spoke rims off tirerack instead of trying to do something different...
10-21-2007, 11:11 PM
Join Date: May 2005
Location: Central Illinois
Posts: 3,891
RE: Stock wheel specs
---
Scrub Radius
Radius Definition
Scrub radius is the distance at the road surface between the tire line and the SAI line extended downward through the steering axis.
The line through the steering axis creates a pivot point around which the tire turns. If these lines intersect at the road surface, a zero scrub radius would be present. When the intersection is below the surface of the road, this is positive scrub radius. Conversely, when the lines intersect above the road, negative scrub radius is present. The point where the steering axis (sai) line contacts the road is the fulcrum pivot point on which the tire is turned.
Squirm
Squirm occurs when the scrub radius is at zero
. When the pivot point is in the exact center of the tire footprint, this causes scrubbing action in opposite directions when the wheels are turned. Tire wear and some instability in corners is the result.
Applications in Suspensions
MacPherson strut equipped vehicles usually have a negative scrub radius.
Even though scrub radius in itself is not directly adjustable, it will be changed if the upper steering axis point or spindle angle is changed when adjusting camber. This is the case on a MacPherson strut which has the camber adjustment at the steering knuckle. Because camber is usually kept within 1/4° side to side, the resulting scrub radius difference is negligible. Negative scrub radius decreases torque steer and improves stability in the event of brake failure. SLA suspensions usually have a positive scrub radius. With this suspension, the scrub radius is not adjustable. The greater the scrub radius (positive or negative), the greater the steering effort and the more road shock and pivot binding that takes place. When the vehicle has been modified with offset wheels, larger tires, height adjustments and side to side camber differences, the scrub radius will be changed and the handling and stability of the vehicle will be affected.
http://www.ingallseng.com/terms.htm#Scrub%20Radius
SAI- for our purposes its the line drawn from upper ball joint through lower ball joint to the ground.
SLA- Short, long arm suspension (upper and lower a-arms), what the Blazers have for an IFS suspension. I haven't seen the scrub radius diagram for the S10-Blazers yet, however I suspect it is close to Zero if not negative.
Ackerman Angle
Ackerman Angle In the 1800s, Rudolph Ackerman figured out a solution that corrected the problem of steering arms that kept perfectly parallel throughout a turn. Parallel steering arms do not work well during a turn since the inside tire wants to travel a smaller circumference arc than the outside tire. This produces an enormous force that causes the wheels to either scrub or "buck" as one or another wheel breaks traction. Ackerman came up with a steering arm design that allows the inside tire to turn at a greater angle than the outside tire. This steering arm angularity is directly related to the distance from the center of your rear differential to the front axle. Ideally you would want to draw a straight-lined "V" from the rear axle's centersection, through the kingpins or ball joints, directly to the tie-rod end mounting points. Obviously, not every vehicle designed has a perfect Ackerman angle (for example, the same steering and solid-axle setup is used on Blazers and
Thread
Thread Starter
Forum
Replies
Last Post
2nd Gen S-series (1995-2005) Tech
2nd Gen S-series (1995-2005) Tech