[PROJECT] Fresh10
11-29-2010, 09:04 PM
[PROJECT] Fresh10
---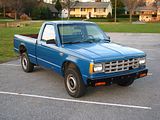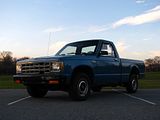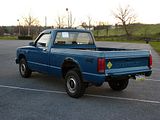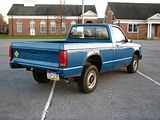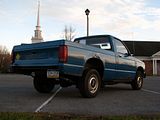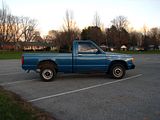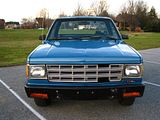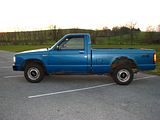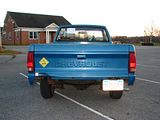 1989 S-10
Single cab, short bed
4 cyl 2.5
5 spd
126k miles
Whole-lotta-rust mod
$300
Plans are to get a rear bumper, make the horn operational, get it inspected, solve starting issue ANDEN
drive it until it's unsafe in the winter, park it in the new garage, work on it as time allows.
Still looking for ZR2 t-bars for my Blazer which still needs maintenance. But this S10 has been calling my name for months now. Thought it was gone, then saw it peeking out from behind the guy's house and stopped by the following Monday to take it off his hands.
Work completed so far to it:
• Swept out bed full of leaves. Very small amount of rust on the floor near the tailgate.
• Removed headliner due to a desire to not inhale dust particles.
• Removed insulation below rubber mat. It was holding water and smelly. Floorboards are 98% solid, some bubbling rust but nothing structural.
• Took front seat out and swept entire cab.
• Cleaned all glass.
• Installed 'freebie' exhaust that came with the truck since old muffler literally had no backside. Muffler to tip piping was only there because of the location of the hangers.
Seller claims he put a new fuel pump in it and a new injector. Still some starting issues. Starts on the first crank with starting fluid, BUT will start on dry/warm days without issue. Need to get a fuel pressure gauge on it ASAP.
Fun little truck and haven't gone through a full tank yet, unsure of mileage but should be respectable once all issues are sorted out.
So with the new year coming up, moving to a new place, Wife getting a new job, and me making some new decisions with my life and career - this truck is a token of all things new.
And its name shall be...
...Fresh10
12-02-2010, 09:21 PM
---
Got the rear bumper on. Wired up some license plate lamps. Replaced passenger's side tail light (original had a hole in it, not sure if it would have passed). Tomorrow is the horn and it should be good to go. Running it through inspection on Sunday if all goes well. Pics will be up tomorrow.

Got some centercaps and fender flares at the boneyard a couple days ago. Truck already has dog dish hubcaps so I might sell the caps. Not sure if I'll use the fender flares or sell them.
12-02-2010, 10:45 PM
Join Date: Jul 2009
Location: Oklahoma
Posts: 1,604
---
"Whole-lotta-rust mod"

that is the best mod ever!

Looks like a fun project truck.

Which fender flares did you pick up don't know if ones from the S-10 will fit a blazer but I've been looking for the black ones if your wanting to sell them.
12-05-2010, 10:47 AM
---
Bumper is on. Horn is operational.
Fuse was blown. Put the fuse back in and the horn blared nonstop. Took it apart and found the problem. The plastic pegs between the button and the contact were all broken off. Junkyard had EVERY 1st Gen steering wheel style except for mine. Even checked the early Astros and Safaris because I recall my Astro having a similar steering wheel.
Went to the hardware store and got 18 (2 for each 'peg') nylon washers and some super glue. Lined up the washers where the pegs were and superglued them in. Put the contact back onto the back of the button and all is well.
Bringing it to the garage to get inspected today (hopefully).
Pics of bumper: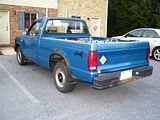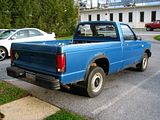 Had to get all new hardware with it and wired new license plate bulbs as I mentioned before.
12-15-2010, 08:55 PM
---
12-15-2010, 09:24 PM
---
Yea, stupid me put those flares on to take pictures. Forgot all about them and went for a drive that night. Forgot to take them off. RF flare didn't make it home. I scoured the route I took in daylight the next day and couldn't find it. So now I have 3 useless flares. But hey, they have mudflaps!

Oh, another big development. I figured out the starting/sputtering issue. Turns out the TPS was bad. $20 later and she starts right up every time and doesn't sputter and die past 1/4 throttle. Seeing the previous owner in the parts store while I was getting tune up parts for the truck he just sold me and couldn't diagnose the issue...priceless.

Last tank was an average of 17.5 mpg. This was with a day or two of driving it after an oil change, new plugs and wires. Silly me didn't think to replace the cap and rotor at the same time so I'll be doing that after I solve the issue with the Blazer.