1994 v8 4x4 s10 blazer tahoe
11-28-2011, 06:11 PM
1994 v8 4x4 s10 blazer tahoe
---
Well here goes my blazer build , it's definatly going to be different . Let me start off by saying I'm not a ford guy . I am putting a engine out of a 82 ford f150 302 , and the transmission and the transfer case . Things have been going great the transmission is in ,and its only about 3/4 of a inch longer than the 4l60e . I was able to use the transmission mount from the 4l60e also . Tomorrow I'm putting in the transfer case and I'll get some pics . The motor mounts needed very little fabrication (only about 3/4 off) . The oil pan , that will be made by my friend and take some time . Its alreay formed it just needs to be welded up , we used the rear of the 4.3 oil pan and attatched it to the 302 oil pan . There will most likely be some clearance issues with the heads and or headers on the steering side , but I'll solve that issue when I get there . I have put alot of thought into this and I really don't see why it shouldn't work . I hate ford ignition modules so I bought a hei distributor , one wire hook up .
11-29-2011, 07:51 PM
---
Yes I have a bunch of pics But there on my phone so I have to have my wife show me how to get them here . The engine is totaly tore apart right now , and we fit it in the blazer today and mated it with the transmission . Finally got the oil pan where we needed it and welded that up . Painted the block and heads blue and yellow with opposite colors on the bolt heads , and it looks sweet . Tomorrow I plan on getting the crank bearings and crank in and the pistons and rings . This was going to be a strickly off road vehicle but the way things are going I should be still road legal . I have searched the internet and a few other people talked about doing this but thats as far as it got , I am a professional mechanic and all my friends are into metal fabriction or a mechanic to . So between my friends and I this will work , and be one of the sickest blazers around my area .
11-30-2011, 10:51 AM
---
Total engine rebuild kit including see through HEI distributor and high torque mini starter and high flow oil pump .
The toughest part of the project so far , the oil pan . but I was able to keep the windage tray in there and get the oil pick up down far enough so the oil shouldn't vortex .
One of the heads painted with plugs installed .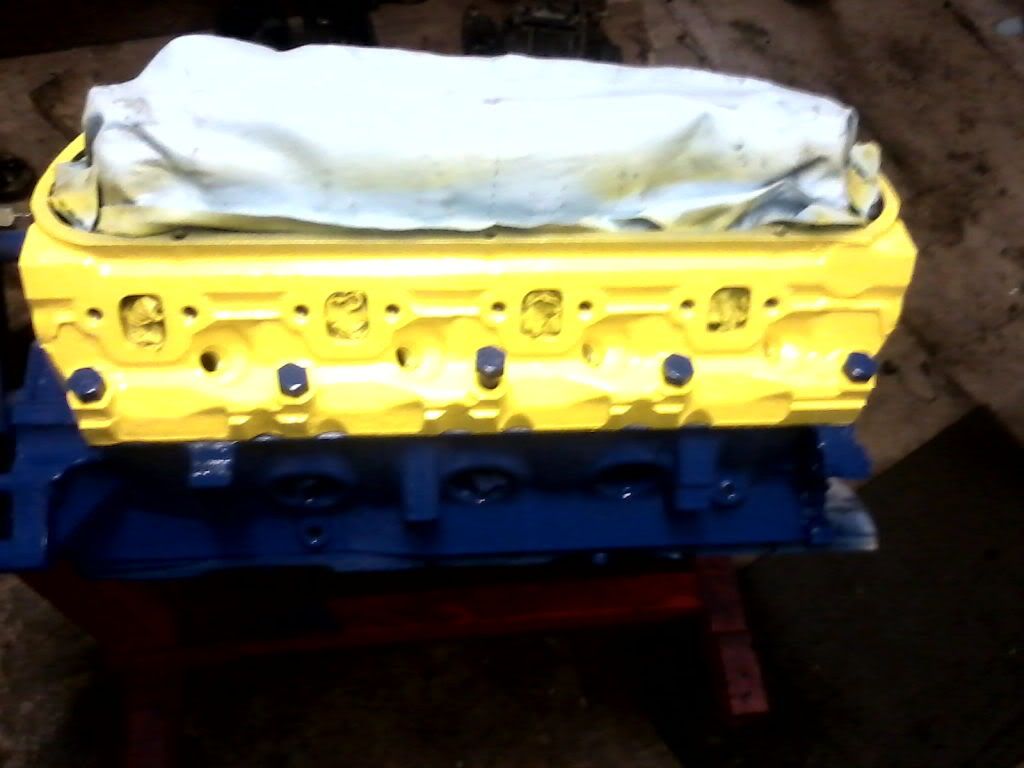 Block and head mated with head bolts just for picture .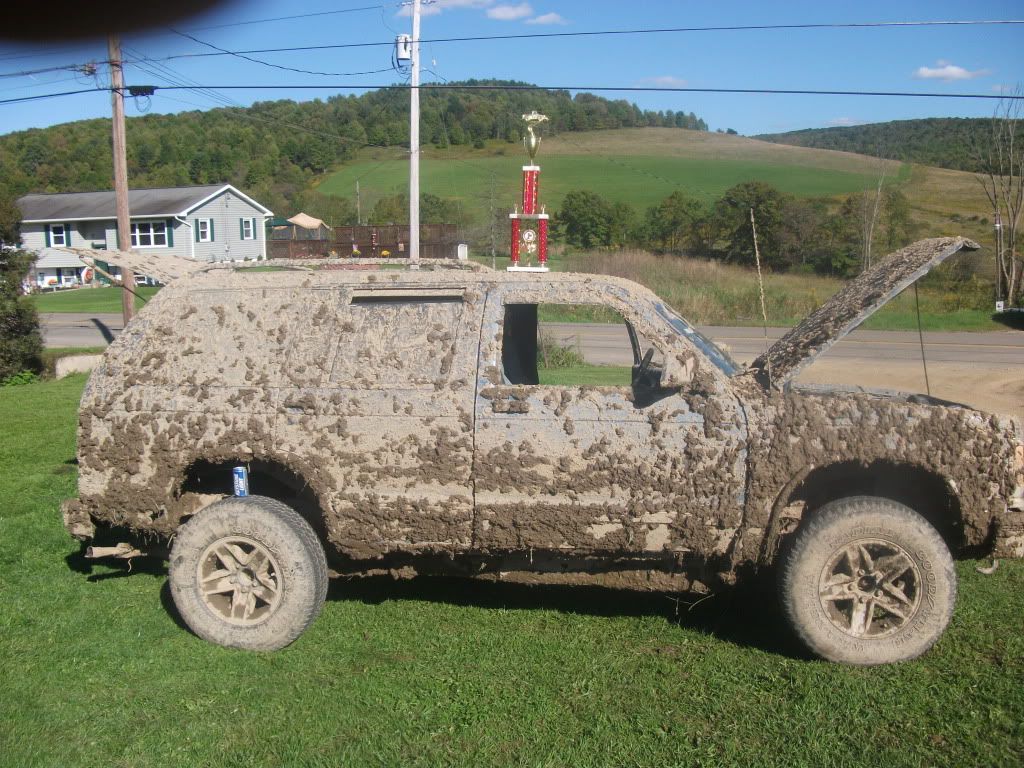 And heres what all thats going into , Picture was taken after winning first place at the Broome Tioga Mud bogs . I was the smallest vehicle there running 235/75/15s and everyone else had 35s or bigger , it was so fun .
11-30-2011, 02:40 PM
---
Yes I do have the whole truck , it's a 82 f150 4x4 , used to be are plow truck . It ran awesome plowed snow like a tank and has a very tight shifting transmission . The truck does have a 9 inch rear end in it , but the front has the twin i beam suspension , so I am looking for a ford solid front . I wish I had the front end now and then the oil pan would not have needed to be made . I new at the beginning that I would be doing a solid axe and thats kinda what led me putting this ford engine in . At first I was going to go with 1 ton chevy axles , but the drive shaft was on the passeger side , and it had 16 inch rims . I just bought new 15" 33s so I didn't want 16 in rims , I no they make wheels that are 8 lug 15 inch but I guess I just didn't want to . And when I was checking out the ford I noticed how simaliar the to were so I measured and remeasured and there was less than 3 inches diffence between the two . And I owned most of the parts needed to make this happen , so I was able to spend a little extra to make it pretty cool . The engine is getting put back together right now and its bored 0.040 crank bearings are 0.020 and rod bearings are 0.030 . This is a winter project so I do still have plenty of time to get the front axle and stuff though .
11-30-2011, 10:09 PM
---
Well I could go that way , and I'm not saying that I haven't thought about it , or that I'm not going to do it . But the rear thats in the ford is in great shape so I would like to match it with a solid front and keep the same bolt pattern and width . Not that I mind width I actully prefer it .