Green Eggs & Ham
07-08-2011, 04:32 PM
Green Eggs & Ham
---
So I couldn't come up with a cool name for my Blazer or this build thread, and since we have such a love-hate relationship...

Anywho, here's a little history of the situation leading up to this thread:

Last fall my work transferred me downtown and because parking is between $10-$20 per day I started taking public transit. My poor blazer was permanently parked. Then 8 months later my wonderful employer transferred me again to a different part of town, making public transit impossible. Time to resurrect the blazer right? Well, shortly before being parked it had developed several problems that were left alone since it was being parked. The problems are: 1) Leaking seal on front differential where driver's halfshaft enters. 2, rear passenger outer bearing growling and getting madder by the day. 3, Front torsion bars very soft and sagging. 4, Possibly need to replace front hubs as well. 5, front sway bar bushings worn out and needing to be replaced. 6. A number of things in the intake (throttle body, EGR, another thingy) needing to be cleaned for poor throttle response. There are several other minor problems that aren't worth mentioning.

So with all this, and sky-rocketing fuel prices my wife was pushing me to sell the blazer and get a small commuter car. I bought the blazer to go camping and off-roading, I didn't want to let that go, but since moving to the city none of the people I know are into that kind of thing. Until my little brother FINALLY bought a 4x4. And an S-10 no less. Now I have a reason to get my truck into trail-worthy condition. He's a teacher, so he has some money to spend, and he has all summer off to work on his truck. I can't let him get too far ahead so here goes. The list of projects for this summer:

- ZR2 axle and front diff swap.
- ZR2 torsion bars
- Front swaybar quick-disconnect
- Upgraded recovery points
- 2" body lift
- Install my CB radio
- Install 31x10.5 tires and rims sitting in my shed
- Rear swing out spare tire carrier
- Undercoat the bottom of the blazer

I'm sure that at least a few things will be added to this list, but for now it will keep me really busy.
---
Last edited by El_Beautor; 07-11-2011 at

01:07 PM

.
07-11-2011, 08:38 AM
Shopping
---
Well, I went shopping on Saturday and picked up a few parts to get going on nursing my Blazer back into good health. I got:
- Rear Axle from a 98 ZR2 3.73 gears with G80 including disc brakes
- Front Diff from a 98 ZR2 3.73 gears
- Torsion bars from 98 ZR2 30.69mm (mine are 27.94mm)
- Z71 tow hooks
- Air compressor
- Urethane swaybar bushings

That ought to keep me busy for a bit. I'll get these cleaned up and hopefully I'll be able to get started installing everything this weekend.
07-11-2011, 09:14 AM
---
Mind if I ask how much the ZR2 front and rear axles ran you?
07-11-2011, 12:34 PM
---
Not at all. I found what I think is a pretty sweet deal. I paid $200 for the front diff, and rear axle togther, without the brakes. He threw in the disc brakes for another $20. The ZR2 torsion bars and keys cost me an additional $40. The guy's DD ZR2 was broadsided by someone running a red light , so hopefully everything is in good shape. No immediately apparent leaks or problems. I'm going to clean everything up and change all the fluids and seals before I install them.

By the way, does anyone know the fluid amounts for the front and rear diff's from a ZR2?
---
Last edited by El_Beautor; 07-11-2011 at

04:08 PM

.
07-11-2011, 06:07 PM
---
I got thinking that since I'm working on a build thread I should also include a wish list that includes the things I want to do, but don't necessarily have the money right now:
- The body lift goes here for now. Hard to justify to the wife. She thinks feeding our children is more important.
- Brush guard
- Fender flares (I know, I know; 4 door = next to impossible without fabricating)
- Winch
- Rock sliders/steps
---
Last edited by El_Beautor; 11-04-2011 at

09:59 AM

.
07-19-2011, 12:56 PM
---
Well I didn't get as much done on the weekend, but I did get started. I pulled the rear diff cover to change the oil, and everything looks great. Almost no shavings on the magnet and everything looks sharp and clean. The oil coming out looked good too. I got delayed because one of the studs on the brake calipers is broken so I have to find a new one. Here's a couple of pics of the diff: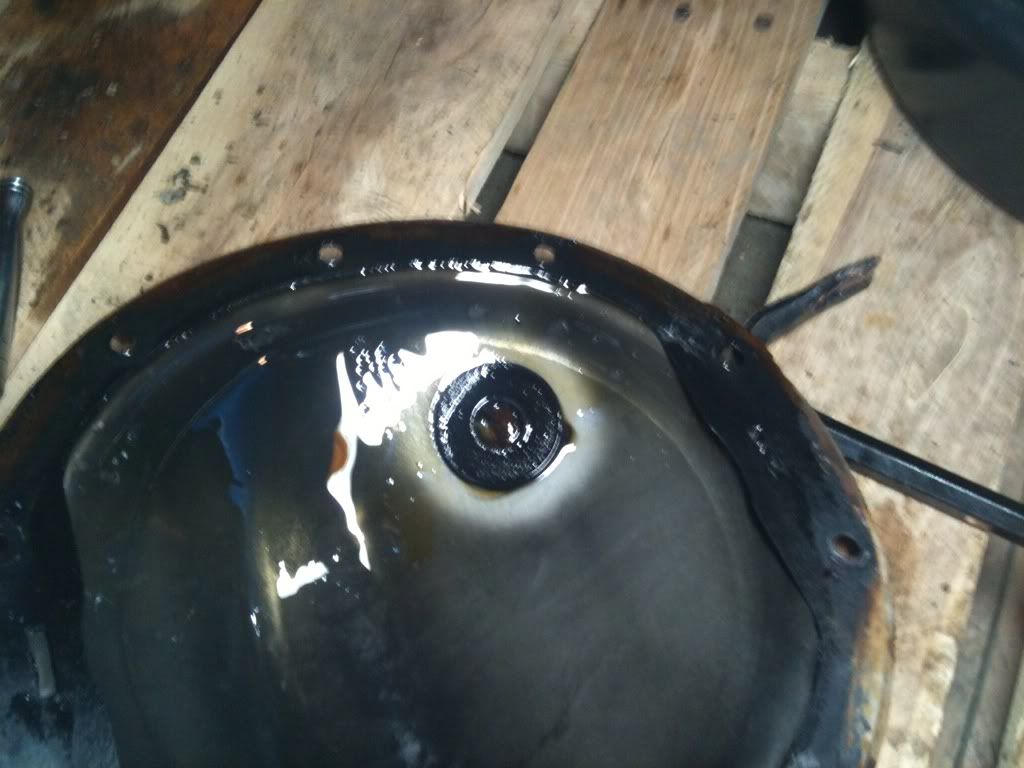 ---
Last edited by El_Beautor; 01-26-2012 at

01:16 PM

. Reason: Changed image link location