Operation: Mongoose....
10-21-2011, 04:30 PM
Operation: Mongoose....
---
ok, so before you go boooo a FORD!!! let me lay it out for ya.
alright, so honestly since i spend almost all my forum trolling time here i figured why not?? i mean yes its a FORD but still...i just dont find the mustang forums to be...lets say....like this one.
so i hope you will welcome my red headed step child of a build into the halls of chevy-dom.
starters:
well when i bought it i was looking for a summer project/ride in case i needed to put the blazer down at all...and honestly i always liked this body style. i bought the car back in spring 2010 for 1000.00 it was a 95 base model coupe. v6 5speed...interior was totally manual.
goal:
update interior and go for old school muscle car look. raised rear end, and wider stance.
engine wise...just a stable sunday driver that was fun...not looking to blow doors off.
on the way home pics...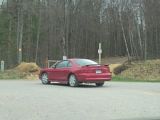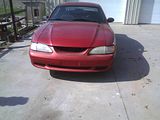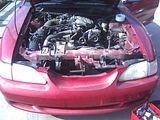 step one cosmetics:
in the first year i stripped out the interior and upgraded to a two-tone 2001 interior and added power windows and locks. i also had to add some missing/busted trim pieces to bring her back up to "appearance" grade.
first was taking off the front clip for some clean up and upgrades.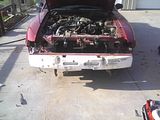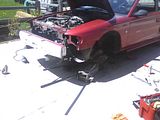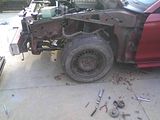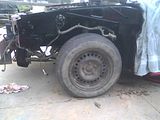 junkyard find on the seats....just a little bent up
gauge upgrade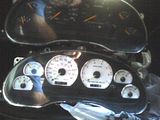 out with the old...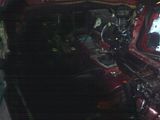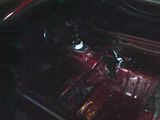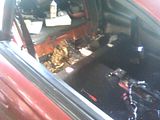 and the new going back in....
i had to reskin some of the interior onto my seats because the junkyard set was from a car that had been t-boned pretty good.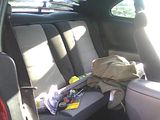 foglights added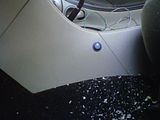 and of course gauges!!!
finished fully auto interior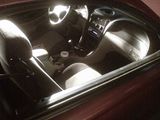 from there i went on to start adding some exterior touches...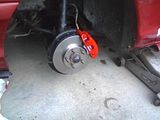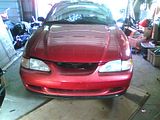 chin spoiler
rear louver...going for old school look.
and of course a wheel upgrade...off a 2005 stang.
and my only mechanical upgrade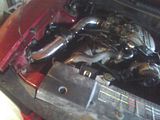 cold air intake.
other mechanical work included...
suspension
exhaust...swapped in true duals
brakes
radiator
some sensors
plugs and wires
some fog lights for good measure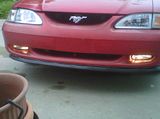 and how she looked mid summer after adding the clear lenses and corners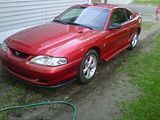 now some of you know that i blew the head gaskets this summer so she is down again. but there is hope.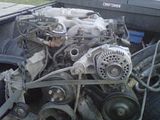 craigs list to the rescue...a 300.00 2001 v6 stang engine with 100k on it.
so that has now thrown my build onto a whole new path, engine dress up and replacement.
i basically have all winter to swap an 01 engine into the 95. i dont think it will be too bad...lots of sensor swapping and some harness modifications.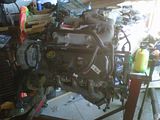 there it sits.
the engine is getting all new gaskets, timing chain, gears and tensioner.
also some headers, other minor upgrades, and a paint job.
also i figure since i have all winter...why not polish some aluminum for fun.
i am starting with 200 grit and working my way up to 800 or 1000 grit.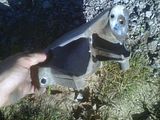 and in the process...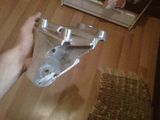 when i say polish aluminum i mean all of it...brackets..intakes and everything.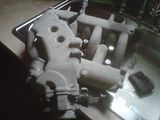 just so you get the idea.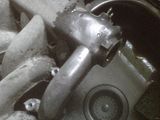 now this build will be slow paced this winter and i will update as i go.
as always toss out some feedback..suggestions.
thanks guys.
---
Last edited by warthogdriver; 10-21-2011 at

04:39 PM

.
10-22-2011, 02:15 PM
---
Nice work man, a big thumbs up for the interior! The car looks great.
Last winter a friend of mine had a 95 mustang GT vs tree episode that ended it, It was the same color as yours. He has a silver foxbody now, LX 89. 4 banger removed and the 95 V8 went in. That was somewhat a challenge, but we got it running.. good luck getting her back on the road!
10-25-2011, 10:44 AM
---
man, I had an f-150 lowered, that we dropped a 302 crate in, that thing hauled *****. It would about throw your head into the glass on the back of the cab when you got on it. People hate on Fords just because they bought crappy ones, if you build it (just like anything else) you can make one awesome.
12-18-2011, 06:26 PM
---
ok, the space between updates emphasizes the sloooow pace that i am going.

finally got all the "rough" polishing done on the upper....now i need to start with the 200 and work my way up.
---
Last edited by warthogdriver; 03-07-2012 at

03:07 PM

.
03-07-2012, 03:24 PM
---
ok time for the spring update...i have made some progress to show.
old engine popped out and stripped of all useful goodies.
with help of my dad and brother..
gotta love that engine bay!!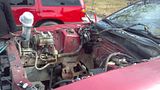 def need some tlc in this area!!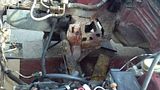 fuel rail mod and mach up....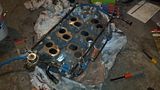 and the finished upper intake job...painted and polished!!
wire harness rebuild as well....one down 3 to go.
the wire harness required some modding due to the swap.
as you can tell there is a red theme going here.
next step donor engine rebuild...just waiting on the heads to come back for reassembly.
then engine bay tlc, axle rebuild for the trac loc and 3.73 then final step before full assembly is herculiner the bottom while its tore down...now come on...you knew there was gonna be bedliner in this project somewhere.