Restoration Build of 'High and Dry'!
05-02-2019, 01:19 PM
Restoration Build of 'High and Dry'!
---
First off I want to say that we are a family of GM product ownership!! BUT, sometimes we need a product we aren't afraid to beat, distort, and mold a creation with and i found one. Yes, I've named my new 4 X 4 buggy HIGH AND DRY! And that's they way she'll stay...DRY LOL!! NO MUD over high than the bottom of the rims!! I won't go through the troubles I see my friends go through every time they go out and play in the soup. I'm also a SAND kinda guy anyway! Sand is dry and also a challenge and I love sand tires!!! I get hard every time I see a vehicle with big bulging sand paddles under they vehicles!!!!
BUT, this particular restofication ....... It is primarily for the road and some show from time to time. You don't see many on the road, cause people build them so big and high, so I think the results will be great. Some kid somewhere will say, "Hey, look up there dad"!!! I know I've always enjoyed the monster truck shows when I lived in Michigan and kids love tires tall than themselves. Maybe some parades will be in my schedule. It does, however, sport a ?87?Chevy Blazer drive train, with a 1992 Toyota truck frame and I spose Toyota Land cruiser axles ( I think the axles are also truck but the fronts have 'BALL KNUCKLE' joints). No, it's nothing big,but, it's just right for being road legal! My title states 1993 Suzuki Slidekick JLX and the interior is like new, and all I have to do is make sure my bumpers are approx. 29" from the road. Not a problem! I also plan on getting new Baja polished aluminum wheels and 42" tires for her. I've always wanted one of these since my brother built one back in the mid 80's God rest his sole.My brother was killed when he was 49 years old back in July of 2007 just days before his 50th Birthday while on his 93' Anniversary Edition Harley one morning on his way to work in Mendon, Michigan when a full racked buck apparently got spooked and jumped into the road into his path and my brother got the horns before being ejected and later died at the hospital just after arrival. And yes, he did get his last deer. My big brother would come to Florida from Michigan for Bike events and stay with us. He was born in 1957 and myself in 1962. I moved to Florida in 93'. He served in the Army and I served in the Marine Corps. I have one younger ( 1966) and one older (1955) brother also. This build will be dedicated to my brother Terry. I am a photographer by hobby so I always document with lots of photos when I build and restore but I will be lenient here. I use a Nikon D90 and shoot as high quality as possible so don't be afraid to copy and save so you can zoom in on a photo if you need to. But as you can see, shooting under a vehicle while laying down isn't the best LOL..I also hate using the flash ... My back up hard drive is bulging with photos from past build and creations! Thanks for looking and feel free to share your mini monsters and tips here!!! I have a good solid platform to work with!!
Anyway, here are the photos of my MORPH at the seller's house while we negotiated a trade deal before he delivered it from Merritt Island, Florida to my home in Palm Coast, Florida.
---
Last edited by WizardMaster; 05-03-2019 at

08:31 PM

.
05-02-2019, 01:41 PM
A few days later, she's home!!
---
Here are the two more photos from his ad on CraigsList. HEY, where's that winch in the photo??? Yeh, these people can be sneaky but I'll buy a really nice winch for around $500 when I'm finished!!!! And the info from his ad went.......(yeh, I save the text just to cover my *** LOL)..........
-------------------------------------------------------------------------------------
***Make offer or trade
93 Suzuki Sidekick JLX 4 door with a big lift. Clean FL Title incase you wanna drive on road. Or use as Mud truck.
4.3 Chevy vortec motor Runs Strong...
Aluminum intake
750 holley carb
Headers
Nice cam
Front push bumper
Tires half meat
Clean interior not torn all up
Body very solid not rusted away
*****I also have a extremely solid tranny and converter you can have with the jeep... 4L60e
Cons
Needs tourqe converter 4L60e which I have for you...
Back rear pass brake caliper
Water pump leaks a small bit
#Pretty nice toy for sure!!!
----------------------------------------------------------------------------------------
AND I didn't think anything of the ad, but think about this... I get a great 4L60E replacement transmission to put in the place of a custom Buick TH350 trans that bolts to an adapter on the back of my Chevy V-6 vortec and then to my DOWNEY off-road transfer case...... Did you catch that??? Never deal with clowns that go to junk yards thinking they need an electronically controlled transmission to replace...... well, they never looked at what they were replacing!!!!!!!!!!!! I'm so glad I got this away from them!! When I looked under that truck at that pan later and started asking my mechanic buddy questions........ I couldn't help but laugh at stupidity!!!! I always wondered what it looked like. Anyway, I gave about $1000 value in trade for this. Sorry if anything don't make sense but I'm sure you can figure it out. PRIOR to 'dummy' getting it before me, a 75 year old man built this in the late 90's and he has my greatest respect where ever he is!!!! The welds are remarkable, and everything lining up! BTW, here it is a 'dummy's' house.
05-02-2019, 04:30 PM
---
Welcome to the forum!
That certainly looks like a Merritt Island build
I use to live in Titusville and would frequent Canaveral Groves to a little mud hole out in the woods when I had my 91 Toyota 4x4, loved that truck, should have never sold it...
Looks like a good build and fun ride! When the time comes to solid axle my Blazer, I plan on going with some Toyota axles such as those. I don't care for the super wide track width the 8 lug Super Duty axles give that people like to use, I'd rather keep the width closer to stock, as I honestly don't even plan on even going as high as your Sidekick is set up. I just foresee myself needing some beefy axles after my LS3 swap is done, and I've seen some Toyota axles take a serious beating
Best of luck, I look forward to seeing you future posts!
05-02-2019, 08:09 PM
Join Date: Jul 2018
Location: Somewhere in Oregon
Posts: 105
---
Glad you got all the running gear figured out. That looks like it is going to be fun! I am more of an asphalt go fast guy but have had my share of offroad way up in the air K5's back in the day. lol
05-03-2019, 08:36 PM
---
Thanks guys. I'm not much of a mud guy cause I've seen the stuff all over people and I've seen what it can do to one's wallet as well LOL... This will primarily be an asphalt truck for sure. Not going out and ruin my investment as I keep building on it.
05-03-2019, 08:49 PM
---
Here it is just after it was unloaded. After we rolled it off the trailer and up to my garage door, I asked that he put it in PARK.... The uncle said that they can't and we blocked the tire from rolling. I asked why we can't put it in park and they opened the back door and said the parts were there.... I gave up and after they left, I installed a new battery and checked all the wiring etc., dumped 5 gallons of gas in it and held the brake as i started it up. It wanted to go backwards and that is why I was holding the brake just in case, to keep i from hitting my house. After I moved the shifter into what I thought was park( it is a B & M shifter), IT WAS and is has PARK!!! I removed the wood blocks and it clicked into park! Those clown were just flipping a deal and knew nothing about it. I think they thought the front drive shaft had to be installed to have PARK.......
05-04-2019, 10:27 AM
---
Well, she's been since moved out to the shop in my back yard. I ordered and received a HF transmission jack from ebay. The jack works great and I would buy another one if need be. I read all the reviews and they are correct if you are not careful! Coming down is just fine but when going back up with a heavy trans, you must be centered or it will tilt to one side when raising. Also that strap is kind of a pain and I did use it when I brought my transfer case down but I didn't over tighten it and it was fine. And yes, it can get in the way when not using it, but I worked around it.I didn't use it when bringing down the transmission and I had a piece of 1/2" plywood on the trans platform to avoid slippage with metal on metal and it worked great! It felt good that if I had any problems like I encountered, I could walk away and leave it there knowing it wouldn't come down on it's own over-night like most hydraulic jacks do when they leak. BTW, I had to come back the next day and remove the driver's side header before lowering the trans. That jack rolls very nice! I then rolled it out, mounted the ENGINE STAND mount to the trans, then rolled the set-up into place on the stand and lowered the jack. The engine stand worked great for holding the trans level. Also I cut a couple pieces of 2" X 4"'s because transfer cases seem to be strange odd shapes and are rarely flat underneath. This balanced it perfectly!!! Here's a few shots. OH, and my baby girl was keeping watch for me.........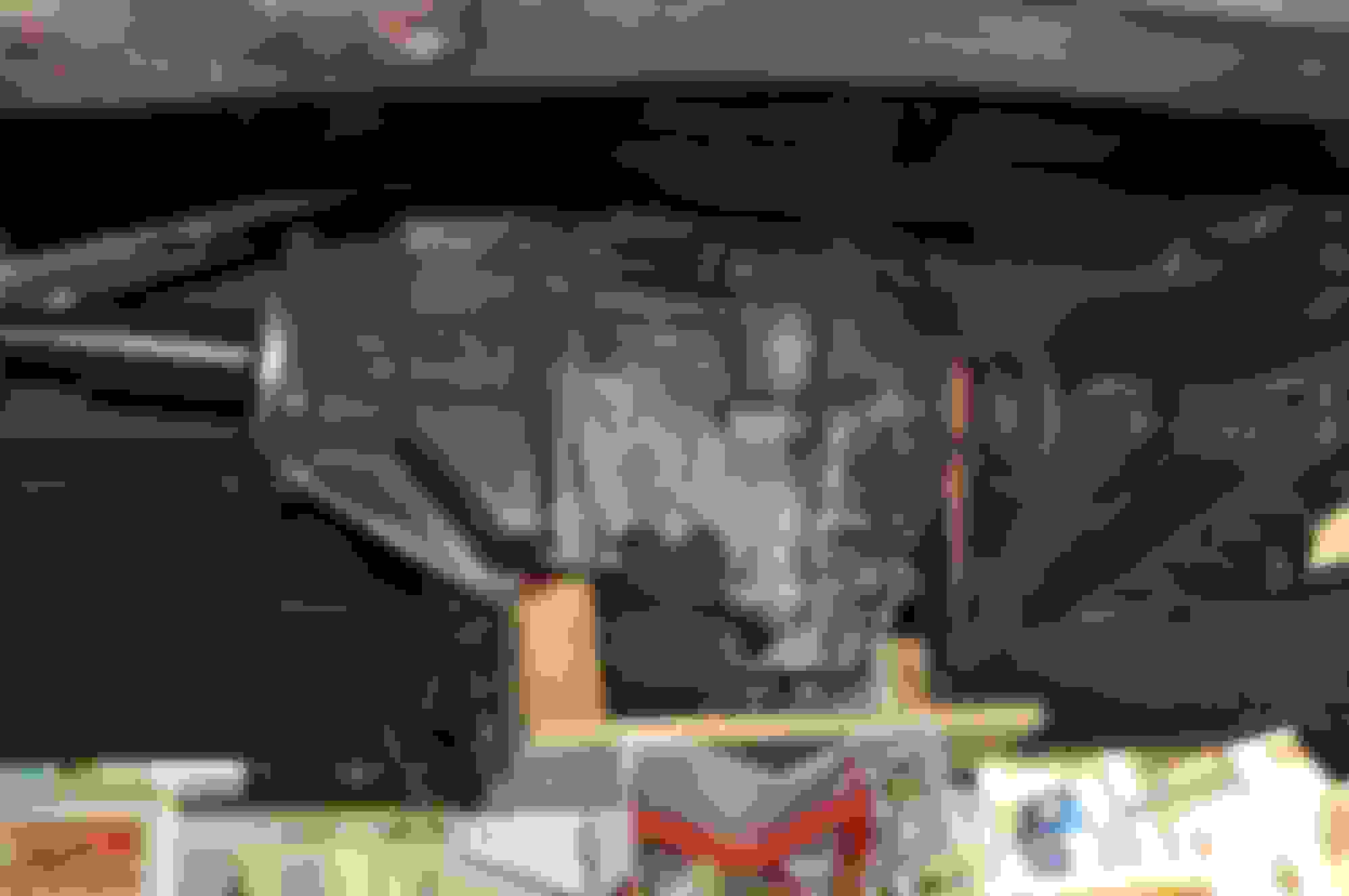 05-04-2019, 10:49 AM
---
Let's turn to the transmission now. They are always a process to remove but I took my time. They had hydraulic hoses with clamps and since I couldn't get my big hands up at the transmission area, I un-clamped them at the radiator. I removed the linkage, etc. Back on the rear of the transfer case, I removed a ?speedometer? cable?? Is that where they are located? The body is a 1993 sidekick and I assumed it would have an electronic speedo. I wonder how they did that because the speedo looks original. Maybe it don't work and I'll have to install a GPS speedo like I did in my boat.
05-04-2019, 11:09 AM
---
The rear of the engine! I removed the adapter plate from having that BOP installed on the back of this 4.3 and I found i had to remove the fly wheel.I couldn't find any ID number in the top behind the intake manifold so, I'm hoping what I did find on the rear of the block helps to identify the year. I'm thinking it's a 1990. Also, i did ID the Hedman headers used and they are still available for this morf w/ a Chevy engine installed on a 1992 Toyota truck frame. There's also another good site that sells specialty headers for just these morf projects. I put the boards under the oil pan but the engine seems very well balanced and not much pressure on the boards. Anyway, the ID numbers I found are near the upper right area.