OK got my k5 towing rig (need advise)
04-29-2010, 01:45 AM
Join Date: Apr 2010
Posts: 4
OK got my k5 towing rig (need advise)
---
Hello, I just bought a 1985 k5 blazer to tow our boat with. We will ONLY be using this to tow the boat. I picked it up 65 miles away tonight and drove it home. Quick history: They took the stock carb off and put on some carb that is non comp controlled.( Ill post a picture tomorrow..) It had a manifold port vacuum leak that i fixed before I drove it home. It drove ok but the check engine light stayed on most of the time. A couple of times the check engine light went out but then the truck had no power, I had to shift into D from OD to keep momentum if I was on a slight upgrade. SOOOO this is my situation, I will put the money into this truck ONLY to serve the purpose we bought it for. So I have a few questions? I realize that getting a stock replacement carb and re hooking all the correct lines would be the best way to go. But do I have any options?? I have 1 new holley 750 (man choke) and 1 used edelbrock 600. Can i use one of these? Adapter?? Does this thing most likely have the 700r4? Can I make one of the carbs i have work with the transmission? I dont mind if I loose overdrive!!!! I normally would not consider this but I have lots of parts around and like I said it will only be used to tow our boat about 10 miles each way to go skiing...Different carb and go to a TH400???? Im not being cheap, to be honest im trying to get away from getting a stock carb and doing all the research to get the wiring and vac lines all CORRECT... I have experiance with doing that job and I have learned that it can be a very time consuming and potentially expensive venture. So what are some thoughts??? Ill post a picture tomorrow....
04-29-2010, 06:40 AM
---
I would start by checking the codes to see if it might be something else besides the carb change that is causing the CEL. There were a few different style carbs used in that year and not all of them were electronically controlled. It depends on what you have for emissions (Federal or California).
If you replace the distributor with the older HEI distributor and the carb with a fully manual one, you can disconnect and remove just about everything else.
Here is a fairly informative thread from
thirdgen.org about an '85 Camaro
which shares a lot of the emissions and electronics with your truck.
It should have the 700R4. All that it would take to make the carb work with the transmission is ensuring that the TV cable connects up to the carb properly. You shouldn't have to lose anything.
04-29-2010, 11:33 PM
Join Date: Apr 2010
Posts: 4
---
so heres what im working with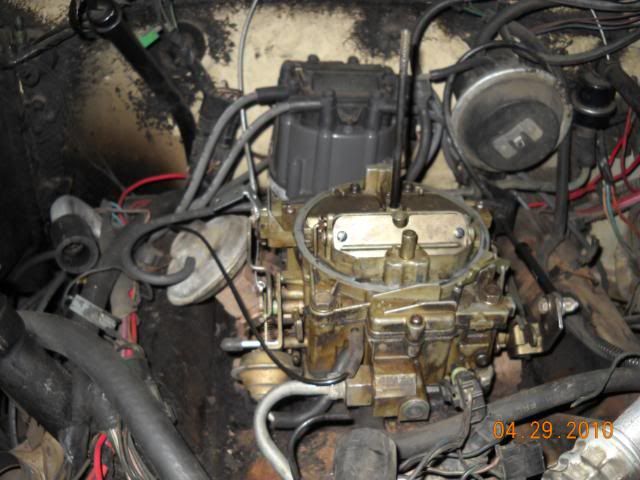 04-30-2010, 06:36 AM
---
Looks like you already have the non-computer controlled distributor. The only thing that I cannot see is if the EGR valve is still connected like it is supposed to be. That would be the last piece to the puzzle that I would either all out remove or keep hooked up properly. If you were to block off the hole in the intake, you could basically just pull the bulb from the dash and your light would go away. You may have to tune the carb to be a bit on the rich side to keep cylinder temps under control without the EGR valve, but that is pretty easy to do.
04-30-2010, 11:26 AM
Join Date: Apr 2010
Posts: 4
---
When i went and picked up the rig the egr was not hooked up and there was an open vacuum line that was sourced at the manifold. just to get it home I hooked that line to the egr. i didnt want to lean it out on the drive home. So you think block off the egr?? What about the computer??? And by the way where is the comp at? When you say I may need to richen it up I assume you are talking re-jet??
04-30-2010, 11:29 AM
Join Date: Apr 2010
Posts: 4
---
No the egr I believe is supposed to be hooked to the valve on the front of engine. One thing I thought about last night is that I have to pass emissions with this thing. Am I going to be better off going back to stock?
04-30-2010, 01:17 PM
---
There should be a control solenoid for the EGR. The ECU controls when the EGR valve is open which should only be while cruising down the road. By connecting it up to manifold vacuum, the valve is now always open so long as there is manifold vacuum to open it. This is not good for performance, or idle characteristics.

As far as passing emissions, there are some tricks you can do to make it get through. You'll need to keep your cats and, depending on your local inspection requirements, just about everything else.
Thread
Thread Starter
Forum
Replies
Last Post
2nd Gen S-series (1995-2005) Tech
Steering, Suspension & Drivetrain