What trailers have you towed with your truck?
06-28-2010, 06:40 PM
What trailers have you towed with your truck?
---
I know we have had a few of the "can I tow this" type of threads in the past, but I don't recall there being a thread that contained what people have towed, how well it went, how far you traveled, etc.
To start off... I towed my 1986 Starcraft Starlite 24 popup camper with both my old 2000 Bravada (4.3L V6 AWD w/ 3.73 gears & aftermarket trans cooler) as well as my current 2004 Rainier (4.2L I6 AWD w/ 3.73 gears & aftermarket trans cooler). Both vehicles handled the trailer just fine, but the edge goes to the Rainier due in part to more power/torque and better brakes. The rear air suspension makes it nice as well! The camper is ~1500lbs dry and has a GVWR of 2100lbs with max 200lbs on the tongue. The furthest we've gone with it was ~250 miles up into the northeastern Adirondacks.
Pictures: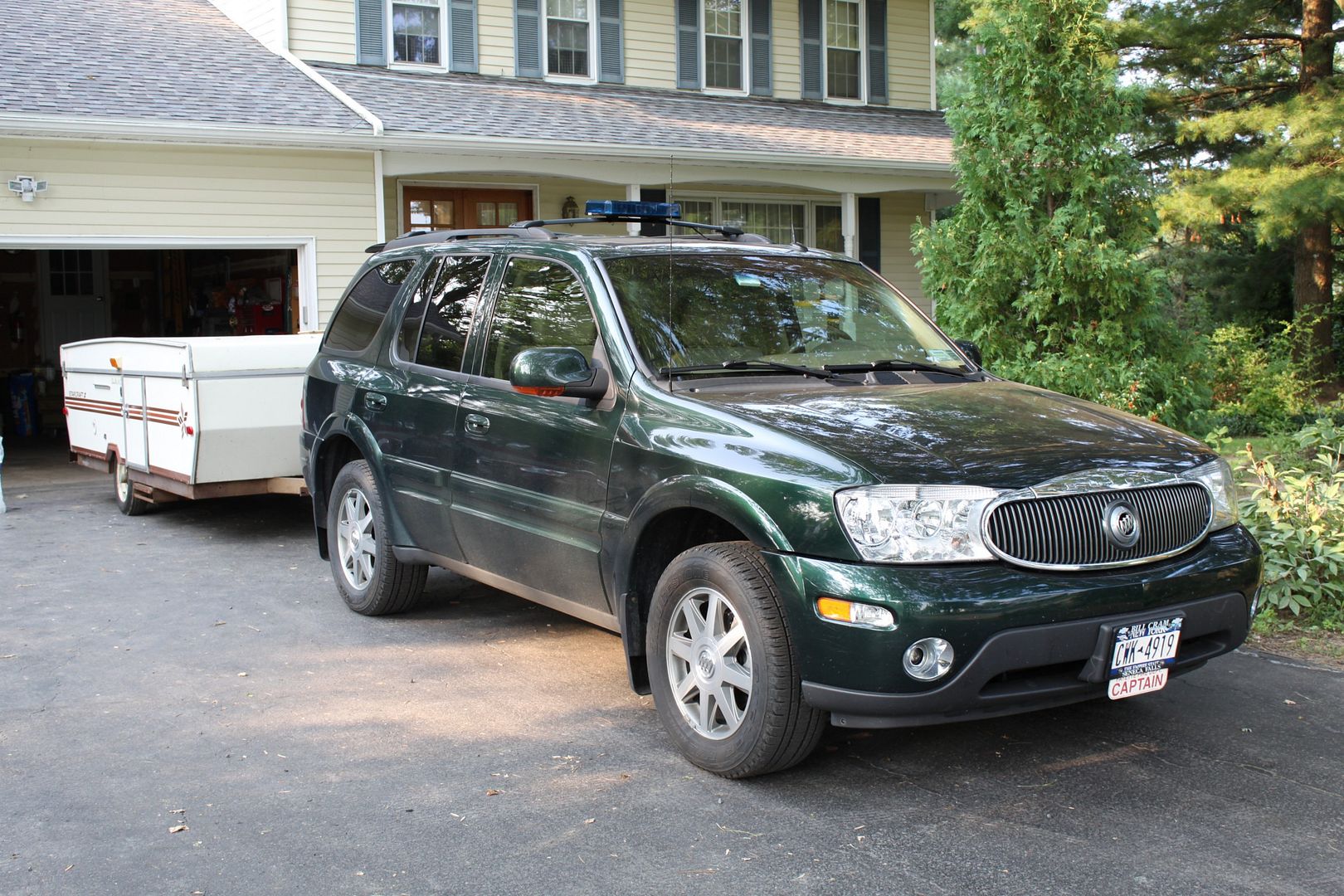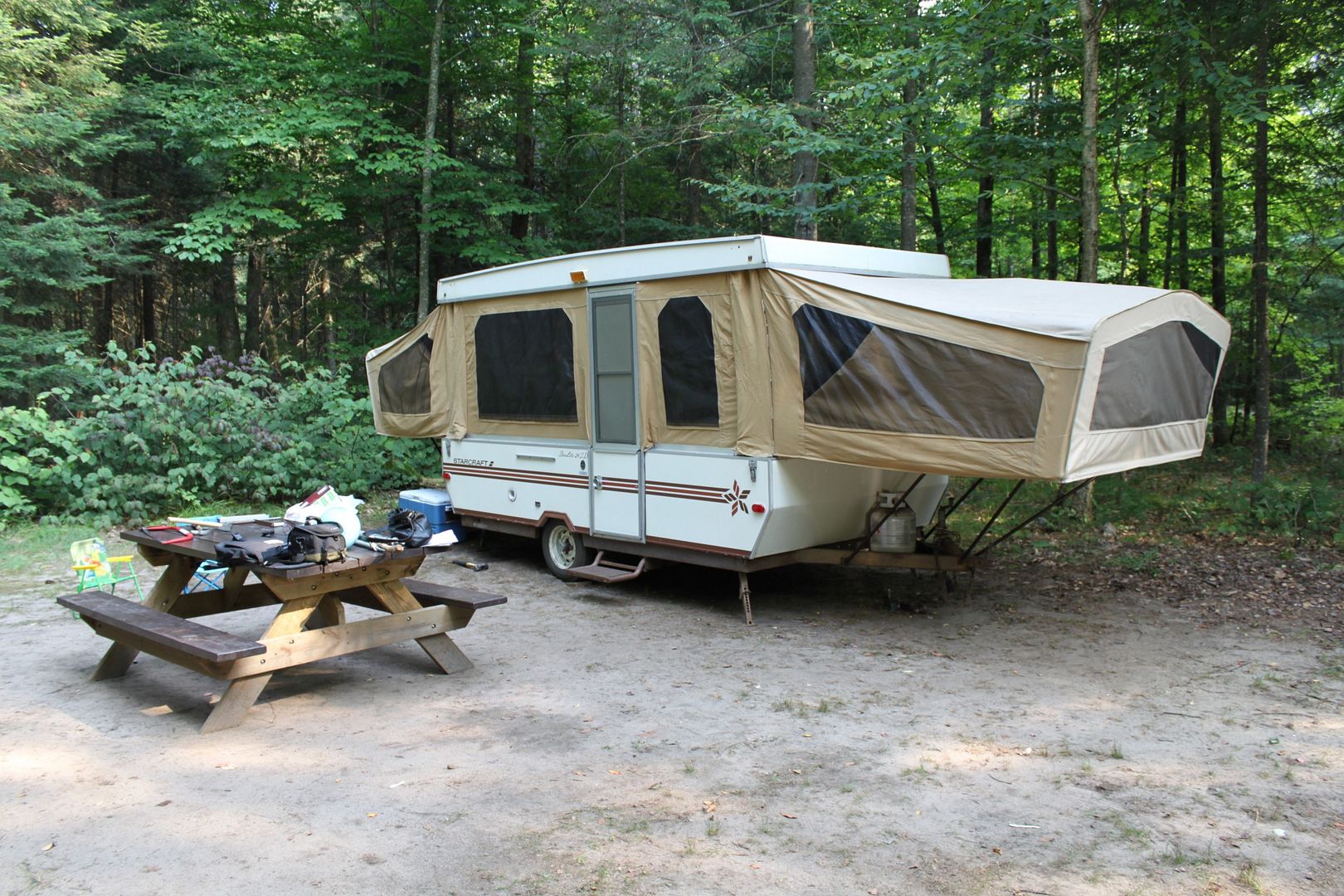 I am hoping to pick up a hybrid travel trailer here shortly and that will be quite a bit heavier.
So what have you towed? Specs (vehicle & trailer)? How far did you go? How well did your truck perform?
06-28-2010, 06:56 PM
---
Well i dont think I have any pics of either but I took the same camper but a 96 700 miles with my blazer (4.3, 3.73, with 33s) It did alright. I have also pulled my 89 bronco II on my trailer that weighed roughly 5000lbs. The blazer is ok pulling that but its pushing the limits. Thats only about 60 miles though.
06-28-2010, 07:27 PM
---
I towed the future Brother-in-Law's fullsize 98 Sierra/silverado (not 4x4) with my 98 Blazer, I am rocking 3.42's. I just pulled it across town.
06-28-2010, 08:18 PM
---
Nothing. X's don't tow, they just HAUL! lol

I have towed a 10'(I think) tandem Axle enclosed trailer, but for a very short trip because it has a 7 pin hookup, and all I had was the 4. 15' tandem open trailer and my 6'(I think) fold-up trailer with my old Blazer.
---
Last edited by cbr995; 06-28-2010 at

08:21 PM

.
06-28-2010, 08:31 PM
---
06-28-2010, 11:54 PM
Join Date: May 2005
Location: Central Illinois
Posts: 3,891
---
What have I towed?
My home made garden trailer the used to be a boat trailer, distance about 50 yards. Too damn hard to back it up. Way to easy to jack-knife. Now I just tow it with my riding mower.
Boat trailer. 1957 14' Alumacraft.
4x12 Boy Scout trailer, about 3000 pounds on my bumper ball. Couple hundred miles to camp out and back. No problems. Not even on snow covered dirt roads.
Several Stuck Heeps, and other vehicles.
I have also used my grill gaurd and pushed numerous broke/stuck vehicles. Including a cop car stuck in teh snow. Pushed him off the road so I could get to a Ford pick up hung up on the medium, drug him off the medium, and proceeded to the next stuck, a mini-van and a plow truck. The plow got stuck trying to push the mini van free. I pulled him free, then pushed her free. Drug a Dodge Ram about a mile through 8" of fresh snow, and pushed a stuck UPS truck. Oh and drive through the median between the expressway off ramps to push a stuck lowered pickup so traffic could get moving. The trucker stopped behind the pickup didnt think I would make the hill, I love my BFG All-Terrains. And lastly, I pushed a stuck Jeep out of hte median on the interstate. I love these baby Blazers, they go through just about everything, especially with the right tires.
Oh yea, I almost forgot about the news crew and there mini-van. Tehy got stuck a mile from the tv station in a gas station parking lot. They stopped to fill up and get footage of the snow stranded vehciles. I was filling up and they noticed the snow covering my grill guard and decided to interview me. Told them I love the snow. Aslo told them to go back home, If you dont have a 4x4 with decent tires your not going to make it. They aired that, and it was true. We got 8" of snow in about 3 hours and the plow trucks couldnt keep up. I went out to help where I could.
I did manage to go play in a field and took some video footage for those BFG naysayers.
http://www.youtube.com/watch?v=T6urte0ooRg
You could say I use my truck and the grill guard.
06-29-2010, 10:05 AM
Join Date: Jun 2010
Posts: 12
---
fords, jeeps, pulled a buick lucurne out of a lake once, boat trailer, tractor, snowmobile trialers, camper, fish house, and the airplane to the runway.. i wish i got some vidoes of pulling the fish house through 2 foot deep drifts
06-29-2010, 10:24 AM
---
Please try to list some basic information about the tow vehicle as well as the trailer. The intention with a thread such as this is so that others can come to this thread to determine whether their vehicle can be used to tow a particular trailer/load.

Some information that would be helpful:
Tow Vehicle--> year, engine, transmission (auto/manual; trans cooler or not), gear ratio, brake controller (if used), type of hitch (bumper, receiver - what class, etc), etc.
Trailer--> type of trailer (camping, enclosed, open, etc), dry weight, loaded weight, type of brakes (if equipped), type of hitch (normal ball, weight distributing, sway control, etc), etc.
Other Details--> distance traveled, how did the tow vehicle handle the trip, any complications, etc.
06-29-2010, 11:30 AM
Join Date: Jun 2010
Posts: 12
---
the largest load i feel like safely pulling with a 2.8l 1gen blazer is a 16 foot alumacraft boat with a 75 horse on the back.. it snorts a little with that.
06-29-2010, 11:52 AM
Join Date: Aug 2009
Location: Spokane Valley, WA
Posts: 115
---
My '02 Blazer - 4.3, Auto, 3.73 gears, class 3 2" receiver

Trailer 1 - 14x6' enclosed trailer, single axle, 2" ball hitch, empty weight of ~1,450 lbs, fully loaded with dirt bikes and camping gear ~3,500 lbs
Details - Have pulled this setup for thousands of miles. Engine has the grunt to pull the trailer over mountain passes (KEEP IT IN 3rd!), the brakes are the trucks weak point for towing. Be prepared to get 8-10 mpg on the freeway for this load! Also, take it easy on the speed, gets a little squirrel-ly going 65+ mph.


Trailer 2 - 8x5 open trailer, single axle, 2" ball hitch, empty weight of ~650 lbs, loaded with dirt bikes and camping gear weighs about ~1800.
Details - Blazer has no issue towing this trailer. Fuel economy is around 13 mpg on the freeway.
---
Last edited by DSMayo; 06-29-2010 at

11:55 AM

.