Cutting an K & N filter to fit ?
03-17-2012, 02:34 PM
Cutting an K & N filter to fit ?
---
Hey every 1
This is going to sound sick but I just wanted opinions and ideas how to do this .
As you see i got my bronco home and i found an K & N filter in her
I wanted to put this filter in the blazer but its about 1 inch longer then the blazers original one
is it worth cutting it to put it in the blazer ? how would i cut it ?
and yes it needs to be cleaned =P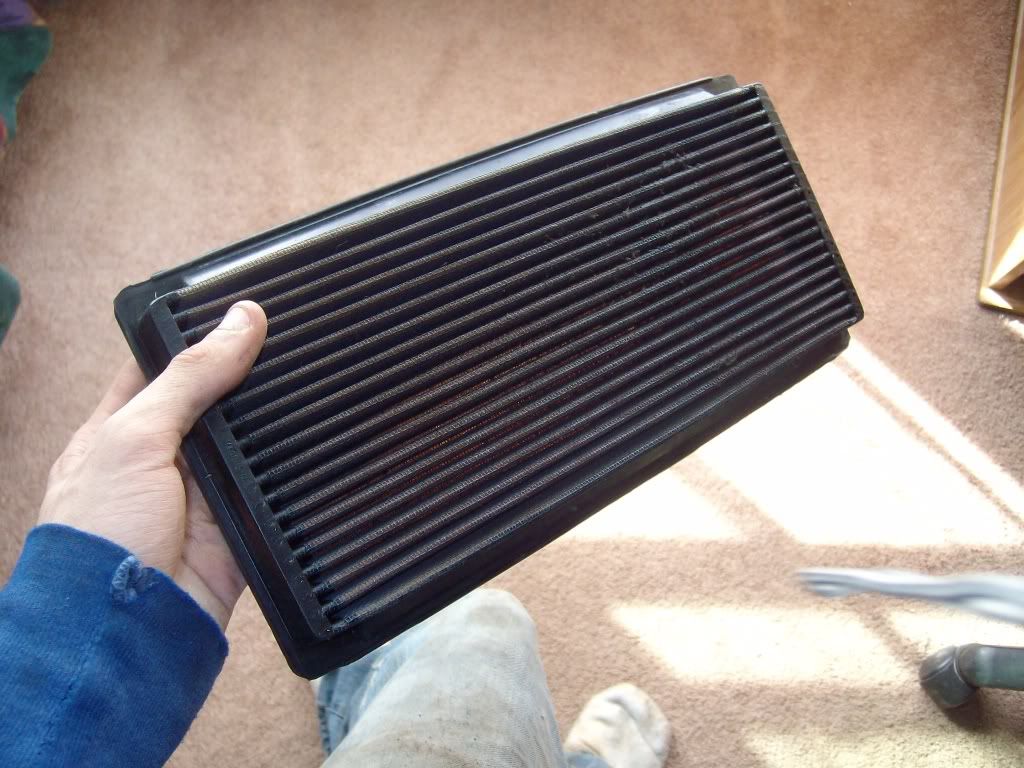 03-17-2012, 02:55 PM
---
i guess if you wanted to hack around on this is cut it with a bandsaw for a even cut,then get a can of rubber coating,cover the end,then stuff it in,then seal around the edge with silicone.
OR buy my k & n cone i have laying out in the garage that will fit for cheaps
lol
i wouldnt try it,it'll only mess up. Sell it on craigslist for 20 bucks.
03-17-2012, 02:58 PM
---
yea i was debating on it

I really wanna do a Cai on it in the future . But moneys always a problem
03-17-2012, 03:20 PM
Join Date: May 2011
Location: SW Central OH
Posts: 2,252
---
wow.. is that all the deeper they are? They really got you guys bitin'. Well, whatever...

Well, if you really want to do this...

Wash clean
Get left or right hand old metal snips*.. tube clear auto silicone.. wax or oiled paper 4" wide and 2 1/2 times longer than width of box

Measure both boxes, subtract one from other. add 1/8 inch to result.
Measure in that amount from outside of pleat lip. Cut with shears. Cut remainder from pleat lip close as possible. Less than 1/8 sticking out.
Test fit in airbox
Reform pleats.
Use spray solvent/ intake cleaner to clean joining parts. Lay 4" strip wax paper over one end of airbox, form inward to avoid tear with filter inserted. Lay big=*** bead silicone on end of filter. Make several rows touching if nec'y.
Put end against rest of filter, lay it in box, fold rest of wax paper over it and clamp top of airbox on. Forget about it for at least 12 hours.

*WITH PERMISSION!!! Tin snips supposedly should not be used to cut wire. and screening is wire. If they arent yours, ignore my warning if you want.. but..
---
Last edited by pettyfog; 03-17-2012 at

03:36 PM

.
03-17-2012, 03:38 PM
---
eh i think imma wait for the cai =P

and i never bought this filter it came with the bronco my friend gave me
other then that i think the blazer could wait =P

I did clean it tho ... and its in the sun as we speak
Thread
Thread Starter
Forum
Replies
Last Post
2nd Gen S-series (1995-2005) Tech
2nd Gen S-series (1995-2005) Tech