dual 3.8 superchargers mounted remotely?
08-27-2010, 11:01 PM
Join Date: May 2010
Posts: 10
dual 3.8 superchargers mounted remotely?
---
ive thought abou it and thought about it and i am almost ready to try it.

i have the resorces to have pretty much anything my imagionation can come up with machined for me so this could be easier than one would think.

i have two superchargers that i pulled off of 3800's at my friends parts yard. i wanted to build an intake to fit them both and bolt it to a 4.3 but dont think i want to go that route. i think i have a better idea.

i want to have some simple plates machined to match the superchargers and weld fittings to connect 3"- boost tubing to them and then simply plumb them to the throttle body of the engine as if they were turbo chargers. this would allow me to mount one over each valve cover with custom brackets and possably run them through an intercooler first. like a set of paxton's only bulkier.

im not afraid of blowing an engine. if it works the way i plan i will have full control of the boost, so i can dial it in for the best performance.

anyone think it would be worth a try?
08-27-2010, 11:49 PM
---
I believe the saying goes...

"If you build it, they will come."

Go for it man, you'd be famous!
08-28-2010, 12:30 AM
---
They need to be mounted in such a way that they are still driven... the turbo works because it is driven by the exhausts.... most superchargers are belt driven if I am not mistaken.... You could actually run them at different speeds to compound boost.... but the benefits of that would not be that great, and mounting them in parallel would be the best idea.... I would very much like to see this
08-28-2010, 01:35 AM
Join Date: May 2010
Posts: 10
---
i kinda figured id need the belt to drive them in order for the idea to work
.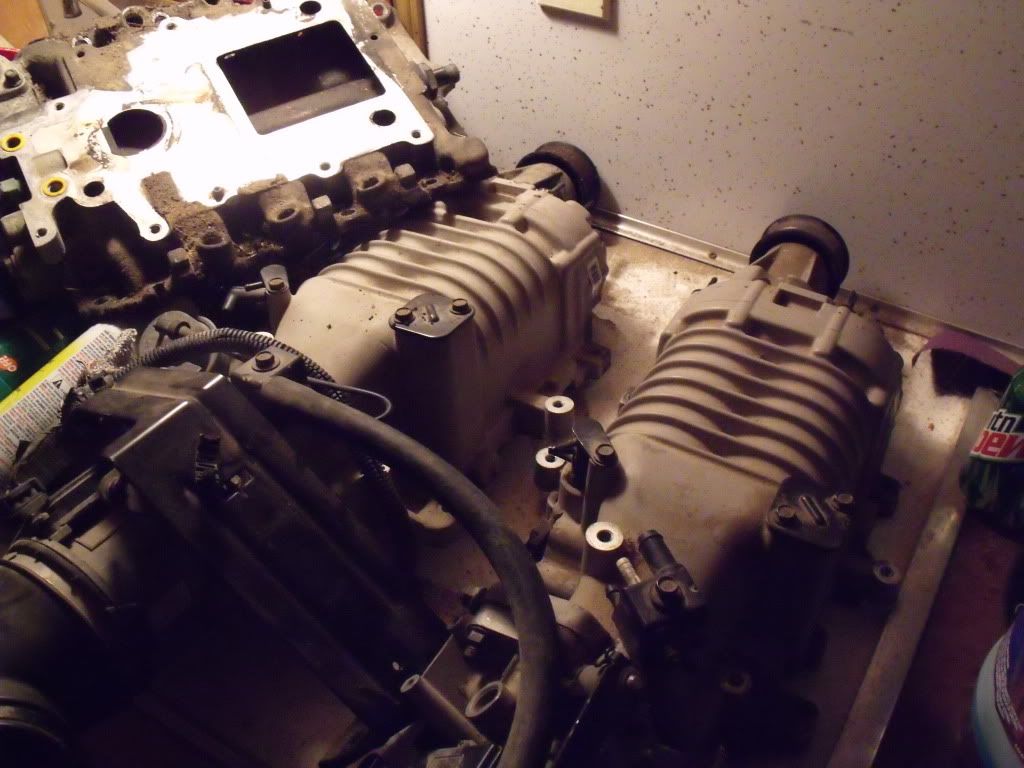 they would be ran off of the same drive system as every other pully on the engine. just like it is on the 3800. i would just get a longer belt and build bracketry that holds idler pullies to direct the belt where i want it to go. thats kind of the easy part.
in the top picture you can see the intake manifold from the 3800. if thats all i need the plate to look like, its going to be easy. he could mill that out of either aluminum or steel. probably aluminum to keep it light. i could use the bolt together scheme to make it easier on him. this way its put together in layers instead of one big block of aluminum that cant be reconfigured later if it doesnt work. easier on me too because in return for all the machine work, i have to fix his broken down vehicles when he needs it. not too bad of a deal for me.
i will have him chop the throttle body chunk off of the end of the supercharger, because i wont be needing that. a flange with an air filter would be all that i need on each one. its been done before. some of the mustang guys double them up on one of their over complicated and hard to work on for engines that have more problems than they are worth.
ill use the stock throttle body off of the tbi 4.3 and upgrade the injectors. he could machine me a ring that bolts down with the throttle body bolts on top of the throttle body and then is drilled to have a flange tube tapered down to 3" bolted onto it. this would seal up nicely and also beef up the throttle body a little.
the bracketry to hold the superchargers above each valve cover wouldnt be too hard either. there are plenty of spare holes to fill on the heads and the intake/ exhaust studs can also be used if needed. and the supercharger can be mounted to match the angle of the heads. this would make it so that it can be mounted low to clear the hood. and since the intakes will be pointed rearward i could actualy make "use" of those double hood scoops i see on every other vehicle out there. its so cheesy to see hood scoops on a vehicle that couldnt possably use them. but when you find out they actualy serve a purpose its a different story.
i just thought id run this by you guys. dont know if any of you know squat about superchargers, but its worth talking about. only thing that kinda sucks is after i talk about one of my ideas online, i find someone with more money and time on their hands that just recently "invented it first". freakin rich people!!!
---
Last edited by dice11; 08-28-2010 at

01:38 AM

. Reason: image diddnt show up
08-28-2010, 07:38 PM
---
Those are all off of the series 1 L67 correct? If so.... I'd get an M90 from a series 2 for your build. Much more efficient design which will translate into better performance, especially when considering the extra cubic inches!
09-25-2010, 02:24 PM
---
I have been looking into doing the same with my 2000 sonoma and of all the research that I have done suggests it would be best with the M90 off a series 2, as swartlkk suggests, or a, and I really hate to say but, a sc t-bird which would be easier to mount. I have been looking to put one in the stock location of my a/c. No matter who's advice you use keep us updated.
03-18-2011, 02:21 PM
Join Date: Nov 2010
Posts: 103
---
correct those are series 1, and if you can afford it the gen V eaton M90 is the big thing now. All the gp,monte, and impala guys are converting. It is supposed to flow better than a Gen 3 ported and polished to the max. If youre looking for a deal on those, try clubgp.com, gpona.com, grandprixforums.net, or anything like that. They are selling cheap with everyone wanting to get the gen V
05-01-2012, 03:58 PM
Join Date: Nov 2011
Location: Bruce County, Ontario, Canada
Posts: 86
---
***edit*** just realized i necro'd - sorry
I'm planning to go the M90 route myself - but only one, they can do 10 psi easy enough - my brother's got an eighth gen Riviera with a series 1 in it and he's pushing 10 psi with a smaller pulley - he was going to help me get it set up and give me a S/C he's got kicking around - its not a riv one (blows up instead of down)
anyways my thought is that 2 S/C's might be a little much in the psi for the engine
'Scott' over
<HERE>
only runs 10-11 psi on a turbo setup - might be worth a read if you want to go forced induction
I'll be doing similar to his marine intake but using the Edelbrock 2114 carb intake manifold from summit instead. It needs injector port bosses added but i have access to a TIG!!(and machine shop) - i'll also be making my own fuel rails - my bro's got a line on a place that sells the fuel rail extrusion used on the 3.8/3.1 engines
This is all just fun dreaming of course till i can find the time and $$$ to do a proper tune up on the damn thing first (plugs,wires,O2 sensors, front wheel bearings, eugh i better stop i'm getting depressed)
---
Last edited by roypai; 05-01-2012 at

03:59 PM

. Reason: necro'd - damnit
12-02-2012, 05:55 PM
Join Date: Nov 2012
Location: Burley Idaho
Posts: 24
---
this is going to be quite the project. im not 100% sure you would even have enough room.. but... if it was me i would run them in sequence (one feeding the other pre compressed air)

do you know by chance what your estimated boost level is going to be?
and without the throttle bodies where do you plan on putting the waste gate(s)? not 100% familiar with these SC so if its on the compessor forgive me


just throwing this out there as it would be a HUGE project but... have you thought of possibly running both throttle bodies and just fabricating a custom intake manifold for the SC,s this would produce more power than what you are attempting

also you dont want to just run your charge pipe into your TB i would suggest an intercooler either air to air or water to air would work.
Thread
Thread Starter
Forum
Replies
Last Post
Nitrous, Super Chargers, & Turbos
2nd Gen S-series (1995-2005) Tech