First time stuck!
12-01-2012, 05:08 PM
First time stuck!
---
Well, my second time off-roading the Blazer, and I got it stuck! If anybody is familiar with DFW, I was up at 360 trails, on the east side of 360. I had originally gotten slightly stuck when my front axle became disconnected and I lost 4wd. Got that figured out, and while I was trying to position the Blazer to avoid the ruts I just made, I swung the front too close to the river bank. Sunk like a rock in the mud! The frame just behind the driver front tire was on the ground.
The only guy I know with a 4x4 was out of town. Luckily a guy in a *cough* Honda CRV *cough* came by and pulled me out.
Turns out, I really wasn't as bad as I thought. I just panicked a little because of the angle and how close the water was. Also, whenever I tried to drive out, the sunk left front, and right rear (which was barely touching the ground) would just spin. I was afraid of digging the front end in even more, so I figured I had better stop. He had me out in a second. Didn't even have to pull that hard. Just a little tug and I was out.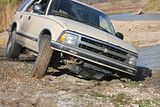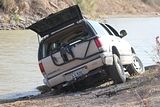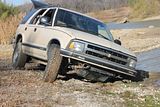 Sorry, no pictures of the recovery. Just imagine a stock Honda CRV with itty-bitty street tires easily pulling me out. Lesson of the day: the ground tends to be soft at the river bank!
---
Last edited by cleburne red; 12-01-2012 at

05:11 PM

.
Thread
Thread Starter
Forum
Replies
Last Post