Uwharrie NF 6/19
06-20-2010, 03:35 PM
Uwharrie NF 6/19
---
A couple of us made a trip out to URE this weekend. This was my first real trip with the Blazer and it impressed me how well it did out there. Anyone who is familiar knows the Daniel trail, and I made it most of the way there. Not bad for stock with some good tires. I did have some damage that made me realize I need some sliders sooner rather than later. It was a nice fun trip and we are making it again soon, hopefully with a lot more people this time. There were tons of Jeeps out there and a lot of them seemed surprised to see my truck out there for whatever reason. Anyways, on to some pictures...
At the outpost for breakfast and to grab passes:
Airing down before Daniel:
Some pics from the trails:
Had to stop and check things out after a check engine light and drop in oil pressure: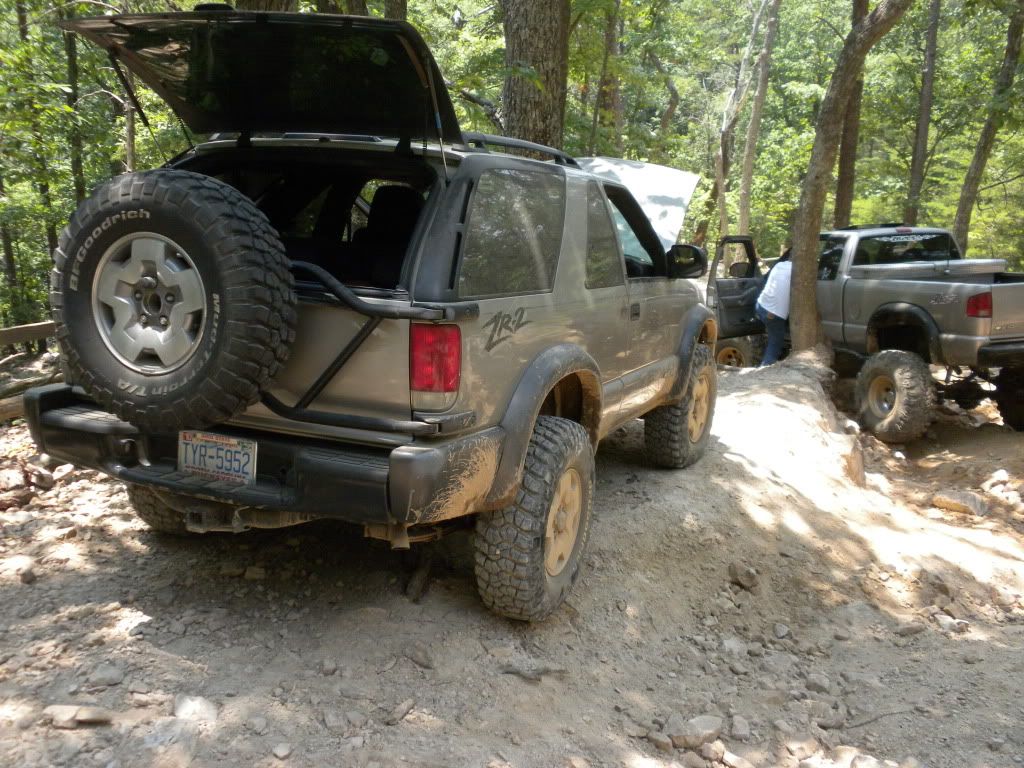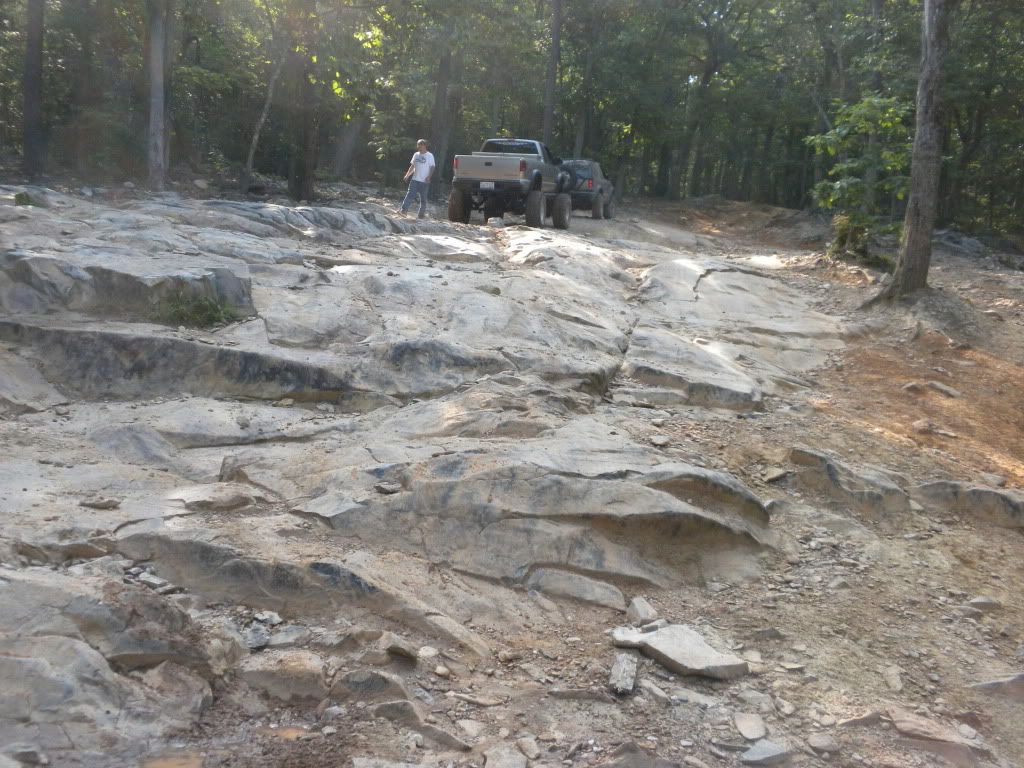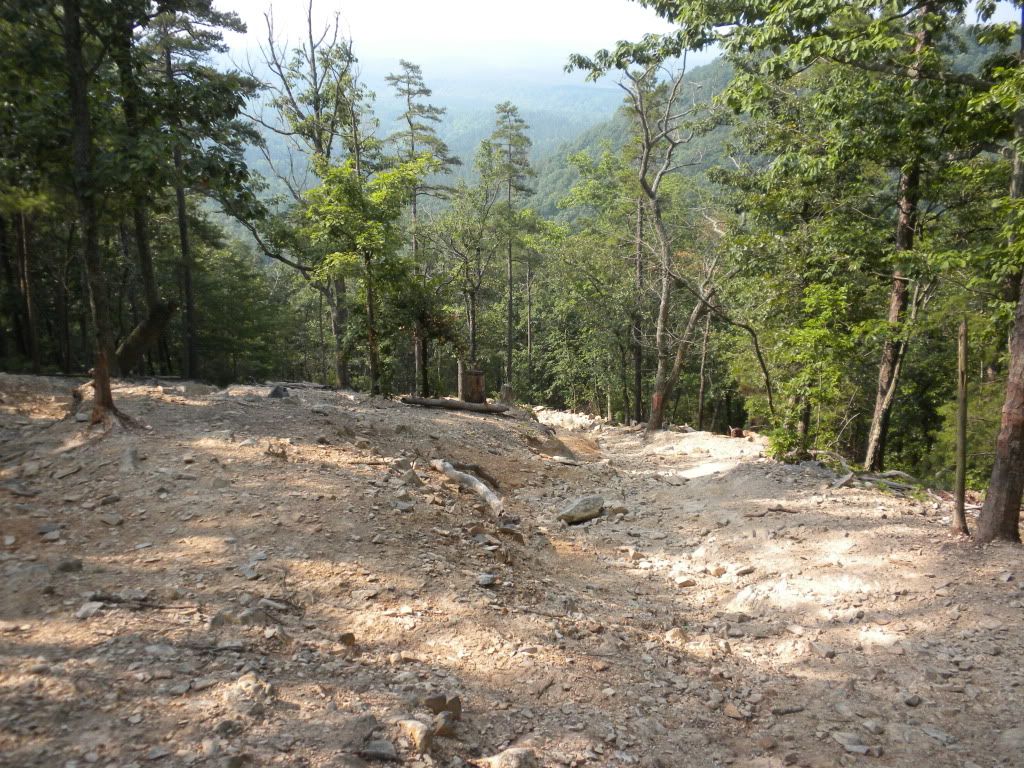 Checking things out before heading back to the outpost: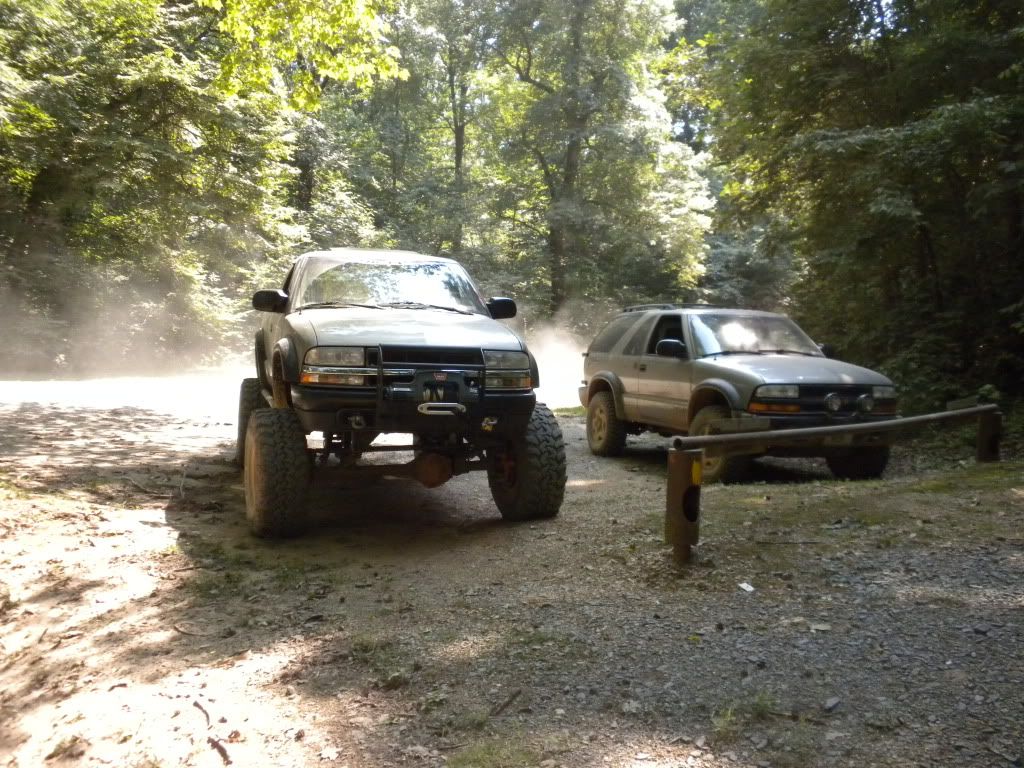 Airing back up and getting ready to head home. Should be able to see the dent in my rocker and door from a rock somewhere out there:
---
Last edited by SnowBlaZeR2; 06-21-2010 at

01:42 PM

. Reason: Can't spell, double pics
06-21-2010, 10:44 AM
---
nice pics , looks like a heck of alot of fun, i love your buddys truck
06-21-2010, 11:12 AM
Join Date: Aug 2009
Location: Spokane Valley, WA
Posts: 115
---
Looks like a fun day! How well did the KM2's hold up in the rocks?
06-21-2010, 01:20 PM
---
Pretty sweet rigs there. You have any trouble other than the engine light?
06-21-2010, 01:39 PM
---
Yeah that truck is pretty bad ***. It was nice before he want SFA also. Had it locked up front on 33s with no lift.
06-21-2010, 09:38 PM
---
Hey, did you like the trail? I have been looking for people in and around the area that have wheeled there and also looking for people to wheel with. I live in Richmond, VA so I dont mind having to drive to a place to get my truck dirty. If you can, whenever you go next time, hit me up plz. I would very much like to wheel with people rather than going out alone.
06-21-2010, 11:51 PM
06-22-2010, 01:21 AM
Join Date: Jul 2009
Location: Oklahoma
Posts: 1,604
---
Yeah, that truck is pretty cool.
06-22-2010, 02:38 AM
---
Nice trucks and nice pics. Thanks for sharing them with us.
Thread
Thread Starter
Forum
Replies
Last Post