upgrade hp and performance.
10-11-2011, 10:39 PM
Join Date: Oct 2011
Posts: 2
upgrade hp and performance.
---
i am looking to install an intake on my 96 blazer. my local autozone has the k&N filters but dont want to pay 200 dollars. i know i an by the piece that goes on the carb and the filter but will i be able to find the piping that has the hole for the AIT? also let me know if you have suggestions for exhaust 40 series? 44? magnaflow? flowmaster?
11-06-2011, 01:11 PM
---
You can make your own CAI kit...all you really need is the filter. You can start with a dry filter from your local autozone for $10 and change. I recommend dropping a few extra dollars for the lifetime oiled filter from K&N...I have 40k on mine, and it still shows red. I had a moment of weakness, and switched to a dry filter...it just isn't the same (and it sounds horrible)
My engine backfired with such intensity that it actually melted the plastic around the neck, at the throttle body. That made my blazer undriveable, for the most part. So, I got creative (had to get to work), and used dryer vent tubing to replace the piece of my intake after the MAF sensor (albeit was a SHORT TERM FIX) As for the holes, take a knife and slowly widdle away, until you can force them in...wham! It worked for a week, until my K&N kit arrived
I wish I had pictures...y'all wud be prowd
To make an effective kit yourself, look on eBay! You can get pre-bent tubing that will fit your application on the cheap. The only real job (and I cannot stress this enough) is the heat shield. The performance of the CAI relies on your ability to seal off as much of the engine compartments heat from the filter! Look at K&N's heatshield as a template (I custom made upgrades to mine). It will not be airtight, given, but do your best and reap in the rewards of your killer CAI system! Do not forget the gasket for the top of the heatshield!
...oh, and Magnaflow hands down!!
11-06-2011, 01:27 PM
---
I agree. DO NOT just but the filter and replace your Air Box with it. I'm almost positive this is why my husbands MAF assembly is shot. The Heat shield is the most important part of the assembly.

It should NEVER look like this. btw its clickable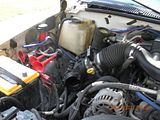 11-07-2011, 10:32 AM
Join Date: May 2011
Location: SW Central OH
Posts: 2,252
---
MORE Pink! More Airhorns!
MORE COWBELL!!!!!!!!
11-07-2011, 11:11 AM
---
https://blazerforum.com/forum/articl...-thread-11635/
This link gives you everything you need to know about making one, look at the photo slide show, very easy to follow. i made one and it works great, i get 3+ mpg better. for that hear shield i pretty much followed that template, but cut out a piece of card board first and see what changes need to be made. i made mine a little longer on the bottom so heat, mud, water couldn't come up from the bottom as easy. also.. GET MANDREL BENT PIPE, doesnt need to be bigger than 3 inches ID because the MAF is only 3 inches ID. I got my Mandrel bent pipe from
Mandrel Exhaust Systems - Featuring Mandrel Bends - Catback, Downpipe
people there are great and its pretty cheap. just search *3" 45 degree mandrel bent*and get the aluminum.
Hope this helps!
11-07-2011, 12:26 PM
---
Thread
Thread Starter
Forum
Replies
Last Post
Performance & Brainstorming
Performance & Brainstorming
Headers, Intake, & Exhaust
2nd Gen S-series (1995-2005) Tech