Homemade vertical gun rack
03-25-2012, 09:53 AM
Homemade vertical gun rack
---
I just finished building this with my girlfriend last night. Completely made of oak and two coats of polyurethane. Still needs to be hung on the wall, but this is the "trial run" of it if you could call it that. Works very well, even though I would change a few things looking back on it now...o well, live and learn even though it came out extremely nice as is!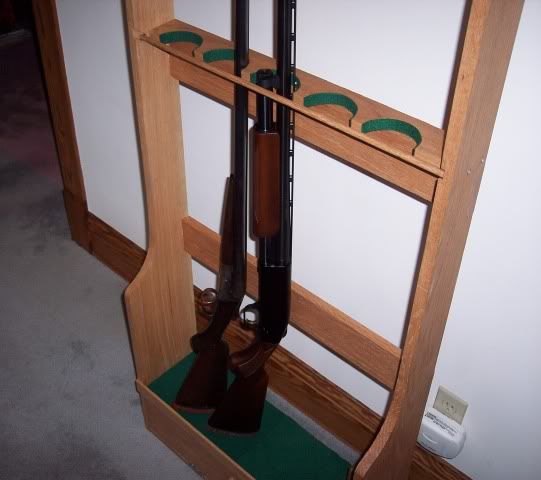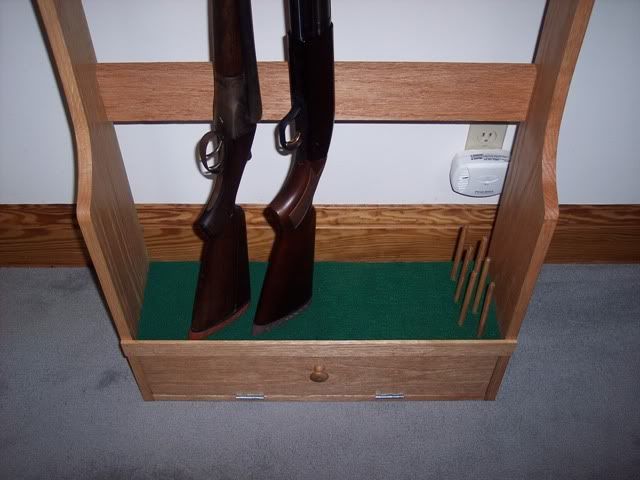 03-25-2012, 10:54 AM
Join Date: Mar 2012
Location: Iowa
Posts: 1,024
---
Looks awesome! How much did material cost ya? All its missing is a Barrett 50 cal lol.
03-25-2012, 01:54 PM
---
03-25-2012, 02:09 PM
---
All in all I think I have just shy of $90 for material which includes the wood, screws, hinges, the **** to the cabinet door, and dowel rods. And maybe someday there will be a 50 cal sitting on it ha ha
03-25-2012, 04:27 PM
---
looks good man

We have one of those old glass case from kmart
my dad bought it when I was real young and now we both use it
03-25-2012, 04:48 PM
---
03-25-2012, 05:51 PM
---
Yeah, I rescued one of those Kmart specials - replaced the hinges, lock, and rigged up a frame for the glass since it was barely held in.
Not exactly secure storage, but a determined thief could get into any of my steel safes almost as fast as the wood/glass one. I'm too cheap to pay for a good safe... You know, because for the price of two guns I could protect the rest of them, but that would mean two new guns I couldn't buy and that would be terrible!
Wish it had a stag/elk on it instead, I'm not a bird hunter.
03-25-2012, 06:03 PM
---
yup we got the same gun case
ours is about 19 years old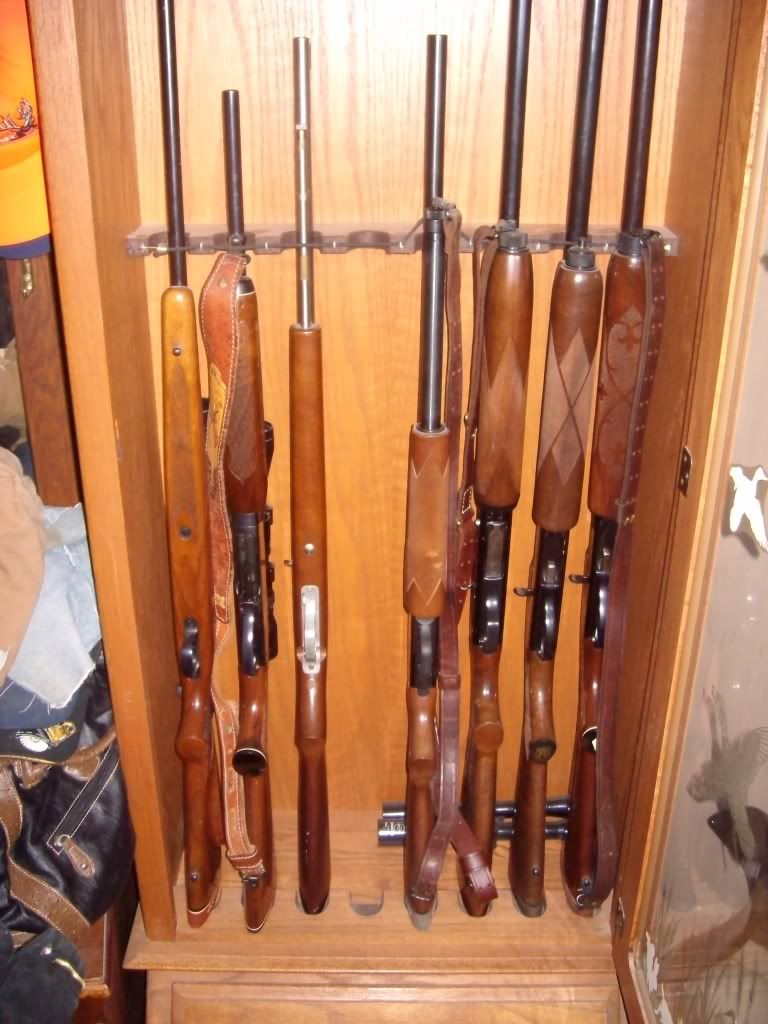 1st one to the left is Remington 30-06 bolt , 2nd is Remington 30-06 auto , 3rd is an 22 auto , 4th is an 20 Gauge 500 moss berg Pump , 5th 500 12g frankie auto , 6th 700 12G Remington auto and the , 7th is an 1100 12g Remington auto
---
Last edited by xgiovannix12; 03-25-2012 at

06:09 PM

.
03-25-2012, 06:16 PM
---
Ha! My only 2 pics of the thing are nearly identical to those two.
Door open pic -
Let's see: 03 Springfield, Ruger No1 .300WinMag, Winchester 9422, Remington Speedmaster 552, Remington 700VLS .308, 1947 Winchester Mdl 94 .30-30, Winchester 1300 Defender
All the really fun ones are in the steel safes
03-25-2012, 06:19 PM
---
yea we only got a small steal safe for the 3 pistols we have =P

my fave for big game is the 2nd 30-06 and my fave for small game is the mossberg or the frankie