Take-off in my Blazer
08-29-2009, 01:56 AM
Take-off in my Blazer
---
After I got my new Goodyear Assurance TripleTread tires on yesterday, I got the programmer out and corrected the speedometer. Whilst doing so, I "Unleashed the Pup" and put it in Hi Performance mode.
Took a vid of the gauges.
I stood on the brake while in gear, revved to 25 and dropped the hammer. No slip, all grip on takeoff.
The 0-60 is about 7.7 secs.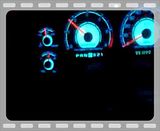 BTW, the song is Say It by Evans Blue
Would be nice if HTML was enabled...
---
Last edited by EuroGoldLS; 08-29-2009 at

01:59 AM

.
08-29-2009, 08:23 PM
---
wow. very nice. i really like those gauges
08-29-2009, 10:13 PM
---
Thanks. I bought them off ebay and put them in.
This probably needs to be in sights and sounds, but oh well.
09-21-2009, 09:29 PM
---
What exactly do you have done engine wise to get it to accelerate like that? I'm looking for that kind of pull.
10-07-2009, 08:20 PM
---
Wow thats quick, im impressed
Thread
Thread Starter
Forum
Replies
Last Post
2nd Gen S-series (1995-2005) Tech
1st Gen S-series (1983-1994) Tech
2nd Gen S-series (1995-2005) Tech
2nd Gen S-series (1995-2005) Tech