96 Blazer on 16" OEM Firebird TA wheels clean :)
12-13-2009, 02:59 PM
Join Date: Nov 2008
Location:
Posts: 35
96 Blazer on 16" OEM Firebird TA wheels clean :)
---
Lowered 3" all around
Looks clean with the wheels
its the stock TA tire size, needs bigger tires
(the TA is on jackstands)
Yup 4X4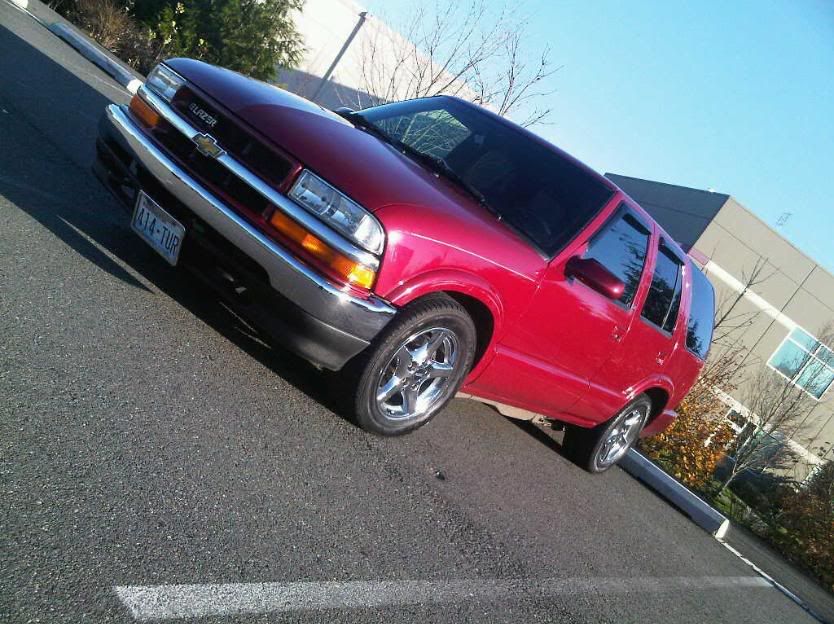 12-13-2009, 03:51 PM
---
Looks clean, lol I just noticed the Blazer emblem snuck in there on the grille. Actually I don't mind the tire size... but if it's messin with your speedo, then yeah get other tires lol.
12-13-2009, 06:26 PM
---
i was just thinking the same thing Pat. but even if it is messing with the speedo-and therefore your ABS-just get your ECM tweaked to read the new tire size, since it really suits the lower stance.
i'm not a big fan of red vehicles (unless it's a Chevelle), but that's actually a really nice colour on your truck.
12-13-2009, 06:42 PM
---
Wow, nice truck. Very clean. Not sure I like that Blazer badge on the grille, but to each his own. I will say you should do something with those frame rails though (ie undercoating). and ditch that leftover pinstripe on the front fender
12-13-2009, 08:15 PM
Join Date: Apr 2009
Location: Oklahoma
Posts: 1,388
---
12-14-2009, 01:09 PM
---
looks pretty good. def needs bigger tires.
12-14-2009, 01:19 PM
Join Date: Nov 2008
Location:
Posts: 35
---
Thanks for all the comments guys.
The tire size does mess up the speedo but not bad.
Ya for the blazer emblem.. I was bored? Hahaa
The pin stripe would be off but It won't come off because the heat of the engine caused it to stick on pretty good.
Ill post some more pics of the car soon
12-14-2009, 01:52 PM
---
Hmm, too bad about the pinstripe. Have you tried heating it up to remove it and using something like goo gone?
Can't wait for more pics of the
truck
12-14-2009, 03:01 PM
12-14-2009, 03:53 PM
---
lol. Pet peeve of mine. Blazers are not cars...they are trucks
Or if you're truly proper, a "motor vehicle" or "vehicle" lol.