alloy wheels prone to leakage?
01-01-2011, 09:30 PM
alloy wheels prone to leakage?
---
like the title states, are factory alloy rims prone to leakage? seems like im always having to put air in the tires a couple times per month, dad had this same set of rims on his old '95 blazer but with different tires and he always seemed to have at least one tire down at any one given time. the rims are from the '95 originally, that blazer had almost 200K when parked, dont know how long theyve been on this '97 but id say at least 50K miles. im considering going to a yard and getting 4 spare tires if steel wheels will not give me this problem. i have a set of "Z" racing wheels that were on the '97 when dad bought it, they have a dual bolt pattern and he seemed to think the blazer got worse milage with them despite being the same size and having the same size tire on them as the factory g.m. wheels. they also take tose awful sort-shank mag lug nuts that wont work when you need the spare, theres a pic of them in my gallery on the green '95 blazer. any one else had a leakdown issue with alloy rims? anything that can be done about it? i personally hate these factory alloys, have to use a socket and extention to start the lugnuts. but i hate to buy new wheels for such a old rig with such high miles. tires are getting pretty bad on this set, need to figure out something before i get new tires.
01-01-2011, 09:47 PM
---
are you sure they are straight? A little love from a crub you got too close to, and they can be real buggers... if you haven't banged them up any, and the rim looks good where the tire seals, you can always look for leaks. get a bucket of soapy water, pull her up on the incline part of a sidewalk or driveway (one tire at a time) so as to put max pressure on it.
take a brush and rub the soapy water around the seal and valve stem... if it blows bubbles, you have an issue.
a bad seal can come from dry rotting tires, old tires, recently-mashed-into-a-crub-tires (and rims) etc.
Don't call out the rims just yet.
*EDIT* just saw where you are... might be a bit
for the soap and water trick right now... also tires 'lose pressure' when it's colder out due to contraction of the air trapped inside the tire.
SCIENCE!!
you could always fill it with nitrogen so it wont expand/contract and it sounds cooler to say you have nitro tires!!!1
---
Last edited by ABN31B; 01-01-2011 at

09:50 PM

.
01-01-2011, 09:56 PM
---
anything is possible with the miles thats on these wheels. ive put soapy water all over the outside face before while washing the truck, maybe i need to pull the tires off it one at a time and do the inside as well, they dont appear to have been banged up against a curb. but my mom has drove this vehicle before, she seems to think tires are curb-feelers. *edit* christmas eve some local kids went around slicing tires, got my ranger and a neighbor lost tires on both vehicles, they didnt touch the blazer though, which had the worst tires on it, thought about filling the tires with propane in case they came back and are smokers. yes its cold here right now, but you only lose about 5-10 psi from 90 degress to 32, im dropping a good 20-25 psi in a 2-3 week time frame. mainly from the r.r. but i do check and add to the rest as well.
---
Last edited by racsan; 01-01-2011 at

10:02 PM

.
01-01-2011, 11:15 PM
---
the spare is a stock steel wheel, originally from the '95 (the '97 had a temporary spare from the factory) the tire on it holds air but is badly wore on one side from a alignment issue sometime earlier in its life. i plan on taking the "best" tire from this set and making it the "spare" it hold air fine, but it doesnt look like anything id want to trust going down the road. i might go to 235 75 15's stock size on this truck is 235 70 15's. my ranger has never had issues with air loss with its alloy wheels, but i dont run them in the winter, i have a 2nd set of steel wheels from a jeep that i use as a "winter" set. heres the style rims the blazer has: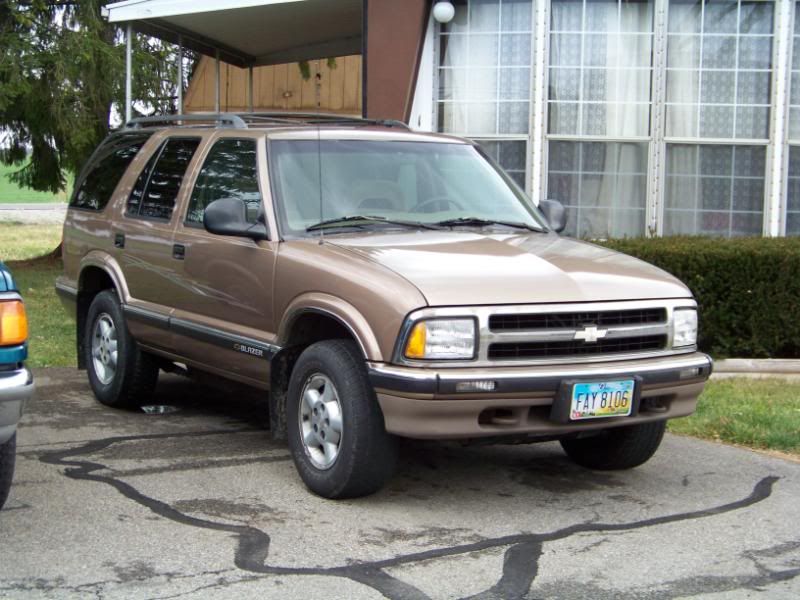 01-01-2011, 11:35 PM
---
I haven't had any problem whatsoever with the stock alloys. You might want to make sure that the bead seal is clean before mounting another set of tires. I can guarantee you the guy at the shop isn't worried about it.
01-02-2011, 02:54 AM
---
Bert nailed it right there!
a clean bead will never leak. and he really nailed the last point there!
i've got a set of wheels that had about 80K put on the BN Michelin's about 6 or 7 years ago, and i've never had to add air to them regularly. seriously, maybe 5 pounds or so in the Spring time, but that's it.
and they've been the Winter storage wheels for my 'Burb for the past 3 years.
next time you get tires, or are having the bead checked/redone, ask them how they clean the bead area when mounting new tires. even try and watch them while they're doing them. i know most shops don't allow customers into the shop for insurance/safety reasons, i'm just lucky to have friends work in the industry, so i don't get kicked out of the shop area.
01-02-2011, 06:59 AM
Join Date: Jun 2010
Location: oregon wi.
Posts: 48
---
these guys are right on the money!!!!! when you get new tires make sure that the bead area of the wheel is cleaned and that they apply an amount of bead sealer that might indicate that they stole it from another shop!! this is very inportant when dealing with older alum. wheels. also make sure they apply the sealer to the new valve stem before they pull it into the wheel. i have had to do this for many, many customers with alum. wheels over the years.
01-02-2011, 08:20 AM
---
GM has a technical service bulletin on this very topic. It does happen. Porosity in the casting can allow air to leak out of the rim. This can be diagnosed with a dunk tank and is evidenced by tiny bubbles forming on the surface of the rim between the beads. This isn't something that just starts happening one day though unless the rim has been damaged so...
Tires/Wheels - Low Tire/Leaking Cast Aluminum Wheels
TECHNICAL
Bulletin No.: 05-03-10-003F
Date: April 27, 2010
Subject: Low Tire Pressure, Leaking Cast Aluminum Wheels (Repair with Adhesive Sealant)
Models:
2011 and Prior GM Passenger Cars and Light Duty Trucks (Including Saturn)
2010 and Prior HUMMER H2, H3
2009 and Prior Saab 9-7X
with Cast Aluminum Wheels
Supercede:
This bulletin is being revised to update the model years and the bulletin reference information. Please discard Corporate Bulletin Number 05-03-10-003E (Section 03 - Suspension).
Condition
Some customers may comment on a low tire pressure condition.
Diagnosis of the low tire pressure condition indicates an air leak through the cast aluminum wheel.
Cause
Porosity in the cast aluminum wheel may be the cause.
Notice: This bulletin specifically addresses issues related to the wheel casting that may result in an air leak. For issues related to corrosion of the wheel in service, please refer to Corporate Bulletin Number 08-03-10-006C - Tire Slowly Goes Flat, Tire Air Loss, Low Tire Pressure Warning Light Illuminated, Aluminum Wheel Bead Seat Corrosion (Clean and Resurface Wheel Bead Seat).
Correction
Remove the tire and wheel assembly from the vehicle. Refer to the appropriate service procedure in SI.
Locate the leaking area by inflating the tire to 276 kPa (40 psi) and dipping the tire/wheel assembly in a water bath, or use a spray bottle with soap and water to locate the specific leak location.

IMPORTANT - If the porosity leak is located in the bead area of the aluminum rim (where the tire meets the rim), the wheel should be replaced.
IMPORTANT - If two or more leaks are located on one wheel, the wheel should be replaced.

If air bubbles are observed, mark the location.

If the leak location is on the tire/rubber area, refer to Corporate Bulletin Number 04-03-10-001F
Tire Puncture Repair Procedures for All Cars and Light Duty Trucks.
If the leak is located on the aluminum wheel area, continue with the next step.

Inscribe a mark on the tire at the valve stem in order to indicate the orientation of the tire to the wheel.
Dismount the tire from the wheel. Refer to Tire Mounting and Dismounting.
Remove the tire pressure sensor. Refer to Tire Pressure Sensor removal procedure in SI.
Scuff the INSIDE rim surface at the leak area with #80 grit paper and clean the area with general purpose cleaner, such as 3M(R) General Purpose Adhesive Cleaner, P/N 08984, or equivalent.
Apply a 3 mm (0.12 in) thick layer of Silicone - Adhesive/Sealant, P/N 12378478 (in Canada, use 88900041), or equivalent, to the leak area.
Allow for the adhesive/sealant to dry.

Notice: Caution must be used when mounting the tire so as not to damage the sealer. Damaging the repair area may result in an air leak.

Align the inscribed mark on the tire with the valve stem on the wheel.
Reinstall the Tire Pressure Sensor. Refer to Tire Pressure Sensor installation procedure in SI.
Mount the tire on the wheel. Refer to Tire Mounting and Dismounting.
Pressurize the tire to 276 kPa (40 psi) and inspect for leaks.
Adjust tire pressure to meet the placard specification.
Balance the tire/wheel assembly. Refer to Tire and Wheel Assembly Balancing - Off-Vehicle.
Install the tire and wheel assembly onto the vehicle. Refer to the appropriate service procedure in SI.