zq8 wheels
08-24-2007, 10:21 AM
Join Date: May 2007
Posts: 14
zq8 wheels
---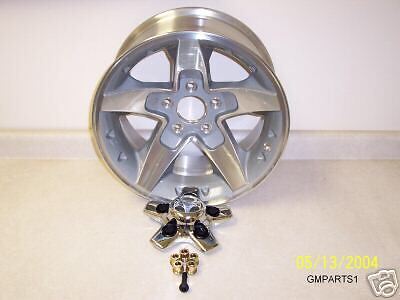 Does anyone know if these ZQ8 wheels will fit a 1983-1994 blazer 4x4 ?
I have been told that they will only fit a 2wd....and I have been told they will fit a 4x4.
So which is it ?
Dimensions : 16x8, 4.25 backspace, 4.75 bolt pattern
Pilot hole diameter = ?
Any input will be appreciated.
Thanks
08-24-2007, 11:42 AM
RE: zq8 wheels
---
they will bolt on but will stick out about 2 inches farther than your current rims...
08-24-2007, 01:47 PM
RE: zq8 wheels
---
Yeah - if they fit a Camaro or Corvette, they will also fit your Blazer. If it's a 4x4, then they will stick out, and you may even havea problem with the caps on the front. However, they will still fit.
12-20-2007, 03:20 PM
Join Date: Jun 2007
Posts: 56
RE: zq8 wheels
---
Anyone know the GM part # for the wheel above?
Thread
Thread Starter
Forum
Replies
Last Post
2nd Gen S-series (1995-2005) Tech