SLE_MuNkY's Build thread- 1999 Jimmy 4-door
11-13-2011, 06:34 PM
Join Date: Oct 2011
Posts: 23
SLE_MuNkY's Build thread- 1999 Jimmy 4-door
---
Hey everyone...
So, since I bought my Jimmy I have done quite a bit of work to her, and I figured it was time for a build thread.
I paid $1,750 for it about a month ago, e-tested but not safetied.
Here she is the day I picked her up.
(sorry for the low quality cell phone pics in some spots)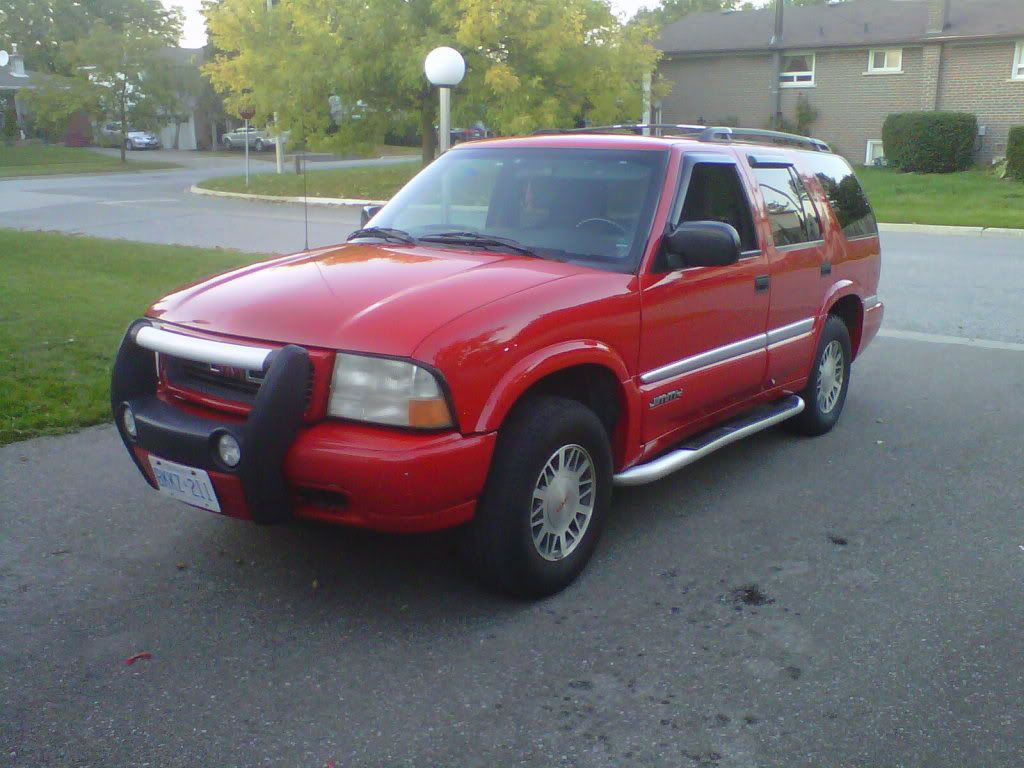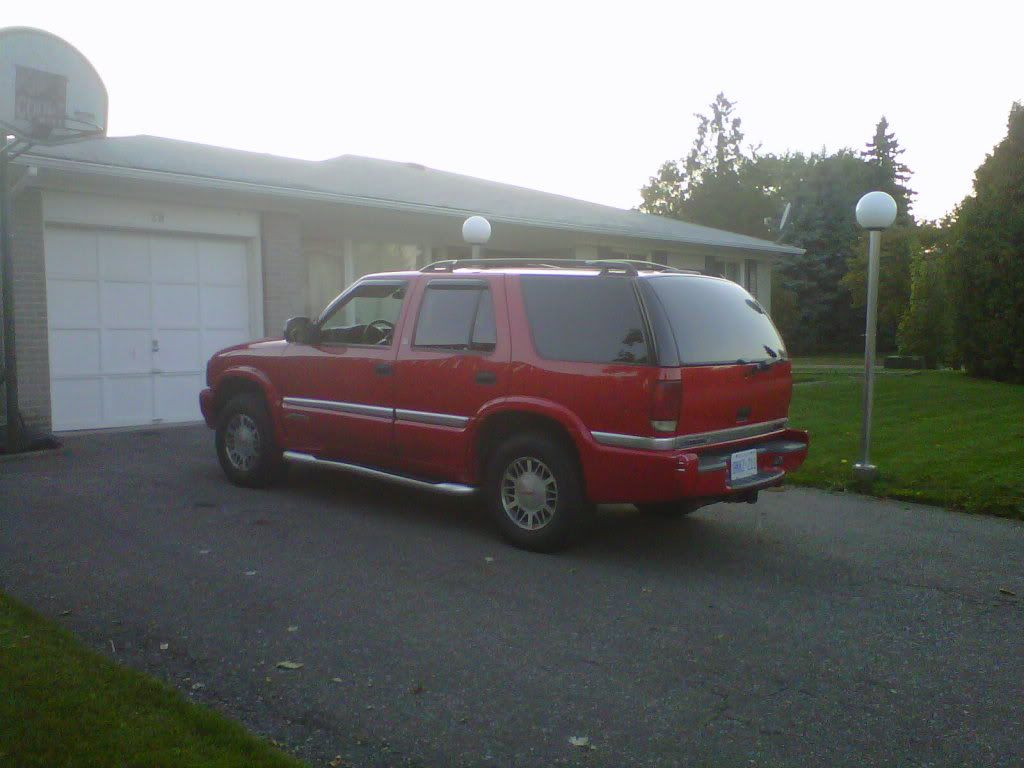 Here is a list of issues I either knew it had when I bought it or figured out a short time later.
- AC doesn't work
- Needed 3 tires for safety
- Needs rear brake backing plates (I have them, just need to be installed)
- Right front fog light and head lights did not work
- Check engine light is on (late found these codes)
- P0122 - Throttle position sensor - Replaced that today
- P0751 - Shift solenoid A performance or stuck off
- P0753 - Shift solenoid A electrical
- 4x4 doesn't work (discovered this an hour after I bought the truck)
- Front door hinge pins/bushings are SHOT (again, have new ones to go in)
First thing was first got new tires for it.
I went to Canadian Tire and got (on sale) a set of 31x10.5R15 Goodyear Wrangler Territories. So far I like them. Here is a pic right after I got the tires on.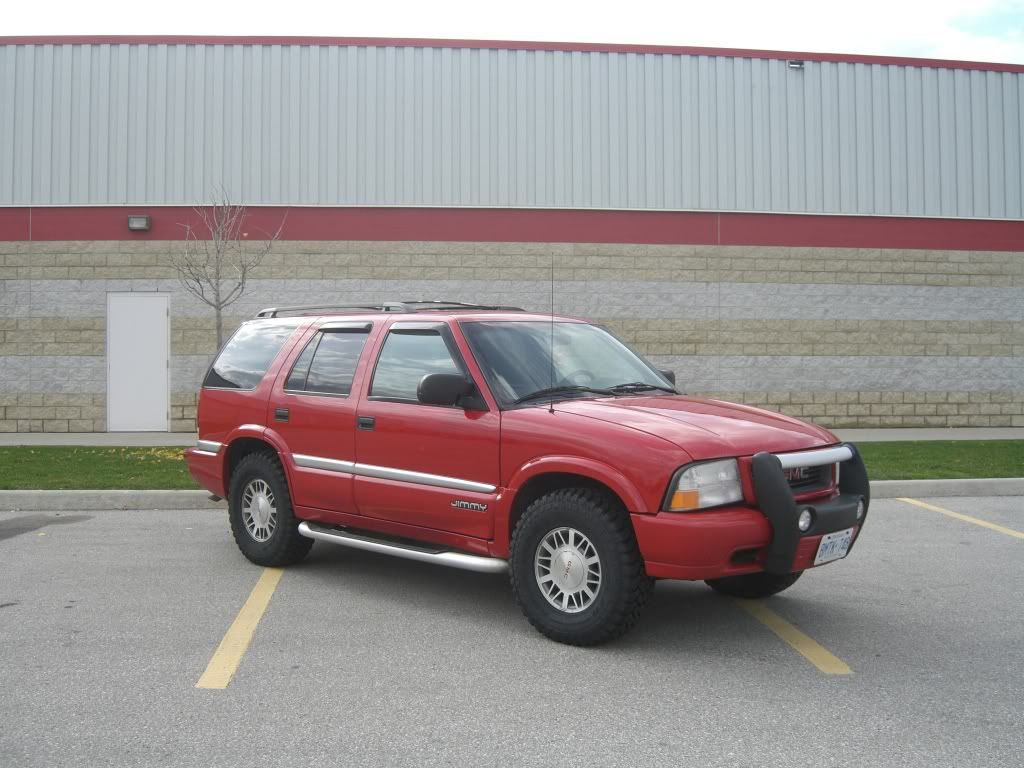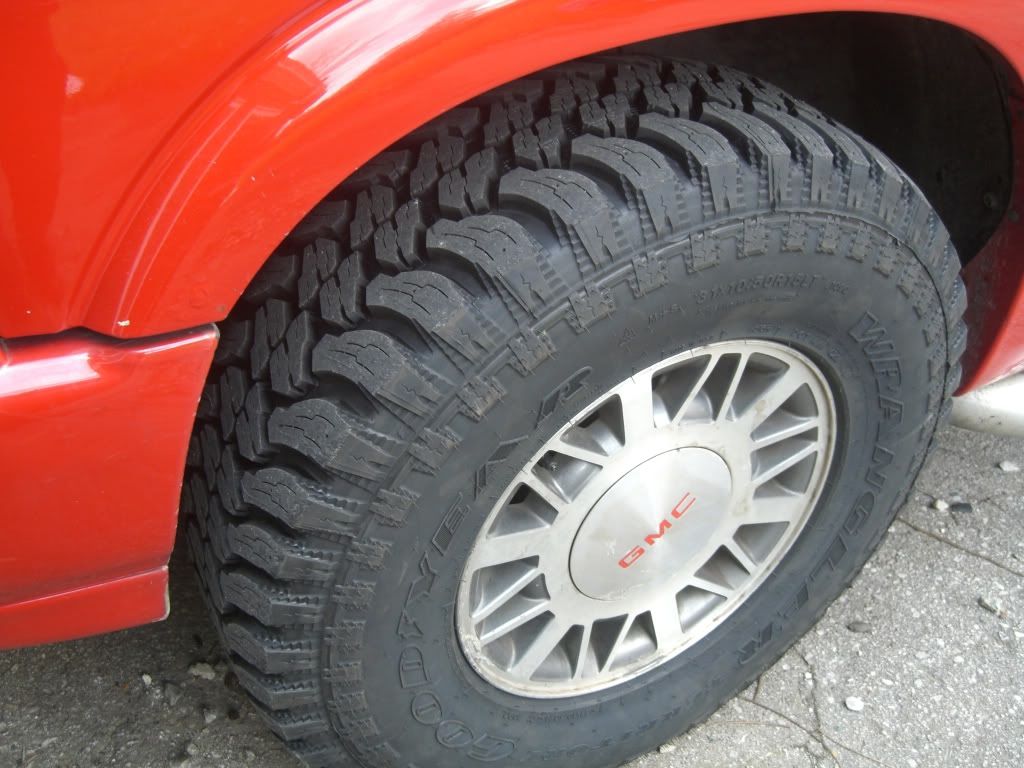 Now, the 31's do rub in the front, so I knew I was going to have to do something.
I went to crank the t-bars 2" but when I got to the passenger side I was only able to get three turns out of it before it was tight.So I lowered the drivers side back down to equal out the 2 sides.
Rubbing has been cut back, but they still rub on the frame at full lock, and they rub the fender while turning if the suspension flexes.
Here it is after I got the t-bar crank done (a jack is holding the rear end up to where I plan to get it with some shackles)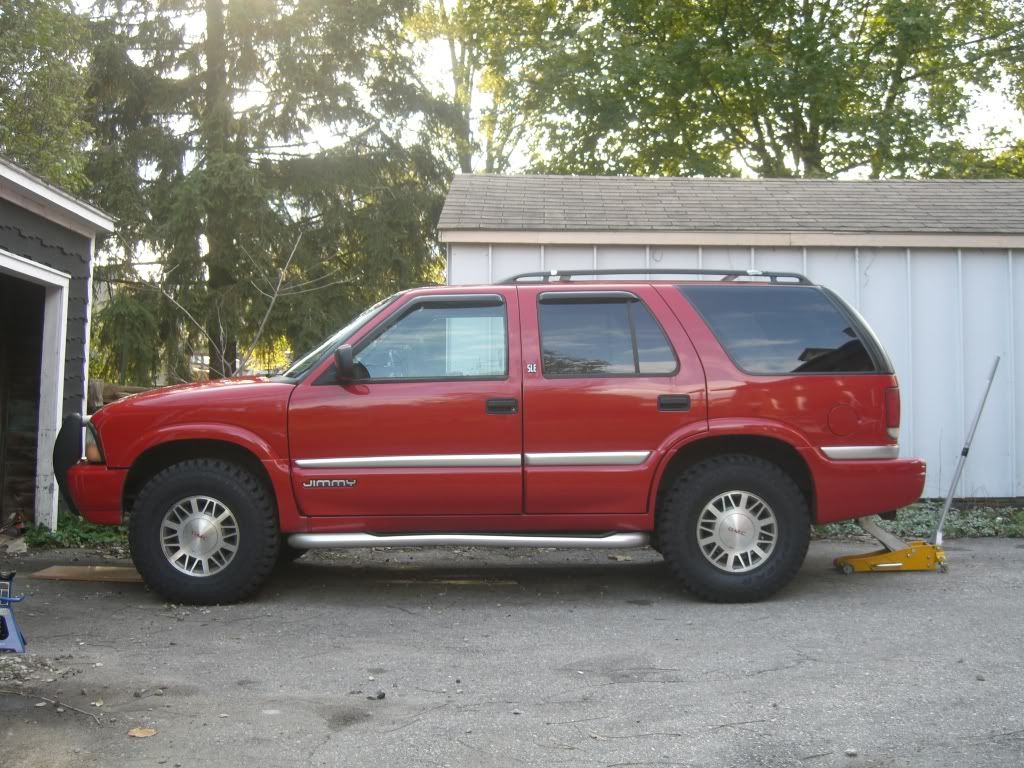 I have my 2" lift shackles made (used some 3/8" flatbar and some HSS) They will go on in the next couple weeks.
Here are the shackles
I haven't decided if I am just going to pain them, or if I want to wait until I send some stuff out for powder coat...
---
Last edited by SLE_MuNkY; 11-13-2011 at

06:51 PM

.
11-13-2011, 09:25 PM
Join Date: Oct 2011
Posts: 23
---
The rubbing is livable... as long as I don't go in/out of driveways like a maniac I'm fine...
The drivers side clears the fender better than the passenger side for some reason.
The truck has been in an accident at some point...
The push bar on the front is off a diamond edition, in fact, the whole front clip is...
The previous owner has no knowledge of an accident, she is pretty upset that she drove it around for a year not knowing what was wrong.
So far, evidence of an accident I have found is
- Front fenders, hood and bumper all used to be blue
- Push bar and all mounting hardwear are off a diamond edition
- Air bags have been deployed. The person that rebuilt it however didn't put replacements in correctly (more on this in a bit)
- Anywhere paint is flaking in the front half of the truck you can see glimpses of either blue paint, or yellow body filler under the red paint.
When I got the truck I was led to believe that it needed a new fog light and a new head light bulb... no big deal, right? haha, not so fast...
Upon further investigation, both bulbs were just fine. The headlight pig tail appears to of caught fire at some point, and the pig tail on the fog light appears to of succumbed to some green corrosion .
At any rate, I had already ordered new HID bulbs for both. So I fixed the low beam pig tail, then went to work on the fog lights.... WHAT A JOKE... Who ever wired these fog lights, needs a swift kick in the ***.
- Both fog lights were wired on different switches
- They used cheap speaker wire to do it
- There was no fuses
- They put the ground on the switch rather than the power wire.
So I pulled all of the wiring for the fog lights out and started from scratch. I used one switch and 12ga wire to do it all, I didn't have a fuse on hand, but my next visit to the auto parts store I will get the stuff to wire a fuse into the circuit.
Here is how the lights look now. I originally ordered 8000k for the low beams and 3000k's for the fogs, but somewhere along the line my order got turned into two sets of 8000k's. I have ordered new bulbs for the fogs though.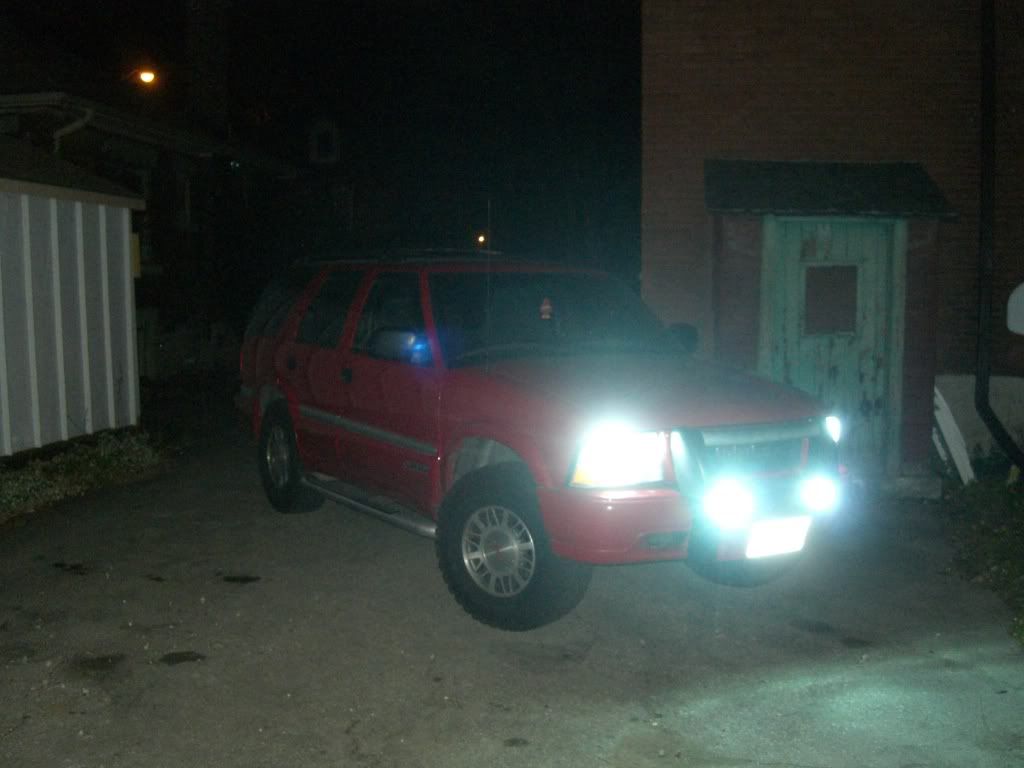 The fog lights need to be aimed lower, especially with the 8000k lights in there... so right now I'm not driving around with them on.
I also have issues with my headlight housings.
- The are REALLY foggy
- the brackets on the back are cracked to the point where if I try aiming them, the cracks just get worse
- the retainer clips that are supposed to be holding the lights in place were missing, so someone just took a screw and screwed it into the tab that pokes through the rad support and called it a day...
So, I bought these off a guy on kijiji for $40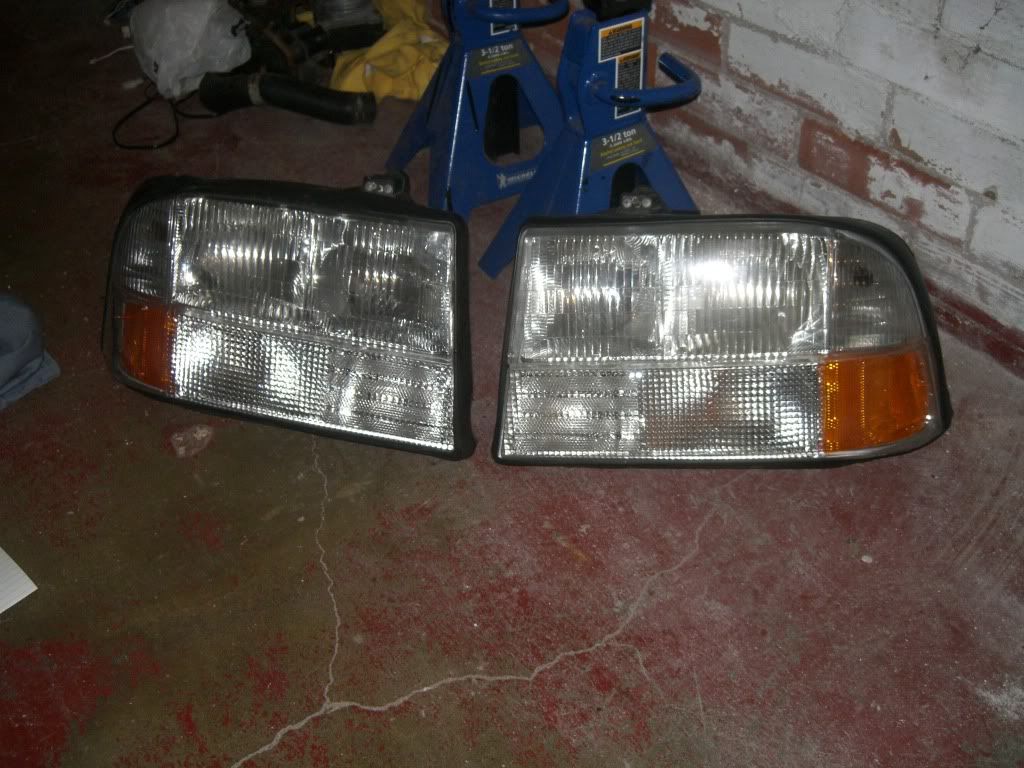 I am going to clear them before I put them on. Not to sure just yet how they come apart... I don't know if I have to heat them up or if they are just held together with the little metal clips... That will be a project for this week
The door hinge pin is another job I hope to tackle this week... here is how bad the doors line up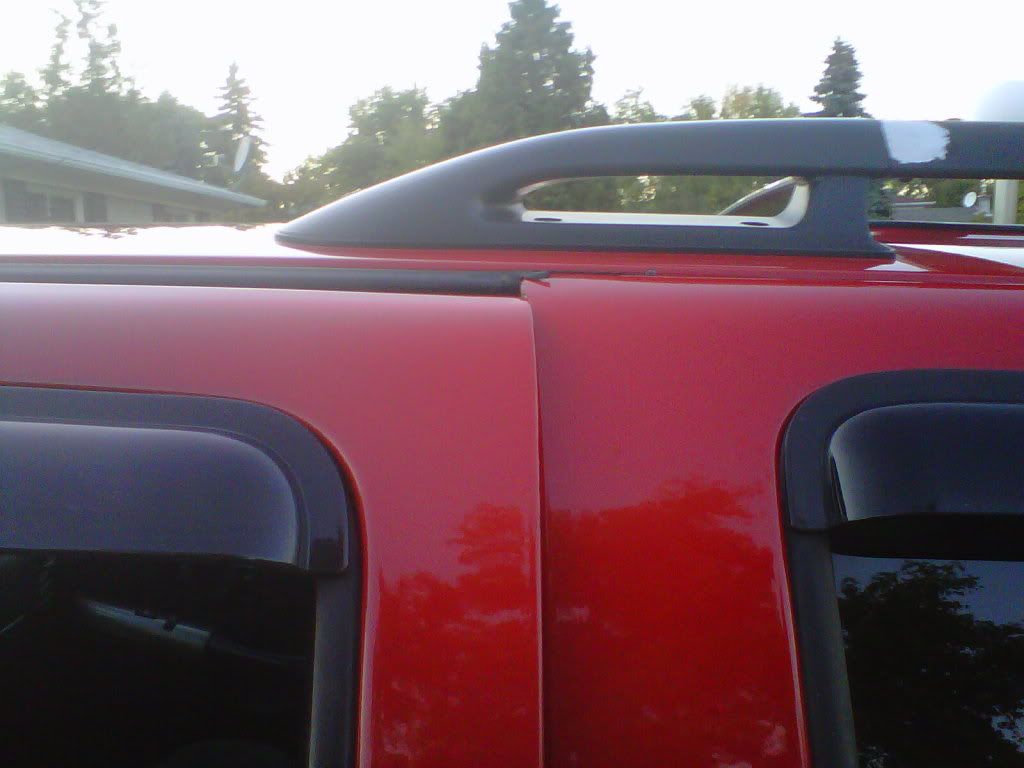 A friend was putting together a rock auto order, so I had him get me new pin & bushing kits for both front doors. The passenger one doesn't need it yet, but it will, soon.
Whoever fixed these hinge pins last (I assume when they fixed it from the accident) appears to of lost the retainer clips and thought it would be a great idea to weld the pin in place. I guess I'm breaking out the die grinder for this one
As a result of the door being so out of wack, the interior panel on the drivers door is thrashed...
so I got this on kijiji for $20 the other night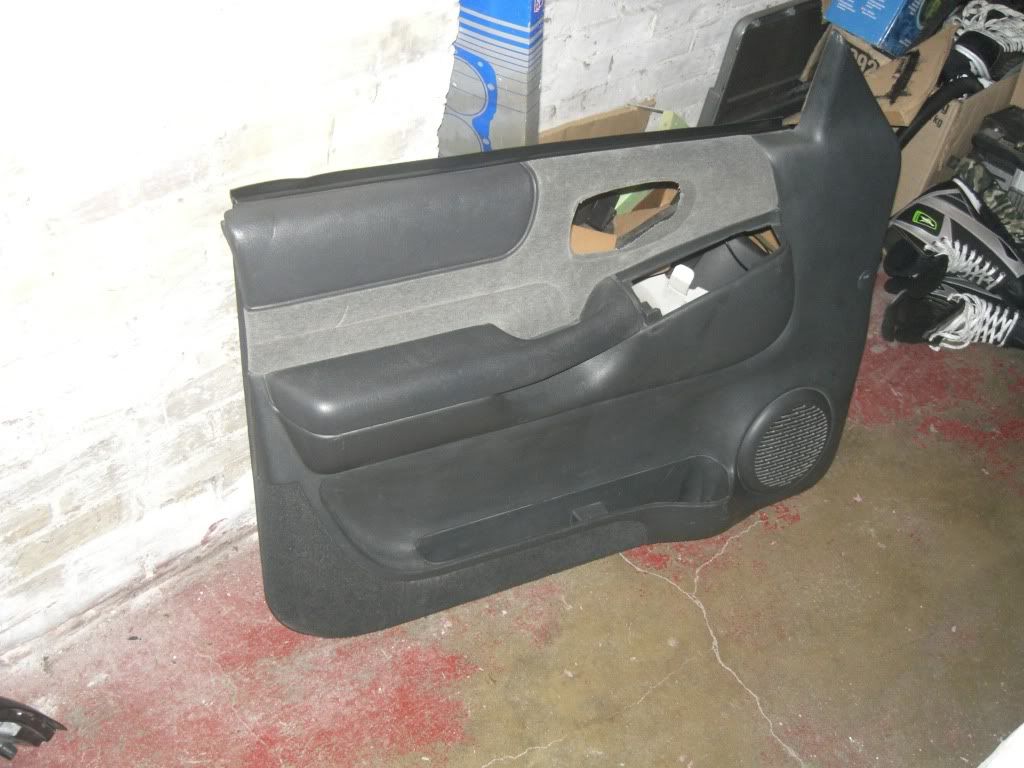 perfect match!
11-14-2011, 09:04 AM
Join Date: Oct 2011
Posts: 23
---
Yesterday I got some more work done...
the guy I got the headlights off of was nice enough to give me some direction to getting my 4x4 working... sure enough, the first thing he said to check was at least part of the problem....
Here is the 4x4 computer from just inside the front passenger side door, notice the top right pin is MIA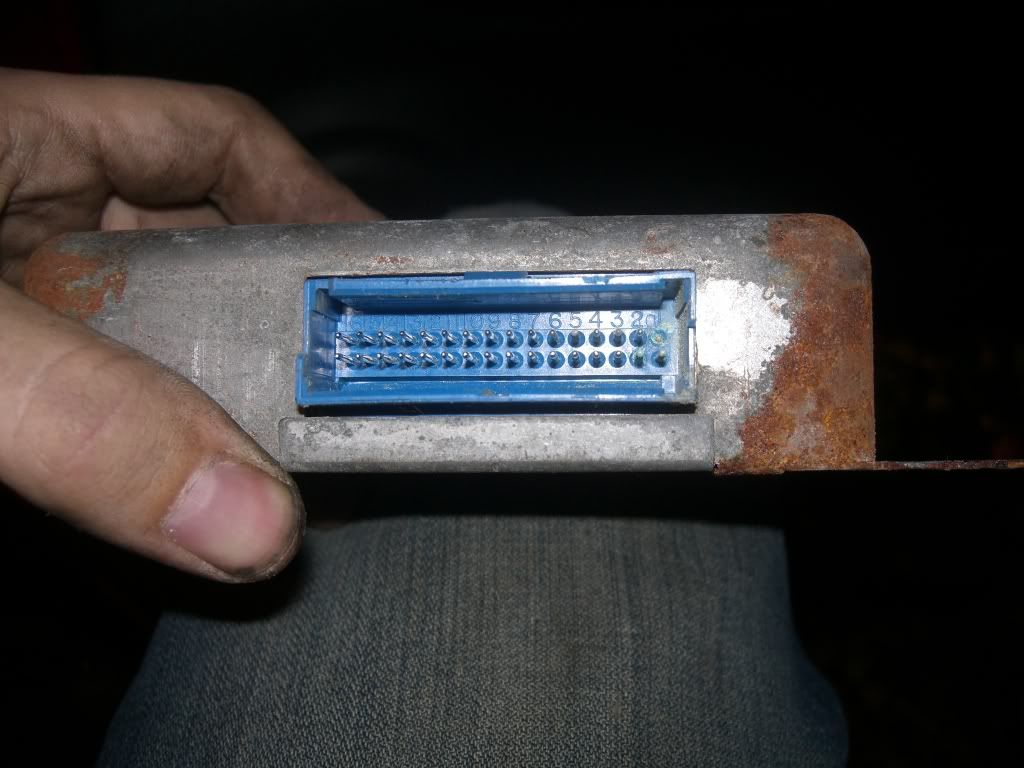 Found it!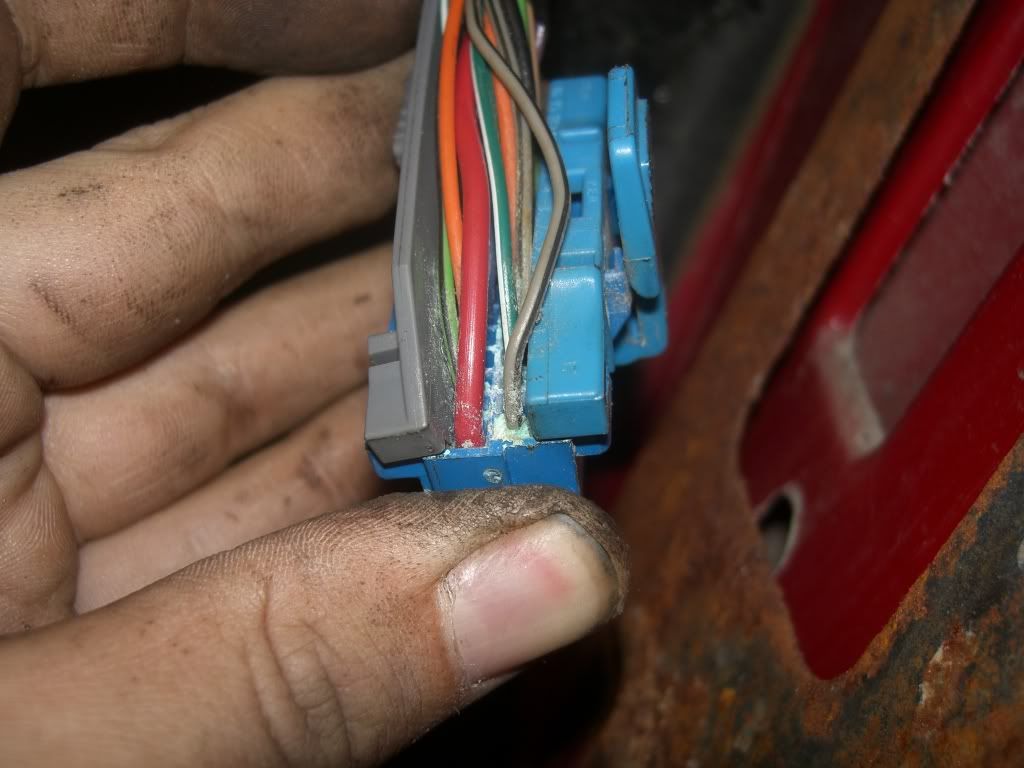 The connector, I think I can clean up/re-pin
The computer on the other hand, well I'm going to have to find a known working one.
My worry is that if I get one I don't KNOW works, then if the 4x4 still doesn't work I don't know where to direct my attention next. But if I get one I know works, and the 4x4 still doesn't work, I know I can cancel out the computer
While I had that part of the interior out I removed this tiny *** 8ga wire someone put in for the sub power supply. I will replace this with a 4ga (min) wire this week some time. I left the rest of the stereo wiring in place, the remote wire, rca's and the wire for a disc changer all look to be in good shape. I took this chance to open up the dash a bit more to see if I could figure out why the right 2 speakers and the left rear speakers don't work. I didn't have a multimeter on me, but the harness looks to be in good shape. I tried a known good headunit in there, same issue. So my next task will be to open up the doors and look at the speakers themselves.
HOWEVER.... while I had the dash open, I found some other goodies!
First this....
This is the plug on the back of the lighting switch. If I am reading my manual right that light green wire is the high beams. It would appear they have spliced this yellow wire into it. This mainly worries me, because I can't see where the yellow wire goes. It would appear that it was installed while the dashboard was out. I left it alone for the time being.
The only logical explanation I could come up with is that they wanted the factory fog lamps (before the accident) to stay on while the high beams were lit. this stupidity would go hand in hand with how the old fog lights were wired up.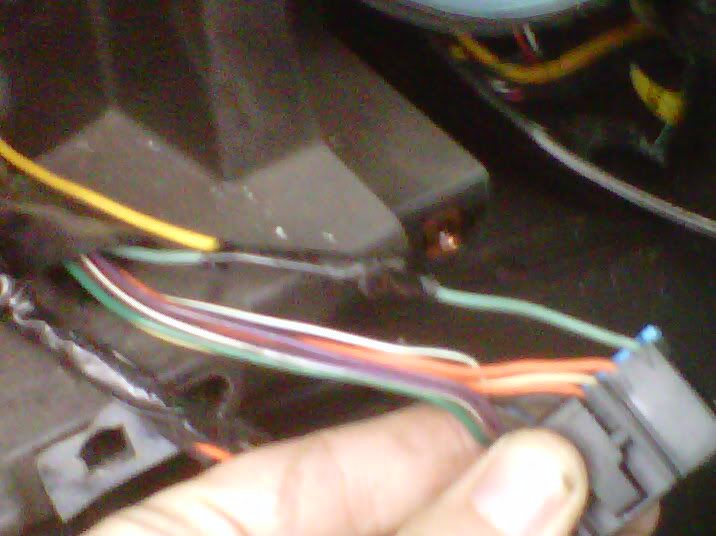 I also found what appears to be an inactive remote starter/alarm system. This would be in addition to the installed and working CompuStar system.
I found a red security light tucked under the dash, the housing appears to of melted at some point, I also found two toggle switches at the drivers feet. Flipping these switches has no effect on the truck at all....
Again, I have left this alone for the time being.
Finally, the big issue.... I found this floating around in the dash just as you see it here...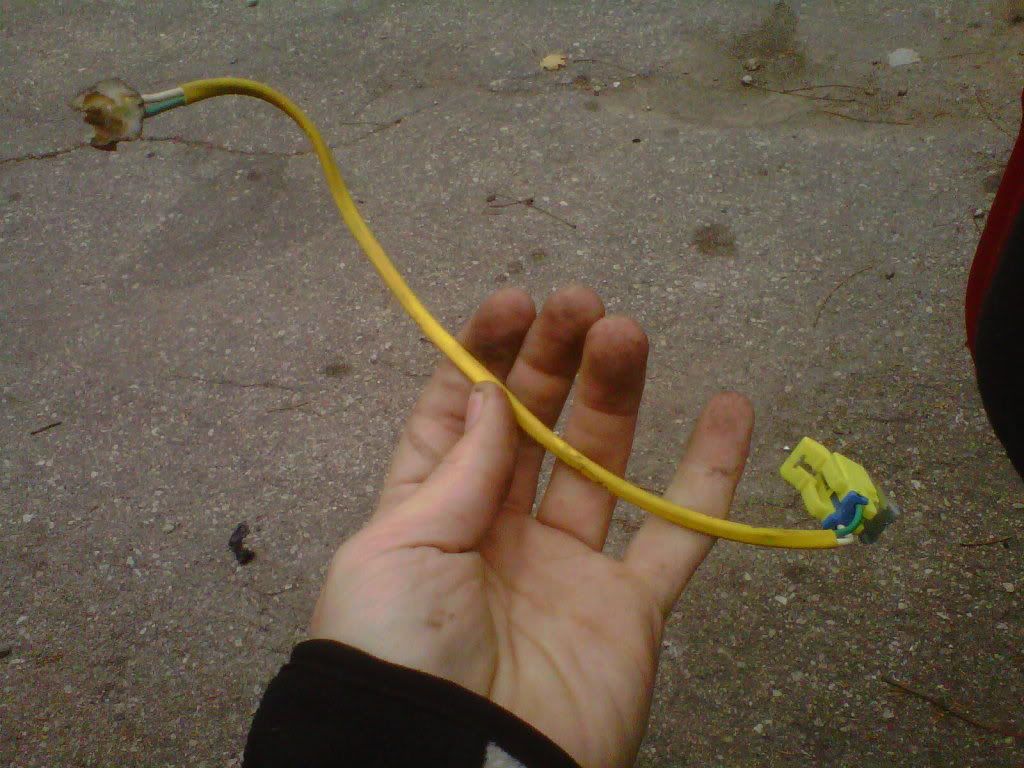 So, I knew this truck had been in an accident... it has a whole front clip off a diamond edition, rad support has been replaced, so has the rad. However it would appear that the accident was bad enough to deploy at least the passenger side airbag. The company that repaired the truck replaced the airbag, but cut the connector off of it so it couldn't be plugged back in. My guess is that they couldn't be bothered to replace the sensors on the body/frame. My understanding is that these are one use switches, and if I were to plug this air bag in, even after 8 years, the airbag would just deploy again.
Does anyone know where I can find all the sensors? Is there a way I can test them?
Near as I can tell the drivers side airbag is hooked up properly.
The airbag light does not light up on start up, which tells me they pulled the bulbs.
That's all for today, I think....
---
Last edited by SLE_MuNkY; 11-14-2011 at

09:07 AM

.
11-15-2011, 09:51 PM
Join Date: Oct 2011
Posts: 23
---
I went and got a wiring diagram for the 4wd circuit today, I will likely get into that this weekend. Going to start with a trip to the wreckers Saturday morning.

I am picking up an intake tomorrow afternoon. I will probably install it and the new headlights tomorrow.

At some point in the next week or so I will probably pick up the materials to build a roof basket c/w roof lights.
Thread
Thread Starter
Forum
Replies
Last Post