Stock gear radio 87 full size
02-09-2011, 11:14 PM
Join Date: Aug 2010
Location: las vegas
Posts: 20
Stock gear radio 87 full size
---
Hey guys this is my first post here on the site so let's see how it goes.... I was wondering if someone could help me find out the stock rear end gearing I'm looking to get different gears but I would like to know for sure what the stock ring and pinion are... It's a 1987 full size corprate 10 bolt... Thanks
02-10-2011, 07:07 AM
---
You can look at the SPI label located inside the glovebox door to see if it is listed there. This is the SPI label from my donor '90 Suburban: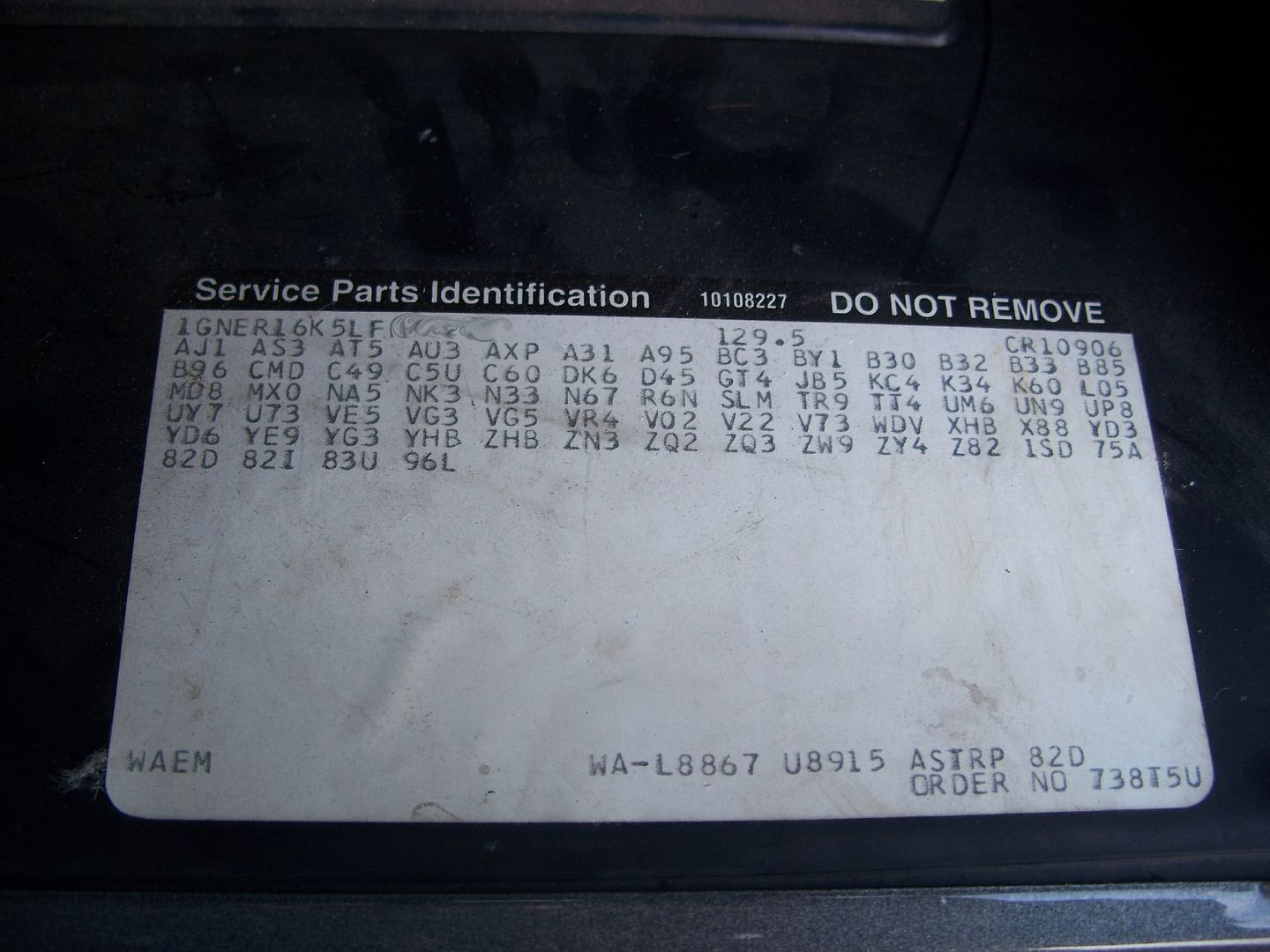 GT4 = 3.73 Ratio
GT5 = 4.10 Ratio
GU4 = 3.08 Ratio
GU6 = 3.42 Ratio
Short of that, you could open up the axles and take a look at the numbers on the ring gear. 41-11 is 3.73, 41-10 is 4.10, etc.
02-11-2011, 06:56 AM
Join Date: Aug 2010
Location: las vegas
Posts: 20
---
Thanks alot I always wondered what that sticker was for lol yea I found one web site that told me it was a 3.08 but I just wanted a way to be sure... Any opinions on what I should throw in I have 35s on it now and I want the ratio to equal out to as close as stock or a lil bit higher wouldn't be bad
02-11-2011, 02:40 PM
---
Your truck could have come with 225/75R15 (28.3" OD) or 235/75R15 (28.9" OD) tires. By going to 35" tires, you decreased your gear ratio by 23.7% and 21.1% respectively. 3.73's would get you close to stock RPMs while cruising around, but I would go all the way to 4.10's as those big tires are harder to spin than the factory ones.
02-11-2011, 03:24 PM
---
You have a 87 so you should have a 700r4 trans. With 35's I would go to at least 4.56 gears. I know guys running all the way to 5.13's with 35's and say it's fine even on the highway. I have ran both 4.10's and 4.56's with 35's and liked the 4.56's much better. Comparing the numbers doesn't tell the whole story. You have to factor in changing the width and weight of the tires along with power losses through the drivetrain. Plus one big factor is actual tire hight. I've seen 35's that didn't even measure 33".
02-11-2011, 04:04 PM
Join Date: Aug 2010
Location: las vegas
Posts: 20
---
And it's a 700r4.... Yea that makes sence... Yea I deff need new gears because when crusing on the hw i can't even stay in my overdrive I'll bog out and will have to downshift constantly... And onother thing is that if my two front tires are flat against the a curb 90% of the time my truck will not go up it for the life on it... I need a damn running start to do it
02-11-2011, 07:58 PM
Join Date: Jul 2010
Location: Minnesota
Posts: 181
---
ya same problem you have got the stock 3.08 axles but going to run them as long as i can then while i save up so i can upgrade to 1t axles
02-12-2011, 10:06 PM
Join Date: Aug 2010
Location: las vegas
Posts: 20
---
So I looked at the spi label and the only one I could find is the gt4-3.73 so in that case Im probably gunna wanna jump up to like 4.88s? Maybe any sudgestions now that I know I have 3.73s?
Thread
Thread Starter
Forum
Replies
Last Post
Full Size K5 (1969-1991) GMT415 (1992-1994) Tech
Full Size K5 (1969-1991) GMT415 (1992-1994) Tech