Trailblazer fun
01-18-2019, 09:18 PM
Trailblazer fun
---
Helping out friend, a mother of 3 who doesn't have much cash to throw at her 04 Trailblazer (well technically an Isuzu Ascender, but same difference...), trying to get it reliable for her, ended up making it SAFE for her...
A while back I put an alternator on it for her, apparently I'm now her mechanic :P
Started off this time with she had a steady transmission fluid leak. Started poking around and noticed that one of the metal trans cooler lines running from the trans up to the radiator fittings got a hole rubbed in it... On the 4.2l in-line 6 cylinders in them there's a single metal bracket that holds the lines tight against the engine block. Someone had put a motor in the truck in the past, and they didn't pop the lines back into that bracket... so over time, they rubbed a hole into the line... So that was the first fix. Pull the bad line(s) out, install the new ones.
Noticed a couple things on the initial drive home before I started working on anything.
I immediately noticed that the speedometer wasn't working... well, NONE of the gauges were working... speedo, tach, fuel, oil pressure, voltage, NOTHING... I did some reading and found that people were reporting similar issues with simply a fuse under the hood coming dislodged, so that's the first thing I tried messing with, and unfortunately that did nothing. Then I read they also have issues with the ignition switch in the column going out. I rip the column apart, cleaned the contacts on the original first, but ended up just replacing the switch in the end, still nothing. The last major issue I read about is the cluster itself going out, which is actually common with all the Trailblazer line up and even the full size GM trucks in the early and mid 2000's, mostly with the stepper motors going out and dropping a gauge or two, but not usually ALL of them at once. But on a whim I went ahead and got a complete cluster at work (salvage yard) and tossed it in, and low and behold everything worked! Shows the old thing has 38k miles now, which is WAY not accurate lol, but she can live with that...
I also noticed that it seemed to want to stall out every time you stopped with the AC on (actually did stall out twice...). Reading up, I found out it's common when the computer resets from removing the battery, and when it has to relearn how the engine runs, if the engine is higher mileage that might have a little buildup in the throttle body, it can make it idle erratically and even stall out, especially when the AC engages. Kinda crazy I though, but what the heck, pulling the throttle body off is easy enough. So I disconnected the battery so the computer reset again during the process, pulled off the throttle body, it had a little build up in it, not too bad I didn't think. Cleaned it well, bolted it back on, hooked up the battery, fired it up, and low and behold it idled smooth as silk and held RPM's when the AC engaged.
One other thing I noticed is that it had some crazy body roll and that it floated like an old Cadillac and was in DESPERATE need of shocks... So I got to looking at work, found a set of CLEAN, looks like they just got replaced before the thing got into a wreck, set of front struts and rear shocks to swap onto it. VERY lucky find indeed!
Rears went on no problem, they were a breeze. Two bolts each, wham-bam done, spin it around, put the front in the air, and start ripping into the front strut assemblies.
Knocked the front driver's strut out in maybe 20 minutes, VERY easy struts to replace on these. Takes more time getting the thing in the air and on jack stands with the tires off than it does to swap the struts lol.
Then I started on the passenger side and that's where I found some horrific things...
The first thing I saw right away was that the sway bar end link had come apart, as in where it attaches to the lower control arm was completely missing a nut and wasn't attached on the passenger side at all. "Well, there's the body roll" I thought to myself... Pushed the stud on the end link back into the hole on the control arm and threaded on new nut, good to go.
But what I found when I started to work on pulling the strut out caught me totally off guard...
Notice the wrench still on the bolt holding the strut in lol, as when I seen this I just had to stop what I was doing and get a picture...
If you didn't spot it in that picture, let me zoom in on the issue...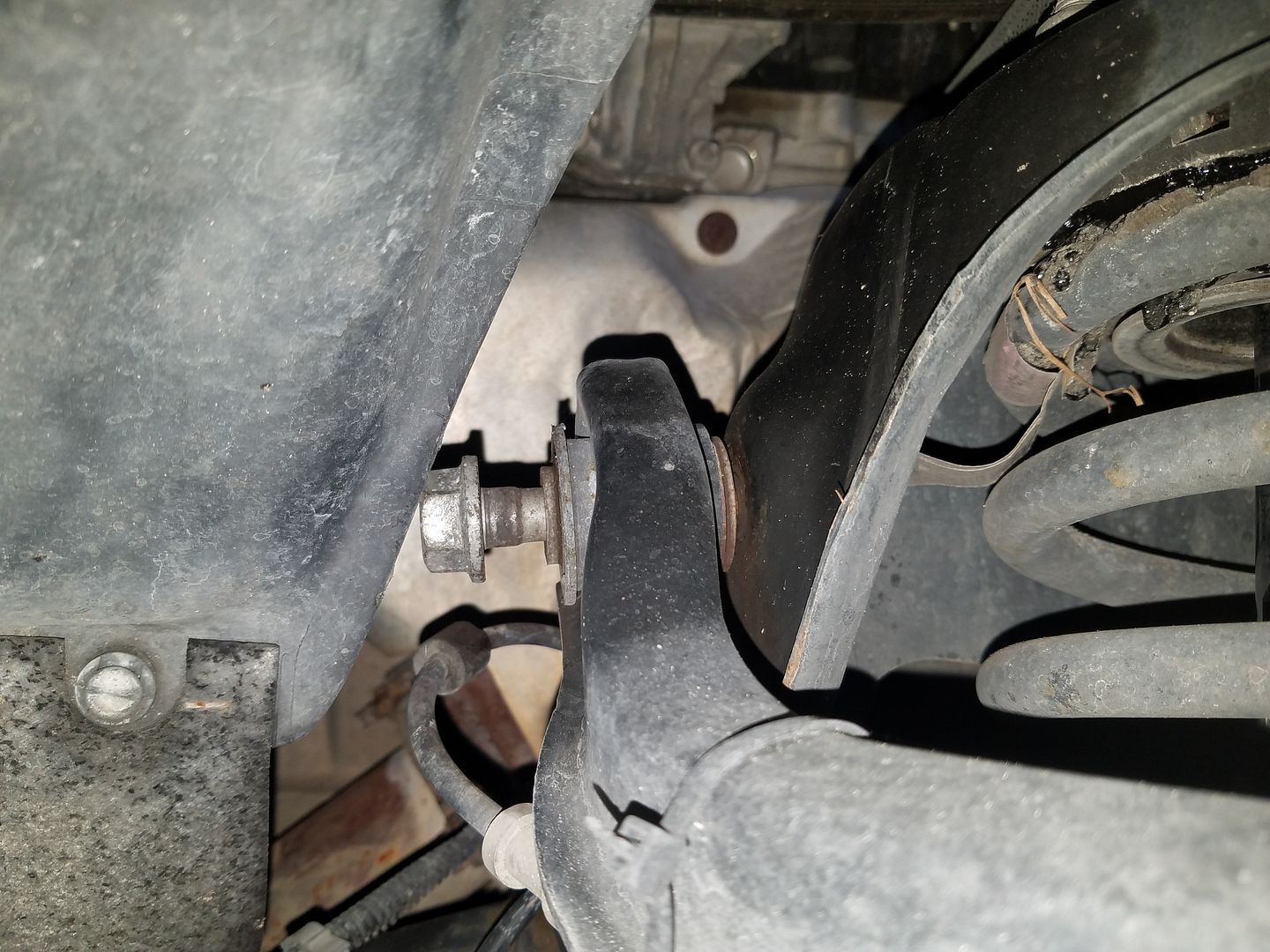 Now I don't know if someone replaced the upper control arm in the past and didn't tighten that bolt down all the way, or it somehow just walked it's way out that far, but she should consider herself EXTREMELY lucky that it didn't let loose completely while she was on the high way or something!
I tightened the bolt back down (there's no nut on the other side from the factory, it just threads into a threaded spot on the frame), but I did just so happen to have some nuts in the garage the right size and thread pitch that went on, so I threaded them onto the bolt and basically used them as a jamb-nut, so they are NOT backing off now!
I went ahead and hit the other upper control arm bolt on that side and although it was tight, I still managed to put another 1/2 a turn or so on it, and I followed it up with a jamb nut too. After seeing that, I had to check the driver's side too. The first one I checked was about the same, got about another 1/2 turn on it, then threw on a jamb nut. That last one on the driver's side though, I put about 2 1/2 turns on it... it was backing out too... so I torqued it down and installed a jamb nut on it too!
Last little thing I did is replace all 8, yes 8, interior dome/map lights in the thing, because ALL 8 were burnt out... little things like that would drive me nuts lol
Anywho, long post, just thought I'd share
---
Last edited by blazen_red_4x4; 01-18-2019 at

09:23 PM

.
01-19-2019, 01:28 PM
---
You're a good friend to have! All that work at a shop would have been thousands of dollars! Saved her a lot of money!

I'm the "mechanic" in our family, as well, so I can appreciate what you're dealing with lol!
01-19-2019, 07:44 PM
---
No doubt. I don't mind doing the odds and ends like this. It's good experience, and it wasn't too difficult of work.
Best thing about doing it free of labor charge is I can do it at MY speed LOL!
01-19-2019, 07:51 PM
---
It's wild how that control arm bolt was just casually working its way out! I've had a lower arm come loose before on my old chevelle. Luckily it was in a parking lot. Losing a control arm at highway speed would be catastrophic!
01-22-2019, 11:16 AM
---
Kudos to you!
I'm a bit of the mechanics for some of my friends, at least a consultant. Fixes like the the ones you did for your friend are satisfying for their ease of repair and perhaps more so for the big impact they can have on those you are helping.
Your story also points out the importance of having someone do regular, basic maintenance. The act of simply making a visual inspection will catch many things before they get dangerous.
01-22-2019, 12:05 PM
Join Date: Nov 2018
Location: Grayson KY
Posts: 381
---
Hats off too you
It is great too see there are still good people in the world who are willing too help others when they can! If I could I would buy you a beer, or if you don't drink alcohol, a cup of coffee, or orange juice, can of pop... I am sure you drink something lol!!!!
Thread
Thread Starter
Forum
Replies
Last Post