Got a little stuck!
01-05-2012, 12:34 PM
Got a little stuck!
---
Ok I was driving with my dog today and I seen a little dirt road. So I said to my self this looks like fun so I went down it. Then I seen some mud and well it was deeper then I thought.. Long story short I had to walk to the closest house and ask for a tow. After 30 min I got towed out by a little geo.. I was so pissed that that was what pulled me out, but I got out lol I'll post a pic when I get to a computer
01-05-2012, 03:39 PM
---
lol sounded like it was fun though! and yea get them pics up i wanna see them! lol
01-05-2012, 03:50 PM
---
No shame in getting pulled out by a Geo. Just thank the person and be grateful you didn't have to call a tow truck and pay $$$.
01-05-2012, 03:54 PM
---
yea no shame of being pulled out by me =) lol

someone on the forum use to call me geo instead of gio Lol
01-07-2012, 12:29 PM
---
Oh I'm very thankful lol and I didn't get a pic of the truck stuck just what it looked like after I got out. But imma see if I can get a friend to post the pic..
01-15-2012, 08:56 AM
---
ok, here's a pic of after i got out. sorry no pics of when i was stuck.. was to worried about my mom finding out. lol but anyway it wasn't a geo it was a kia sportage.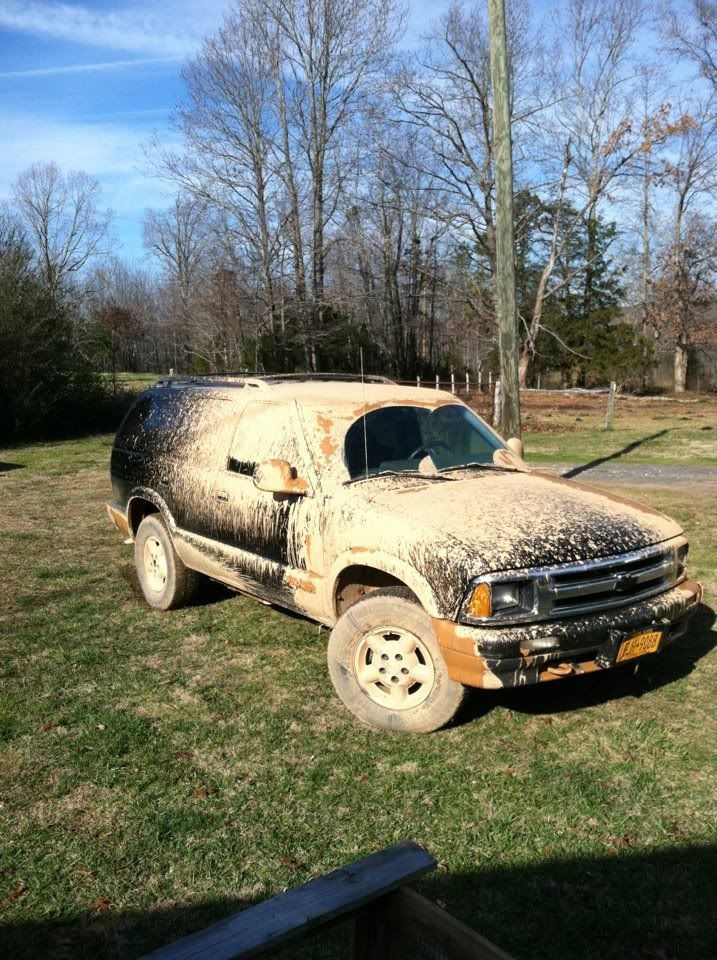 01-18-2012, 05:31 PM
---
Nice , I'm 34 and my moms blazer looks just like yours , well we were at the mud races and she left her keys in her blazer . Yea I'll just stop right there she loves her blazer .
01-22-2012, 11:11 PM
---
hahaha bet she learned not to do that again!
01-22-2012, 11:12 PM
---
I bet she installed a cut off HEHEHEHEHHE
Thread
Thread Starter
Forum
Replies
Last Post
Headers, Intake, & Exhaust