One Less Honda on the road...
10-18-2009, 08:42 PM
---
Originally Posted by
ABN31B
well first things first, we will have to perform a mapple leaf-ectomy... are you man enough to leave the land of easy (if cold) living and trudge your way through life as another cog in the American machine? (you can be a fuel pump assembly....we have been looking for a new one since our sending unit went belly up...)
dual citizenship? i like it!
10-19-2009, 01:35 PM
---
**UPDATE**
So I got a hold of the insurance, the shop doing the supplemental stuff, AND the shop I took it too initially... I am playing them all against eachother now. Either I will lose out BIG TIME or I have made the biggest power play of my insurance fighting life (only second time ever and the first time was a breeze...)
Insurance wants to send an adjuster to look at the damaged parts. the second shop ALREADY replaced the parts, and billed the first shop... the first shop is a business aquaintance and should have my best interest at heart (SHOULD) as they do on average $3000 a month on our fleet vehicles alone. I think they will go to bat for me. the best part is, with the check in hand i can cover all repairs to date. either way ME = FTW!
*note* if you think I suck at driving, you should see some of the crap these recruiters pull...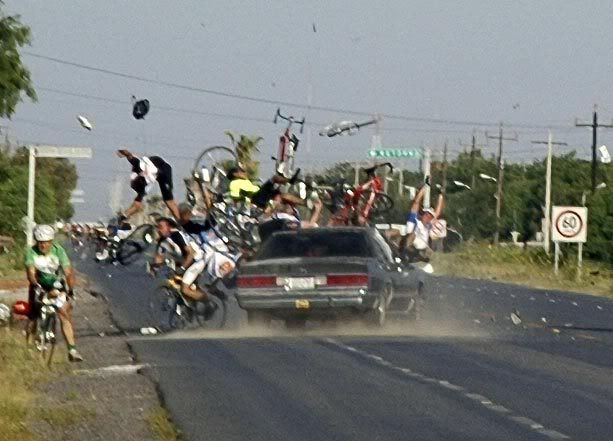 *** So as of this edit, i need to use said-check-in-hand to bail my baby out. I owe $1017.29 for 1 pitman arm, 1 idler arm, 1 hub assembly, 2 upper ball joints, 2 lower ball joints, 1 alignment, 2 balanced tires, and the labor. Ouch. even though they gave me a check... seriously... OUCH.
that leaves a lot less play money (about $780 less) than I had figured... *crosses fingers that the second half goes through...*
***** Got her back. $1000 even. Forgot about the supplemental insurance $78. I always take it, but never manage to wreck the damn rental. Reminded me of this fool though. Would have paid $78
to do this dumb sh...t
---
Last edited by ABN31B; 10-20-2009 at

02:12 PM

.
10-20-2009, 11:46 PM
---
I have my baby back. She steers like a dream *if you dream about stiff, responsive steering you weirdo* now! I took her for a quick spin, dropped by the carwash and got her scrubbed up real nice, and took her back to work. i gave her a present: 10k lb gross weight stinger hook for her newly installed tow hitch reciever. and parked her with dreams of all the fun we would have on the way home!
After work I fired her up, watched as my SES, and Air bag lights came on, and listened to the pathetic knocking ticking that increased with the accelerator, but dropped off when put in gear.... sounds like it's coming from the middle of the vehicle (loose fly wheel?). i
had
a mild ticking earlier, but it sounds hard and sloppy now.
Feeling utterly let down, i limped her home, got the wifey, and limped back to the shop. Im depressed with out my baby. This is only the 4th car I have owned, only the 2nd one I have cared about (although grudgingly) and im depressed with out her after 6 tedious days...
I'll update again tomorrow when i get the next round of wallet rape. (should be knocking + 4wd *since they're in there* + wtf ever else is wrong. im gonna guess $1700 becuase i'm pessimistic at this point...
** EDIT: So It was a loose fly wheel slapping around. it had loosened up enough, that it chewed some of the threads up where it bolts up. FIXED
What ever the F the little silver box is (dead center in front, under the bumper, above the lip of the plastic 'skid plate') that the oil filter screws into was toast. the houseing has 3 bolts holding in on. half of the metal that the bolts go through was gone on 2 sides. The last bolt was 100% attached, but the housing thing was split in 2 places 9at the bolt and where the oil lines come out (left front). Replaced that guy (name?). And now they are chasing down my TC issues... will post in another section about that...
Still no word on second settlement figures though....
---
Last edited by ABN31B; 10-21-2009 at

08:03 PM

.
04-26-2010, 08:56 PM
---
well i have to say im in the honda totaling club i ran over an 88 civic that was riced the hell out and all primer gray. he turned right from a side street and i had no time to stop completely so i went up over his hood thanks to my 33 12.50s lol it only made my bumper sag a little and i fixed that with a torch they totaled his car out and i got 500 from the insurance, so thats 2 less hondas on the road today!!!!!
04-27-2010, 10:16 PM
---
It didn't happen to me, but a friend of mine took out a Honda in the worst way possible; in the rear. He was in a '99 S10 pickup in the right lane of a 4 lane road when a pile of garbage '89 Honda DX pulled out in front of him. My buddy was doing 55mph when he hit the Honda. The rear bumper was in the front seat of the Honda after the accident.

My buddies S10? The bumper and grill was toast, but that was it. The insurance credited him $900, and he went to the junkyard and found a perfect match for $100. He put a full system in his car with the rest. Pretty good deal I would say.

1 year later he wrapped his truck around a tree.
01-08-2011, 11:17 PM
Join Date: Mar 2010
Location: Statesboro, GA
Posts: 632
---
ABN I have some pretty good stories of people getting stuck in Iraq. And not to hijack but the DAY I bought my 95 I was on GA 400 (set up like a 8 lane interstate) and was in the second lane this lexus decides she wants in my lane. I was doing probably 80 and the girl just looked at me (she was on the phone of course) when I had to swereve (here again doing 80) and she gave me that "your a fin dumbass look". I should of let her hit me and steered into her. Just wasn't worth the hassle.
01-26-2011, 11:43 PM
---
I know a thing or two about driving an S10 into a pond.... mini lake... haha
06-24-2011, 03:53 AM
Join Date: Jun 2011
Posts: 12
---
Hondas.......
02-15-2012, 08:16 PM
---
that was hilarious haha sounds like brooklyn driving . where was this ?
07-03-2012, 11:43 PM
---
Me and my wife where at a red light when some teenyboppers in a 2011 civic si decided to plow right into our rear. My hitch made sure it gave them a good smack back totaling their car. I had some blue paint marks bout it. Sure glad they didn't smash my duratrack tire hanging back there. Anyway this all happened not more than 3 weeks ago
Thread
Thread Starter
Forum
Replies
Last Post