how small a tire?
01-14-2011, 08:30 PM
---
yes im wanting to know how small a tire i can go without causing a s.e.s. light to trip, stock size for mine is 235-70-15, i have a set of dual-bolt pattern rims that im wanting to put some tires on and im wanting to be able to use them on a '77 granada as well as on this '97 blazer, i figure 225-70-15s are the biggest the granada will be able to fit, (it has 14's stock) but would a 225-70-15 be so undersized for the blazer that the signal from the abs vs a possible other driveline sensor will trip a computer error of some sort. im figureing on runnin this set the rest of this winter and maybe before next winter putting 235-75-15 tires on the factory blazer rims. i dont think its a big enough difference in overall diameters to cause problems, but then again maybe it is. thoughts/ideas/experiances? thanks. Dave.
heres the only pic i have of the other rims, they are a "Z-racing" brand, all ive been able to figure out about them is that they were marketed through sears. these rims were on the '97 when dad bought it, when the tires needed replaced, he simply swapped the sets of tires between the '95 (my parts rig) and the '97 (the good truck) they appear to be 15 x 7 and look like about the same offset as the o.e.m. alloys.
pretty blazer for being a parts car. has 198,000 on it.
---
Last edited by rriddle3; 01-15-2011 at

01:16 AM

. Reason: COMBINING CONSECUTIVE POSTS
01-15-2011, 08:15 AM
---
you're talking about 1/2 an inch difference (on diameter) between the tires. your tires will lose that much when they're worn out.
nothing is gonna trip from that.
and there's no reason that the Granada can't fit in that 1/2"-unless you're already close to touching as it stands.
why not try a 255/65/R15 tire? it'll be a bit wider than the stock tires on your Blazer, but the same ovaerall diameter (28.05" vs 27.95" for the stock). if you canswing the extra section width (which is .78" more) then it'll look alittle meaner, IMO.
on both vehicles.
01-15-2011, 09:48 PM
---
its a ongoing thought process, tires that will be good enough for winter useage on a blazer yet not be too small (i read somewhere that a 10% difference would cause a issue) but still work out within the confines of a '77 2door ford granada that im wishing to have at local cruise-in car shows, the granada currently has some rusty keystone klassic rims on it with the old nylon letter series tires (like G60-14) dont recall the exact leters but you get the idea, the tires on it are probly as old as the car. in the winter the car wont be driven and during the summer i can run the stock blazer rims that have less than ideal tread for snow (probly replace those tires next year) i checked with a local speed shop today on lugnuts (im missing 5 of the 12m x 1.50) and i have none of the 1/2-20 that the granada would require, they are a cone-seat short shank lug, id have to get a pic up, its hard to describe, i also only have 3 of the 4 center covers and none of the screws that hold the covers on, it turns out that these rims were made by american raceing, and they have just folded over bankruptcy, i looked at a few stores today and cant find that style of lug nut, summit may have them, but im hopeing this speed shop will come through. some of the tires ive looked into and liked arent available in a 15" size. i guess more research is required, and the first thing i need to do is come up with lugnuts, im 5 short for the blazer nuts, and have none for the granada. i think 1 got lost somewhere along the way and 4 others were those wheel-lock lugnuts and dad probly just tossed them, i know he wasnt happy when he had the fist flat , couldnt get the cover off to get at the lugs, didnt have the right lugs for the stock spare and the stock lug wrench wouldnt fit the aftermarket lugs. i may just end up throwing some 235-75-15 goodyear wranglers on the blazer and just forget about the dual-vehicle wheel idea. it all depends on if i can get the lugnuts i need. oh, thanks to whoever for combineing my posts at the top, i didnt think about useing "edit" . now for the "granada" story:'77, 2door, 250 I-6, 3 speed auto, keystone klassic rims with letter series tires (rears are G-60-14) the guy who previously owned it had a heart attack behind the wheel, coasted out into a field and died shortly after the car came to a stop. the widow gave the car to me and a friend to "do something with" the title ended up in my name and now this other guy is ticked about it and wont do anything with it "until the title is in his hands and in his name" but he wont hand over the keys either. if he would have said, "since the car is on my property and i will probly be contributing the majority of the money for the project, i would feel better if the car was in my name" i might have done so, but since he decided to be a arrogant *** about it, im not inclined to do anything but get it back for myself, and use it as a daily driver in good weather and enter it in local cruise-ins/car shows. he wanted to make it a pro street, with a big motor, 6 speed manual, total suspention change, probly about 15-20 grand. i just want to fix the interior a little, put lower gears in the diff (dont know what they are now, but its doggy off the line, cruises nicely at 65 though, not roaring away, remeber, no overdrive, straight 3 speed auto here) i figure i'll have less then 5,000 in it easy, ive already scavanged some stuff from a '95 S-10 blazer. i just need to get the key. i may even sell the thing and let someone else worry about it, i hate to see it go to waste. i think the rear deck spoiler and the front hood trim is off a torino. it would be cool to have it in a show, how many granadas do you see any more? ive hardly ever seen a 2door. sure its not valuable, but i think its fairly rare. dont know that id get more than $500 out of it. the widow was supposed to ask for the key so she could get the rest of her deseased husbands stuff out, then give me the key, but she seems to have chickened out. wish i had better pictures, my box trailer was parked on one side and a chain link fence on the other. my trailer has since been removed, mainly due to tree branches that were scraping up the sides every time i went in or out with it. enough rambling, heres my granada pics: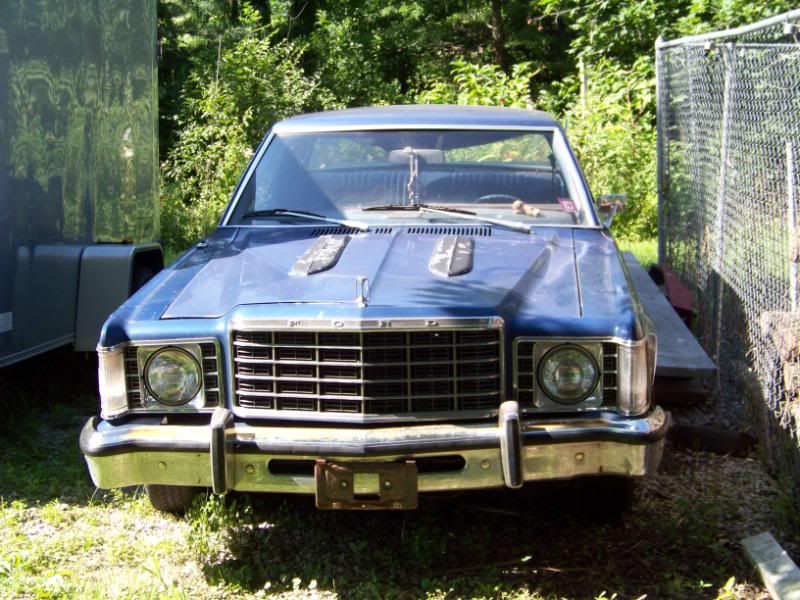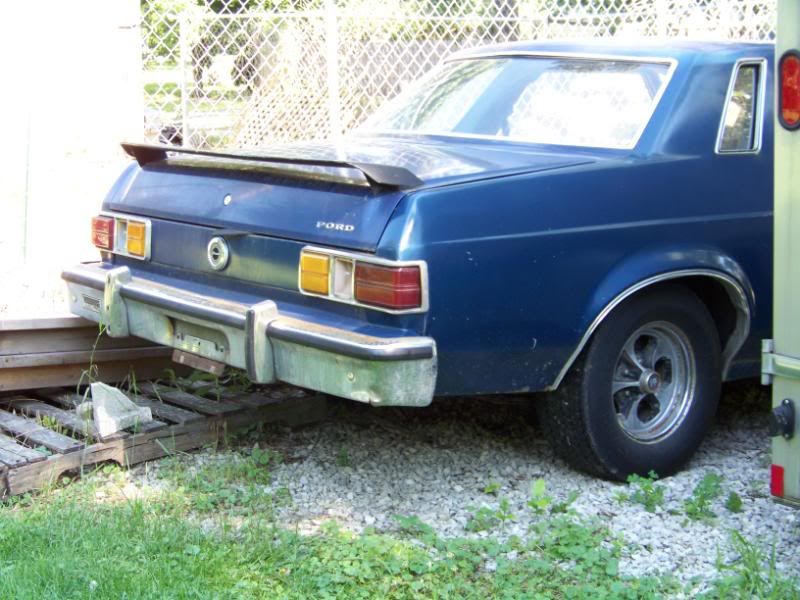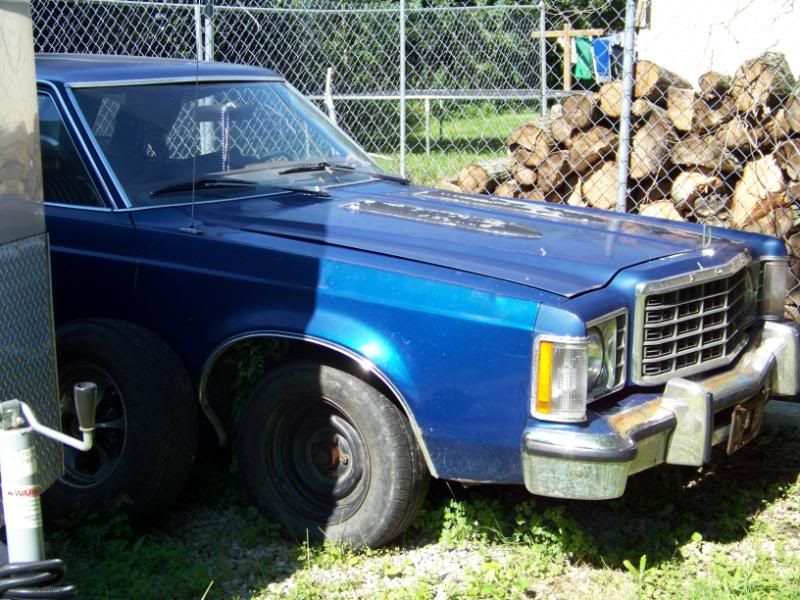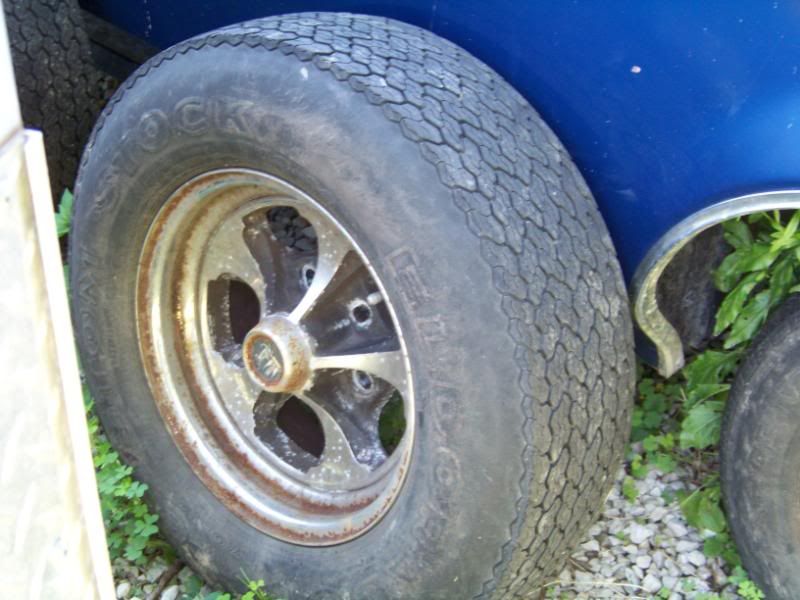 ---
Last edited by racsan; 01-16-2011 at

01:05 AM

. Reason: added "granada" story/pics.
01-16-2011, 08:19 AM
---
you're only looking @ less than 2% going down to the 225/70 and a little more than .25% going up to the 255/65. so you're no where near 10%.
besides, i'd like to know how manny guys are getting thier ECM's flashed when they start putting on hugh tires. hell, most guys don't even bother to swap gears when they do that.
i'd kepp those old Keystone wheels & refinish them. like you 2 door Granada, how many of those do you see rollin' around today?
ig you're gonna pursue you plan of building a cruiser, be sure to grace us with a build thread of it. 'cause like you said, there aren't too many of those around anymore.
oh, one more thing.............make it a little easier to read the next time you throw up a long post. break up your thoughts/points into paragraphs. it just makes it a whole lot easier.
01-28-2011, 09:40 PM
---
got the rims all cleaned up and ready to receive tires tommarrow. ive decided to go with 205-75-15's. decent price, will fit the ranger and granada o.k and still look decent on the blazer without alot of excess room in the wheelwells like the 235-60's id been thinking of. this first pic was when 2 of the rims were just washed and the other 2 had been worked on with polishing compound. got bolts for the 3 centers i have, still need one center cover. 2nd pic shows a finished polished wheel with the center cover on it.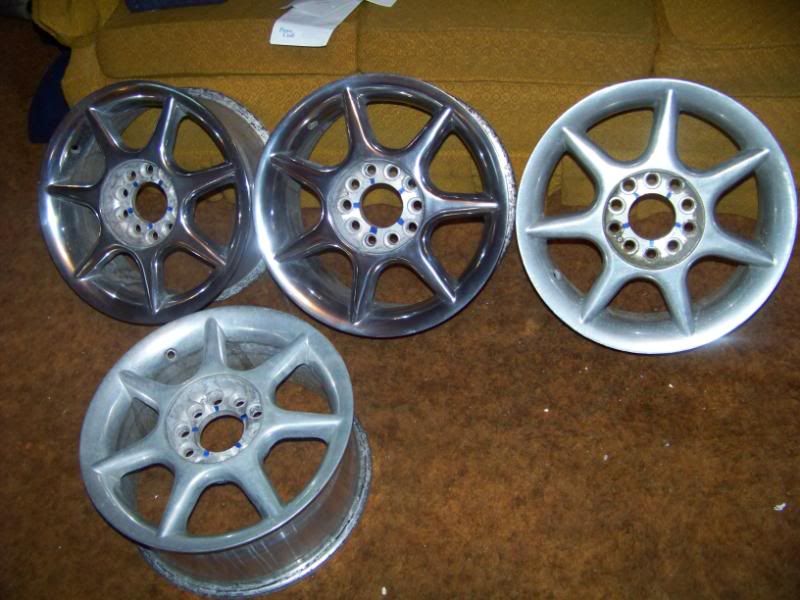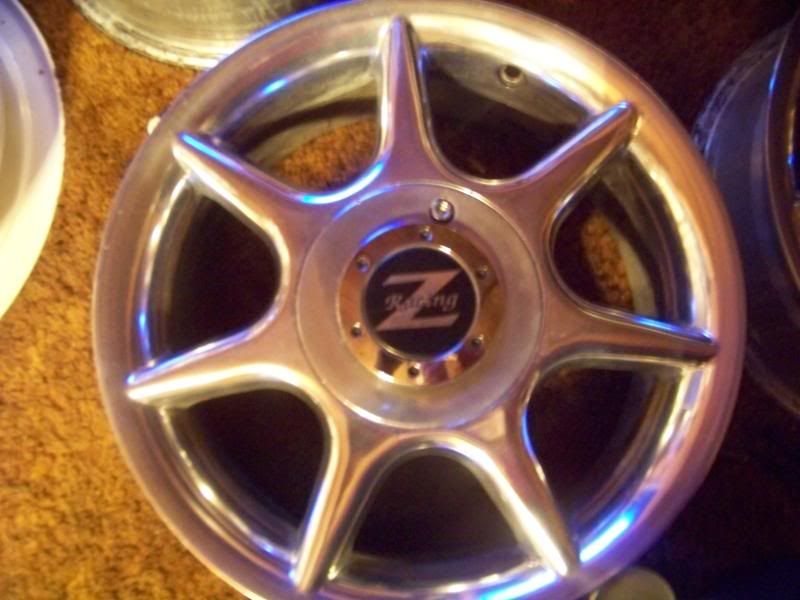 01-28-2011, 11:23 PM
---
won't set anything off on these vehicles... I changed gearing to 3.73's from 3.42's without any lights, then went from a 235/75r15 to 32x11.5 with no lights...

but a buddy did a gear swap in his 2010 challanger and it put his car into limp mode haha....
Thread
Thread Starter
Forum
Replies
Last Post
Full Size K5 (1969-1991) GMT415 (1992-1994) Tech