My 86 S-10 Blazer restoration
02-02-2012, 10:07 PM
Join Date: Aug 2010
Location: Raleigh, NC
Posts: 12
My 86 S-10 Blazer restoration
---
Going to be starting this soon. My 98 Trans Am should be finished up in the next few weeks hopefully so I'm going to start giving my 86 S-10 Blazer some love.
I got it back in 1995, it was my first vehicle. Too many memories to get rid of it. I love this thing.
Anyway, the body is REALLY rough. Needs rear quarters, rockers, wheel wells, body mounts, and probably more that is hidden right now.
Frame is a little tweaked from me being an idiot in high school, but it is a straight bend and a cheap and easy pull. Interior is pretty nice, but dirty. Engine is a tired 2.8L backed by a 700R4.
Plans are:
Stock height, but might look into that 2.5" RC lift if it doesn't affect the ride quality too much. I hated the way it rode with the 2" t-bar tweak.
Stock wheels and BFG All-Terrains, size depends on lift
Redo the body completely, frame-off. Going to be a pain in the *** and will give my mig welder a workout, but I gotta save my first car.
Interior will be a stock redo with a few little upgrades, nothing major though.
Engine is going to be a roller 383 with a nice 4bbl carb. I know I could go FI, but I miss the sound of the secondaries opening up on a carb and always wanted to do that to this truck, so there it is. Going to run a built 700R4 and some sort of AWD t-case that I can still use low range 4wd.
Probably forgetting some stuff, but that's what is in my head right now.
I'm in the process of making a parking space beside my shop for it right now, then I am going to get it running and bring it home from my storage space. The fuel pump died, probably from sitting with a tank of E10, and one of the tires blew out the sidewall from sitting. So sad I let it get this way.
Here it is the day I got it:
Here it is about 6 years later:
And here it was going in to storage:
02-08-2012, 01:26 PM
Join Date: Aug 2010
Location: Raleigh, NC
Posts: 12
---
I went over to storage and worked on it a bit yesterday. I put two of the new wheels and tires on it, trying to figure out how to get the other two on there, the thing is tucked up against that wall really tight. :lol:
That front driver's side tire wouldn't hold any more air that that, it was leaking out of the widewall cracks and would maintain that low pressure. :lol:
Here are some before pics:
02-11-2012, 11:12 PM
Join Date: Aug 2010
Location: Raleigh, NC
Posts: 12
---
OK, got the old flat tires off. They were REALLY bad. It was a pain in the tail to get them off the side against the wall, but I did it.
And I am not sure if the rear springs have sagged or if I did something with the rear shackles before I parked it, but the *** taildrags a bit. Not terribly important, but still bugs me. :lol: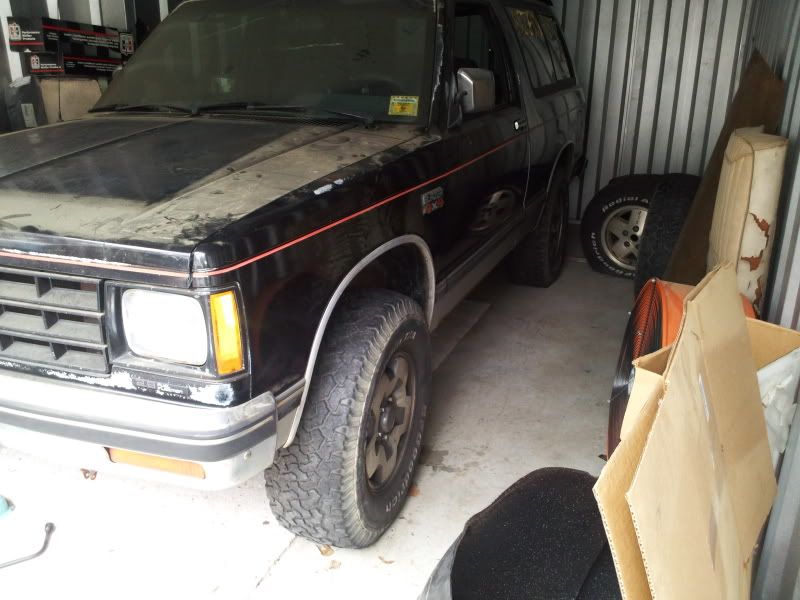 Pics with the 31s and ZR2 wheels.
03-05-2012, 07:21 AM
Join Date: Aug 2010
Location: Raleigh, NC
Posts: 12
---
It's home!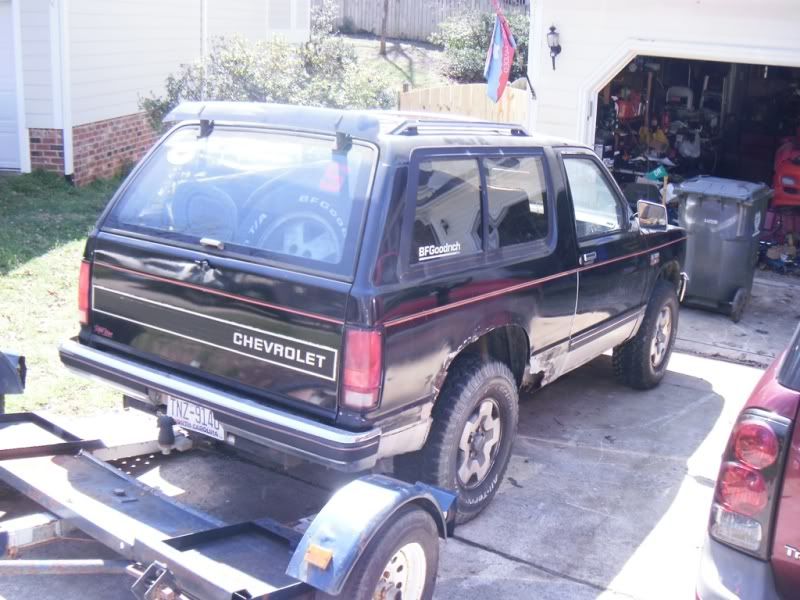 And I washed it, first time in probably 6-7 years. :lol:
Here's what I have to deal with: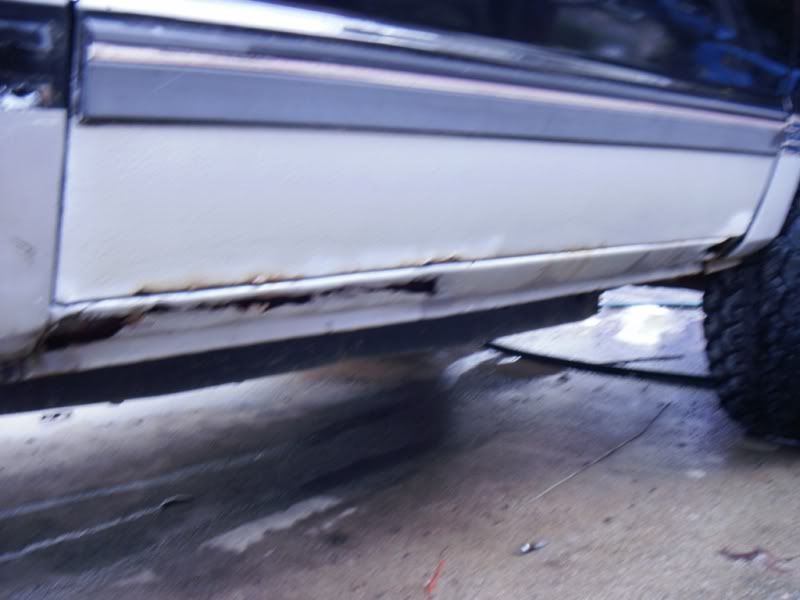 Frame is a little tweaked, but doesn't crab walk. I hit a hill in the ice straight on back in 1995. I'm not sure if I'll have the frame bent back or if I am going to modify the core support to make them line up better. We'll see.
Thread
Thread Starter
Forum
Replies
Last Post
Full Size K5 (1969-1991) GMT415 (1992-1994) Tech